Affiliate Disclaimer
We sometimes use affiliate links in our content. This won't cost you anything, but it helps us to keep the site running. Thanks for your support.
Your students will love exploring the wild world of volcanoes with our free Volcano Lapbook!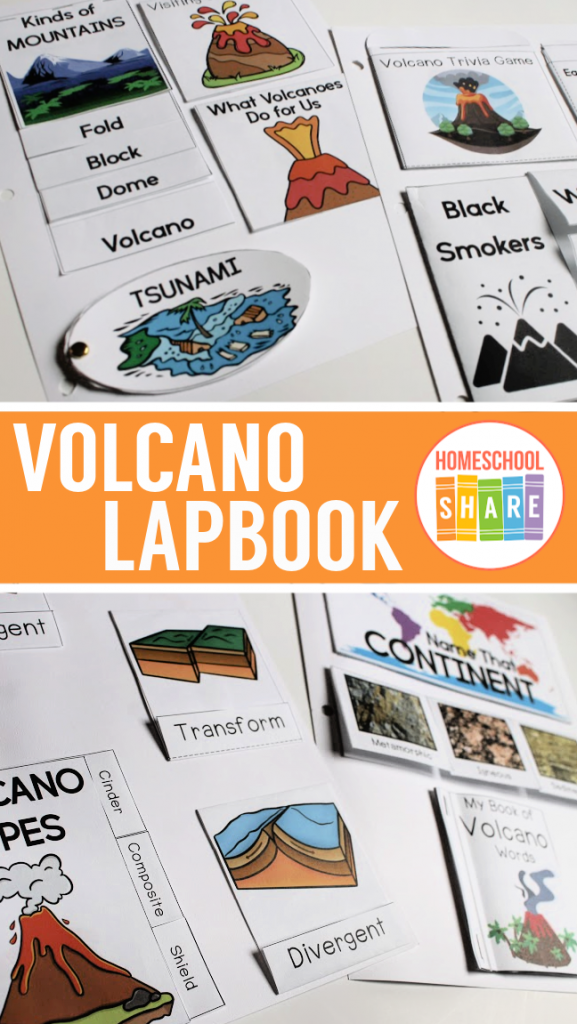 This unit study written by Lynn Pitts includes a variety of lessons about volcanoes.
Volcano Lapbook Lessons
Here are a few of the lessons found in the Volcanoes Lapbook.
Earth's Crust
Earth's crust is made of loose rocks and dirt.
Sedimentary rock is made from bits of rock stuck together.
Igneous rock is made from magma that has cooled.
Metamorphic rock is made from squashed rocks.
What's Inside the Earth?
The Earth is made up of many layers, just like an onion. Instead of an onion, the Earth's layers are made of rock and metals.
Crust: made of lighter rock; the layer of rock between 35-42 miles thick
Mantle: Layer of hot, melted, moving rock below the crust
Outer Layer: below the mantle is the outer core, a thick layer made of hot liquid iron and nickel
Inner Core: a very hot solid ball of metal; the temps of the inner core can reach 8,130 degrees F
Who's Going to Blow?
Active- They erupt currently and often
Dormant- Sleeping but could erupt again
Extinct- No longer erupts
To access all of the lessons in this Volcanoes Lapbook, subscribe to Homeschool Share's email list using the form in this post.
Volcano Lapbook Printables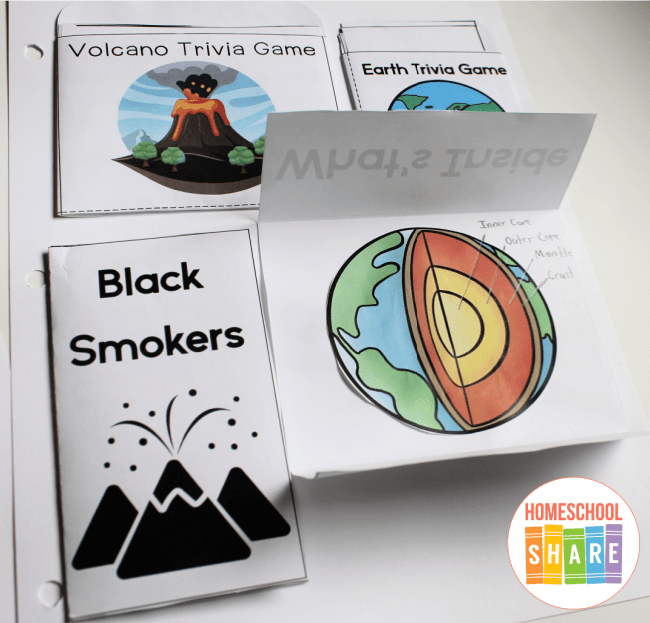 In addition to the volcano lessons and information, this Volcanoes Lapbook includes the following printable mini-books:
My Book of Volcano Words
Types of Rock Flap Book
What's Inside the Earth? Shutterfold Book
Earth Trivia Game Cards & Pocket
Label the Inside of a Volcano Simple Fold
Volcano Types Tab Book
Name That Continent Simple Fold
Who's Going to Blow? Flap Book
Ring of Fire File Folder
Kinds of Mountains Layer Book
Volcano Trivia Cards & Pocket
Tectonic Plates Simple Fold
Types of Plates Matchbooks
Black Smokers Flap Book
Tsunami Fan Book
Where Are the Volcanoes? Graph
What Volcanoes Do for Us Simple Fold
Visiting a Volcano Simple Fold
Volcanoes Lapbook Example
Because this lapbook has a zillion mini-books, consider using cardstock and a notebook instead of file folders. Simply three-hole punch the cardstock and add the mini-books to it. When your student is finished with a page, add it to a three-ring binder.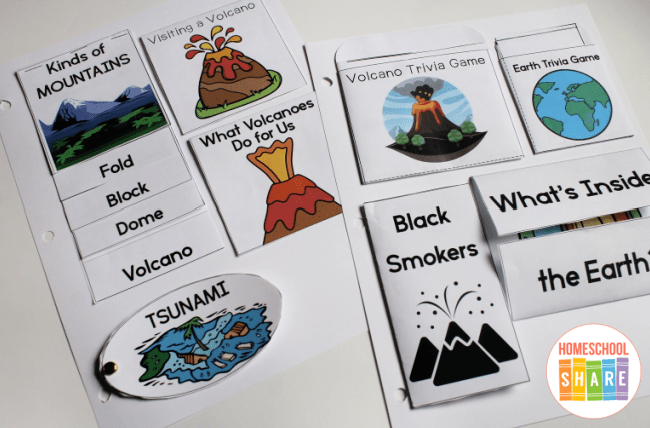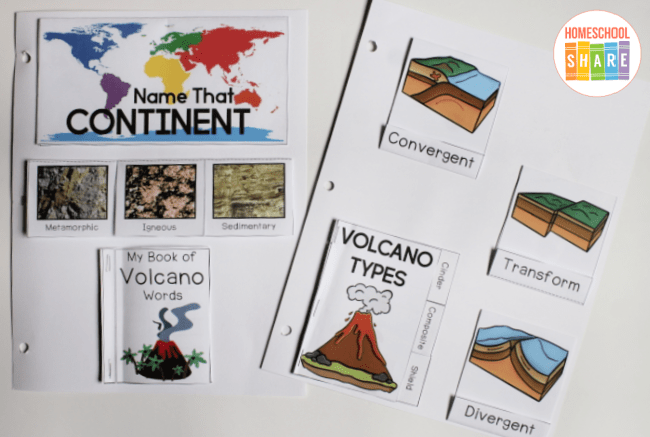 How to Get Started with Your Volcanoes Lapbook
Follow these simple instructions to get started with the Volcanoes Lapbook.
If you want, go to your local library and check out books about volcanoes and other natural disasters.
Print the lapbook.
Choose and prepare the mini-books you want to use with your student.
Enjoy a week of reading and learning all about volcanoes.
Download Your Free Volcano Lapbook
Use the form below to subscribe to the newsletter. Once you confirm, you'll receive an email with the link to the lapbook. If you are already confirmed, simply enter your name and email address below, and you will receive an email with the link.
Learn More About Natural Disasters
If your student is interested in natural disasters, grab these other studies.