Affiliate Disclaimer
We sometimes use affiliate links in our content. This won't cost you anything, but it helps us to keep the site running. Thanks for your support.
This unit study includes lessons and printables based on the book Tornado by Betsy Byars.
A tornado appears in the distance, and the family quickly gathers into the storm cellar. The storm rages outside, but Pete, the farmhand, knows this is the perfect time to tell his stories about a dog named Tornado.

Blown into their lives by a twister when Pete was a boy, Tornado was no ordinary dog—he played card tricks, saved a turtle's life, and had a rivalry with the family cat.

Forgetting their fear, the family hangs on every word of Pete's stories—both happy and sad—of this remarkable dog.
Enjoy the tales of Tornado (found in the book by Betsy Byars) while you read, learn, and create a Tornado Lapbook.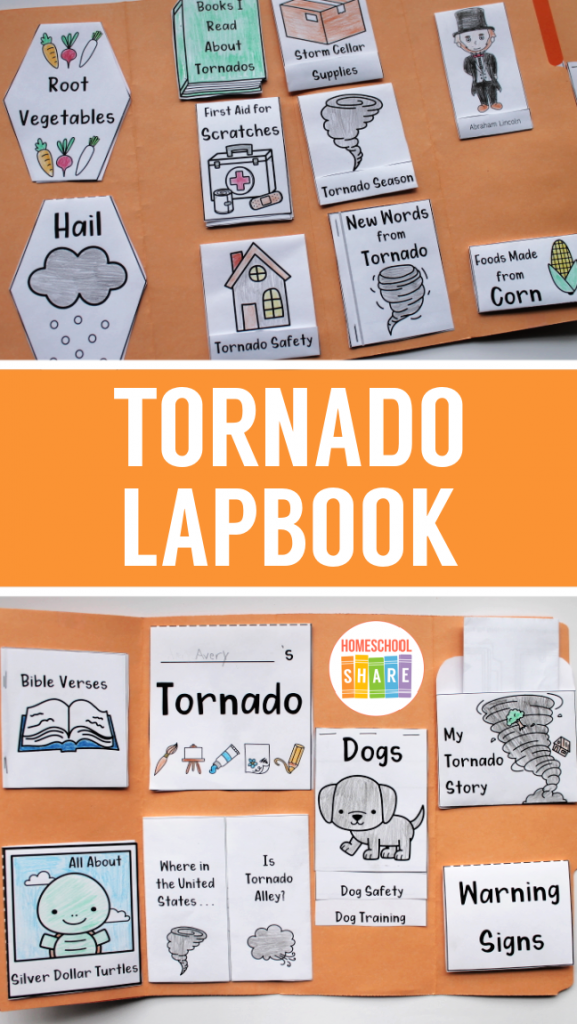 Thanks to Rose Ann Kuhns for writing the lessons for this Tornado unit study.
Tornado (by Betsy Byars) Lesson Plans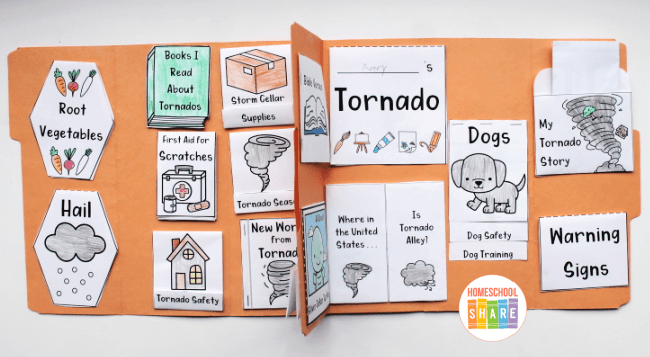 Here are some sample lessons from the Tornado Unit Study.
Health: Tornado Safety
If a tornado warning is issued for your location; take the following steps immediately if you are at home:
1. Go at once to the basement, storm cellar, or the lowest level of the building.
2. If there is no basement, go to an inner hallway or a smaller inner room without windows, such as a bathroom or closet.
3. Get away from the windows.
4. Go to the center of the room. Debris can sometimes come through walls.
5. Get under a piece of sturdy furniture such as a workbench or heavy table or desk and hold on to it.
6. If you have time, get a mattress or blankets to protect your head and the heads of any children with you. If you don't have time, use your arms to protect your head and neck.
7. If you live in a mobile home, get out and find shelter elsewhere in a permanent building.
If outdoors:
1. If possible, get inside a building.
2. If shelter is not available or there is no time to get indoors, lie in a ditch or low-lying area or crouch near a strong building. Be aware of the potential for flooding. 3. Use arms to protect head and neck.
Science: Hail
Hail is round hard balls of ice. It is formed in storm clouds when the moistures freezes on ice pellets and the ice pellets are tossed up and down in the cloud by the winds. They are coated layer by layer with ice (sort of like an onion) until they become heavy enough to fall to the ground. Hail can be damaging to people, plants and animals.
Hailstones range in size from the size of a pea to the size of a baseball. The largest hailstone recorded hit Coffeyville, Kansas in 1970. It was 17 ½ inches and weighed 1 2/3 pounds. Hailstorms are always closely connected with thunderstorms, but the regions that most often have thunderstorms are not the same as the most frequent hailstorms.
Hail most often occurs near Cheyenne, Wyoming and Denver, Colorado. Thunderstorms are most frequent near Tampa, Florida and northern New Mexico. Hail almost never falls in Florida, in the tropics, in the Polar Regions or over the ocean. Hail is most likely to happen in the spring but thunderstorms are most common in summer.
You can grab a copy of the entire Tornado Unit Study and Lapbook in an easy-to-print file at the end of this post.
Tornado Lapbook Printables
In addition to the unit study lessons, the file includes the following mini-books for a Tornado Lapbook:
New Words from Tornado
Root Vegetables Simple Fold
Hail Simple Fold
First Aid for Scratches Mini-book
Dogs Layer Book
My Tornado Story Pocket
Tornado Season Matchbook
Storm Cellar Supplies Matchbook
Tornado Safety Matchbook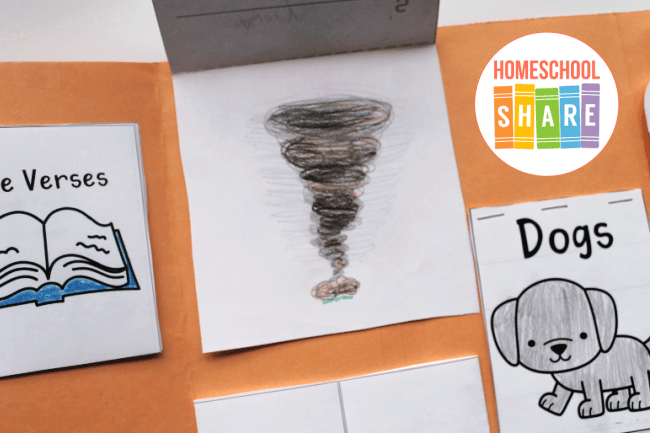 Tornado Drawing Mini-book
Made from Corn Accordion
Tornado Warning Signs Simple Fold
Books I Read About Tornados Book Shapes
All About Silver Dollar Turtles Simple Fold
Abraham Lincoln Matchbook
Where in the U.S. Is Tornado Alley? Shutterfold
Bible Verses Mini-book
Tornado Lapbook Example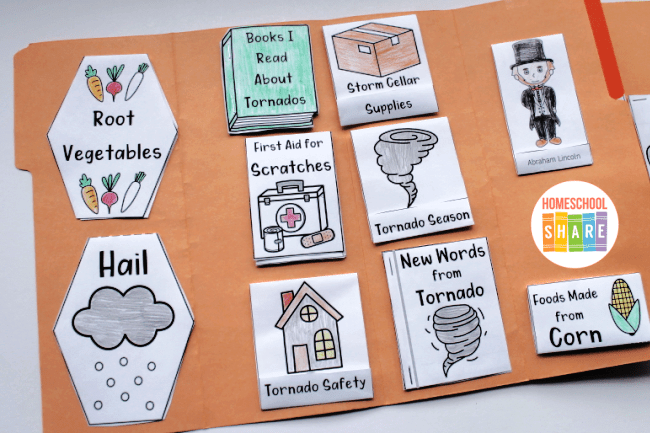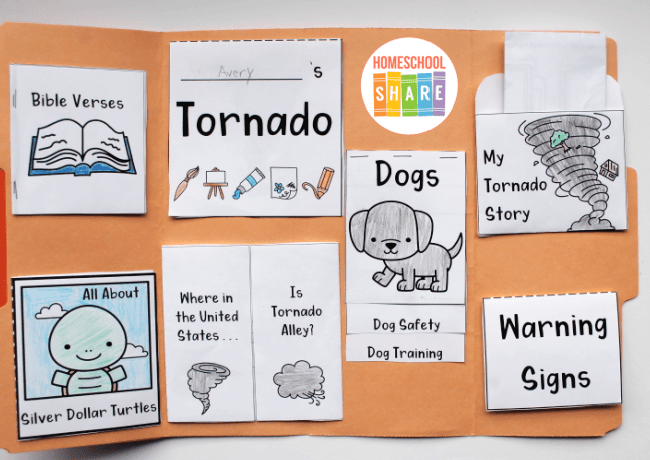 How to Get Started with Your Free Tornado Unit Study & Lapbook
Follow these simple instructions to get started with the Tornado Unit Study:
Buy a copy of the book, Tornado by Betsy Byars, or borrow one from your local library.
Print the Tornado unit study.
Choose the lessons you want to use with your student (a highlighter works great for this).
Choose and prepare the lapbook printables you want to use with your student.
Enjoy a week of learning with Tornado.
Get Your Free Tornado Unit Study & Lapbook
Simply click on the image below to access your free Tornado Unit Study and Lapbook.
More Resources for Learning About Natural Disasters