Affiliate Disclaimer
We sometimes use affiliate links in our content. This won't cost you anything, but it helps us to keep the site running. Thanks for your support.
Looking for your next animal research project? Each of your students can choose a lizard worksheet and complete a report on lizards.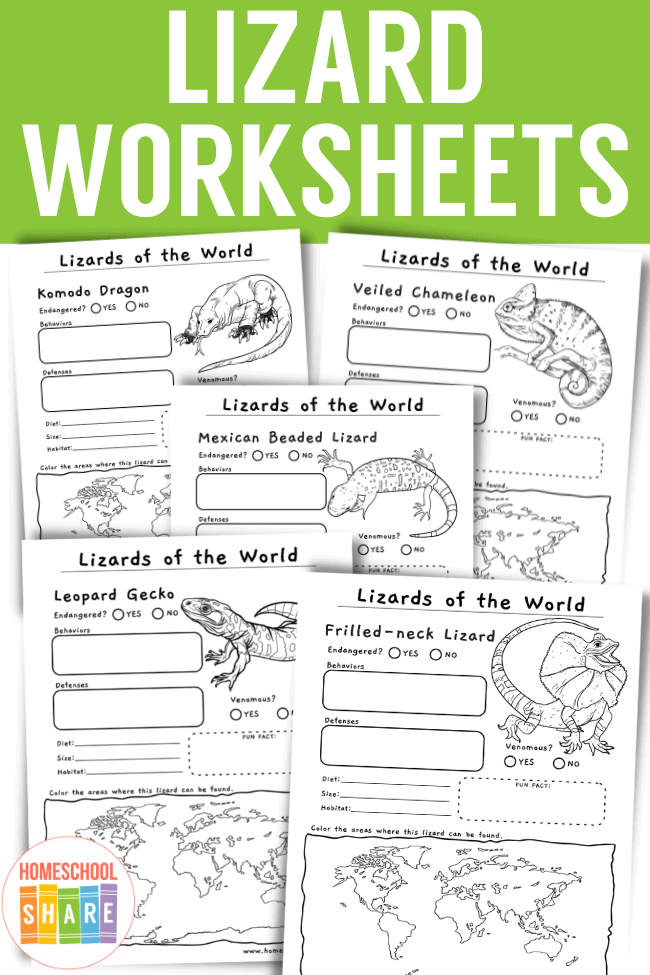 What's Included on Each Lizard Worksheet?
Each lizard worksheet includes a variety of research prompts for your student.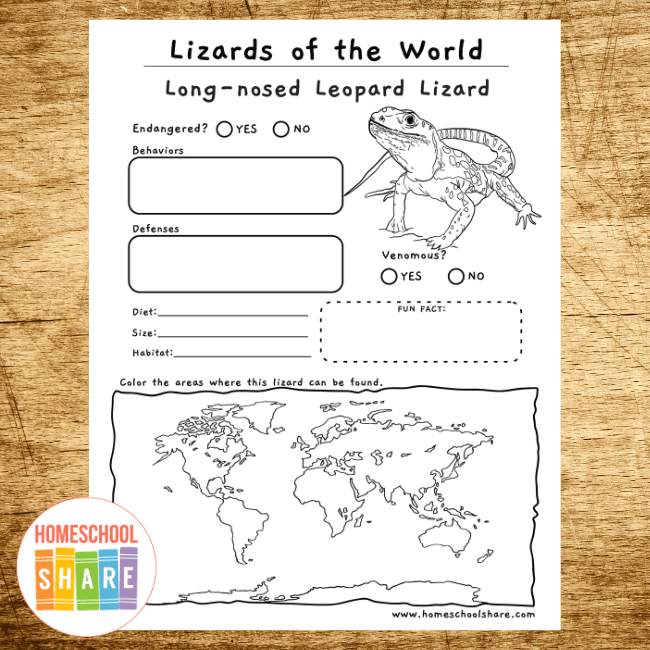 Your student will tick a box to indicate if a lizard is endangered or not endangered.
Your student will record lizard behaviors. An animal behavior is anything an animal does in response to a stimulus. How does the animal move? What are its instincts? Does it live in a group or alone?
Your student will also record lizard defenses. How does this lizard protect itself? (Lizards have some amazing defenses!)
There is a spot to write the lizard's diet.
Your student will also research and record the lizard's size.
There is a spot to add the lizard's habitat. What conditions does this lizard need to survive?
Student will tick a box to indicate whether or not the lizard is venomous.
Student can add a favorite fact to the fun fact box.
The final area is for the student to color and label a map showing where in the world the lizard lives.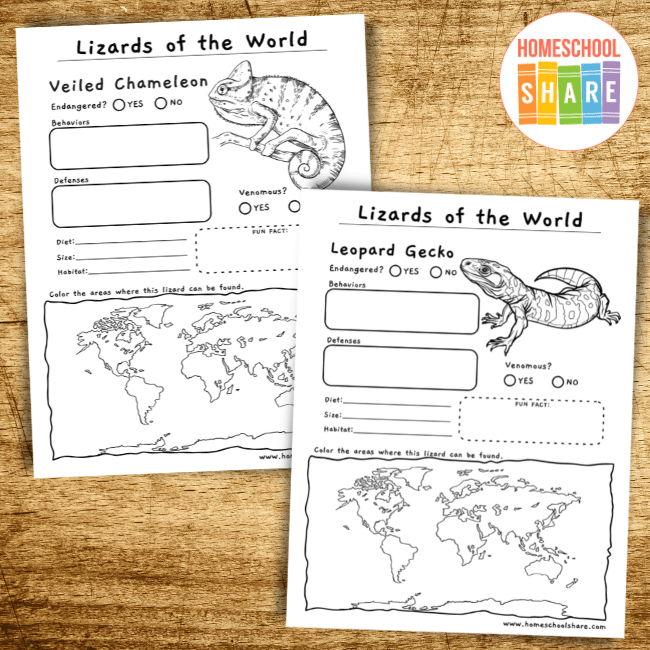 A lizard worksheet is included for each of the following lizards:
Gila Monster
Green Iguana
Western Skink
Komodo Dragon
Leopard Gecko
Veiled Chameleon
Tokay Gecko
Long-nosed Leopard Lizard
Greater Earless Lizard
Bent's Spiny-tailed Lizard
Mexican Beaded Lizard
Frilled-neck Lizard
Galapagos Land Iguana
Sicilian Wall Lizard
Jackson's Chameleon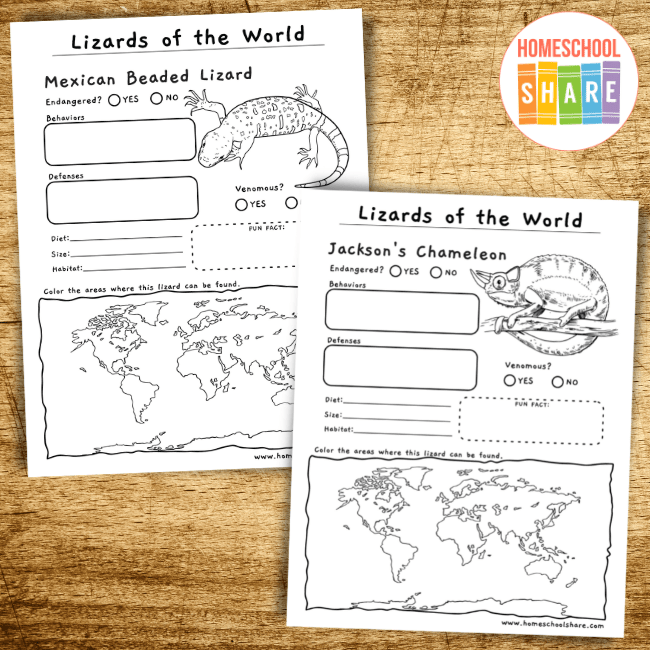 Lizard Research
Your students will need to research in order to complete the notebook pages. You can check out a variety of books about lizards at your local library, or you can use reliable websites.
Here are a few recommended websites for your research:
How to Get Started with the Lizard Worksheet Research Project
This set of worksheets is easy to use.
Print the pages you think will interest your student.
Grab some books from the library or show your student how to use reliable websites for research.
Let your student complete the pages.
Three-hole punch the pages and add them to a folder or binder to create a Lizard Notebook, a portfolio your student will be proud to display and show off! If you are teaching a class, you could make a class binder that students could browse during free time.
Grab Your Free Set of Lizard Research Worksheets
Use the form below to subscribe to the newsletter. Once you confirm, you'll receive an email with the link to the lizard research pages. If you are already confirmed, simply enter your email address below, and you will receive an email with the link.
Learn More About Reptiles
Is your student crazy about reptiles? Check out some of these additional resources: