Affiliate Disclaimer
We sometimes use affiliate links in our content. This won't cost you anything, but it helps us to keep the site running. Thanks for your support.
Turtle Bay is a story of acceptance, protecting the environment, observing and learning from nature, and friendship. It is a special one, and even though it is out of print, I hope you will be able to find this treasure.
The corresponding Turtle Bay unit study is full of wonderful history, science, math, and language arts lessons.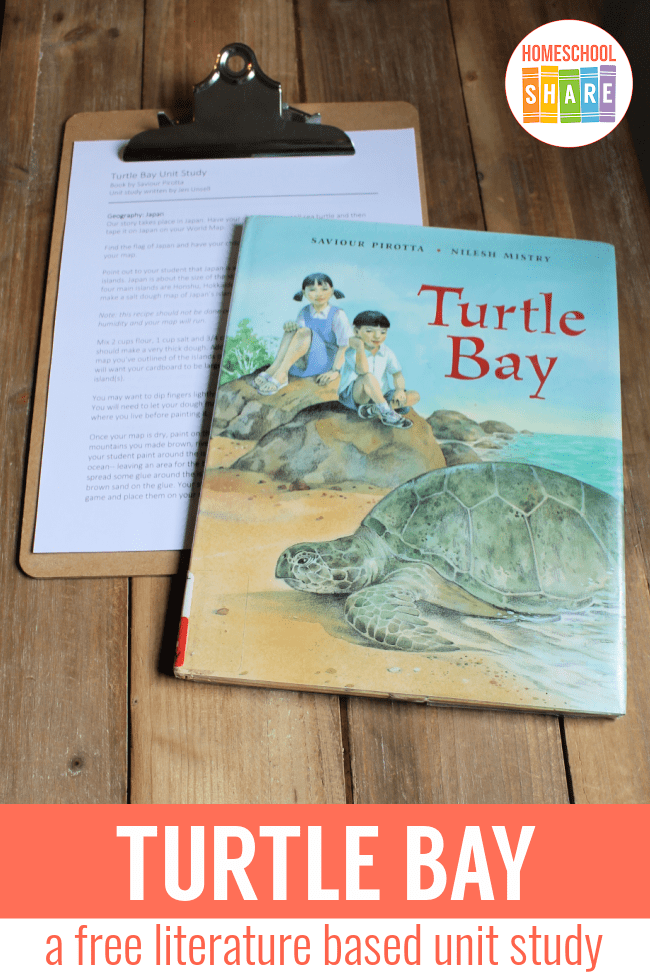 Thanks to Jen Unsell for preparing this Turtle Bay unit study for Homeschool Share.
Turtle Bay Unit Study Lessons
This unit study includes lessons and activities based on the book Turtle Bay by Saviour Pirotta.
Here is a sample of the lessons found in this Turtle Bay unit study:
Social Studies: Japanese Culture
Turn to the page where Taro and Yuko are in their home. Ask your student to name the things about their home that look different than his home.
Discuss Yuko and Taros table that they are eating at. What are they sitting on? What are they eating with? What are they eating? Can your student guess? Sushi is very popular in Japan. Does your student know what sushi is?
Your local Chinese and Japanese restaurants probably have sushi bars. A field trip out to eat one day during your time with this story would be fun, especially to a restaurant that has a sushi bar that your child can observe.
You can make some pretend sushi to enjoy with your student. You will need:
Pretend Sushi Rolls
8 fruit roll ups
1/4 cup butter
1 (10oz) pkg marshmallows
6 cups crisp rice cereal
16 gummy worms
Unroll the fruit rolls and place with plastic sheet down on a cutting board. Melt butter in microwave and add marshmallows. Heat again stirring every 30 seconds until marshmallows melt into butter. Stir in rice cereal until blended. Spread about 1/2 cup cereal mixture quickly over each fruit roll, leaving 1″ border on 1 long side. Arrange 2 gummy worms lengthwise down center of cereal mixture and roll up starting at side without border. Press to seal. Repeat with remaining fruit rolls. Cut each roll into 1/2-1′ slices. Serve with chopsticks! Your student might also enjoy the book Sushi for Kids: A Children's Introduction to Japan's Favorite Food by Kaoru Ono.
It would also be fun to create a Japanese dinner one night during your time with this story. There are many recipes online that you could find to make. Pick up some chopsticks and enjoy a dinner around your coffee table sitting on pillows. Play some Japanese music during your dinner.
The Native dress of Japan is the kimono, a loose fitting outer garment with short, wide sleeves and a sash. Kimonos are worn by men, women, and children in Japan, even today, though they were more popular years ago.
Art: Clay Dough Creations
Using the following clay recipe have your student create a sea turtle and then paint it after it has baked and cooled. When he has finished his sea turtle, have him place it in the ocean area of his salt dough map. This recipe is enough for your student to make more than one sea turtle. You can halve the recipe if desired but you will need some more clay for some projects listed in other parts of this unit.
Ingredients:
4 cups flour
1 cup salt
1.5 cups water
2 T. vegetable oil
Mix all together. Knead until smooth. After your student creates a turtle, bake it at 300 degrees for about an hour.
Science: Sea Turtles
There are many different kinds of turtles from tortoises and pond turtles to snapping turtles and sea turtles. Ask your student if he has ever seen a turtle? Most turtles can swim and enjoy the water but many are considered land animals. The turtles in our story are sea turtles. They are the only true aquatic turtle because they live their entire lives in the sea. How long do you think that life is? Interestingly enough, we don't really know. No one has actually been able to observe one long enough from birth to death to get an accurate number. Most scientists believe they live about 40-60 years, perhaps a little more.
Sea turtles are reptiles. Reptiles have scales and a backbone. They are cold-blooded and they breathe with lungs. Reptiles include:
Alligators and crocodiles
Tortoises, turtles, and sea turtles
Tuataras
Lizards and snakes
Anatomy:
The one thing that separates a turtle from other reptiles is its shell. Sea turtles have flat, streamlined shells. The leatherback sea turtle has a tough, leathery skin instead of a shell. A turtle's shell is made up of an upper dome called the carapace (kehr' uh pace) and a lower plate called the plastron (plas' trun). Both of these parts are covered with plates (called scutes) put together like a jigsaw puzzle. The scutes are made of the same substance as your fingernails, keratin. As a turtle grows, its shell grows with it. A sea turtle's shell is flatter than those of other turtles. This gives them a more streamlined shape, which helps them move through the ocean water, wrestle with ocean currents, and make quick escapes from turtle-eating sea creatures.
In cartoons you will see turtles pull their necks into their shell, and even their feet as well. A sea turtle however, cannot escape into its shell. It can only pull its head in a little.
Sea turtles can see, hear, and smell. They do not have teeth, but have strong jaws and a hooked beak.
Sea turtles can soar through the ocean like a bird flying through air but they do not do very well trying to get around land. Their flippers aren't very good for walking, so the only way they can move about on land is to very slowly drag themselves from one place to another.
You can grab a copy of the entire Turtle Bay unit study in an easy-to-print file at the end of this post.
How to Get Started with the Turtle Bay Unit Study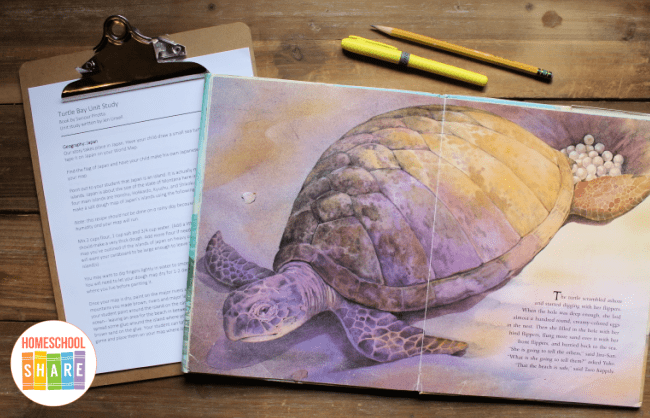 Follow these simple instructions to get started with the Turtle Bay unit study:
Buy a copy of the book, Turtle Bay, or grab one from your local library.
Print the Turtle Bay unit study.
Choose the lessons you want to use with your student (a highlighter works great for this).
Enjoy a week of book-based learning with your student.
Download Your Turtle Bay Unit Study
Simply click on the image below to grab your free copy of the Turtle Bay unit study.
More Resources for Learning About Ocean Animals