Affiliate Disclaimer
We sometimes use affiliate links in our content. This won't cost you anything, but it helps us to keep the site running. Thanks for your support.
Mollusks are invertebrates who are characterized by their soft bodies. Many have hard outer shells for protection. You can find mollusks in oceans all over the world; you will also find them in freshwater and on land in moist conditions. This is a huge group of animals with 100,000 different species!
Grab our Mollusks Lapbook and learn about the three main classes of mollusks: gastropods, cephalopods, and bi-valves.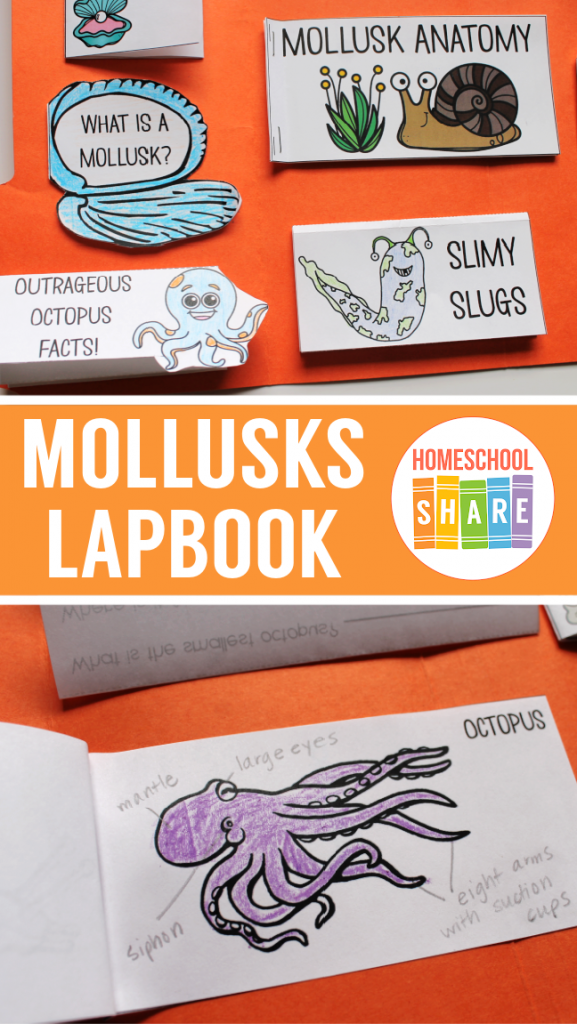 Mollusks Lapbook Lessons
Here are some sample lessons from the Mollusks Lapbook:
Gastropods-
Gastropods include mollusks who have a muscular foot at the bottom; the word gastropod means "stomach-foot." Most gastropods have distinct heads with sense organs as well as spiral shells. Snails and slugs as well as cowries and limpets are examples of gastropods.

Cephalopods-
The word cephalopod literally means "head-foot"; the foot of a cephalopod lies close to the head. Animals in this classification are the most active of all mollusks; they also have muscular sucker-bearing arms, highly developed eyes, and usually a bag of inky fluid which can be released for defense. This group includes the following mollusks: squid, octopuses, nautiluses, and cuttlefish.

Bivalves-
Mollusks that have two movable shells held together by a toothed hinge are known as bivalves. Most bivalves live in sandy burrows or attach themselves to rocks. This group includes (but is not limited to): clams, scallops, oysters, and mussels.
To access all of the lessons in this Mollusks Lapbook, subscribe to Homeschool Share's email list using the form in this post.
Mollusks Lapbook Printables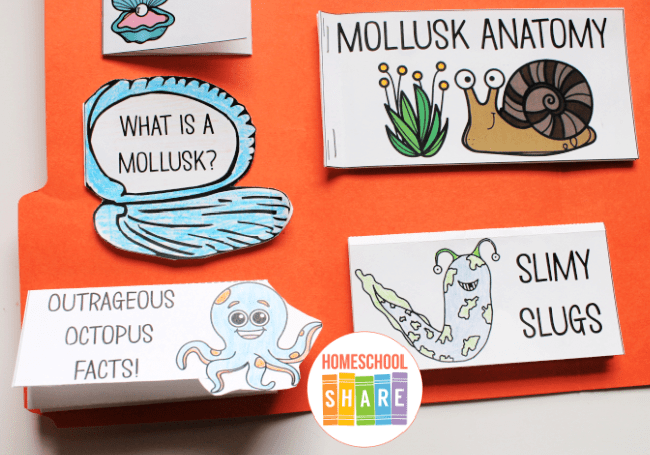 In addition to the research lessons, the file includes these mini-books for your student to create a lapbook:
Mollusk Anatomy Tab Book
Octopus Map
Snail Sightings Hotdog Book
Squirting Squids! Tri-fold Book
Slimy Slugs Tri-fold Book
What Is a Mollusk? Shell Shape Book
My Mollusks Book Log Fan
The Mollusk Family Flap Book
Outrageous Octopus Facts Accordion
My Book of Mollusk Words
Slug Diet T-book
How to Get Started with Your Lapbook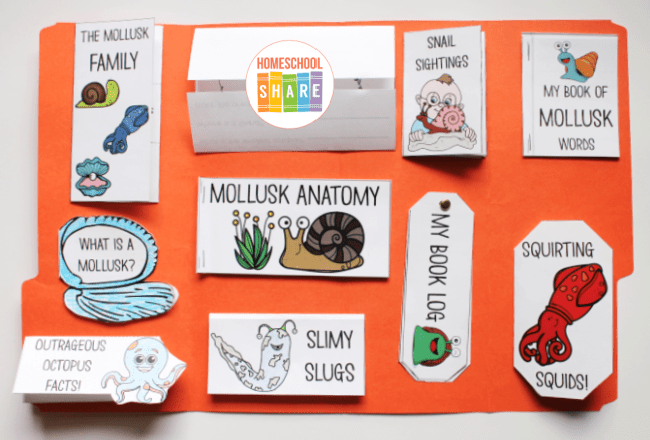 Follow these simple instructions to get started with the Mollusks Lapbook.
If you want, go to your local library and check out books about snails, octopuses, clams, squids, and other mollusks.
Print the Mollusks Lapbook.
Choose and prepare the mini-books you want to use with your student.
Enjoy a week of reading and learning all about mollusks!
Download Your Free Mollusks Lapbook
Use the form below to subscribe to the newsletter. Once you confirm, you'll receive an email with the link to the lapbook. If you are already confirmed, simply enter your name and email address below, and you will receive an email with the link.
Explore Other Animal Lapbooks
We have gobs and gobs of animal lapbooks. Try one of these.