Affiliate Disclaimer
We sometimes use affiliate links in our content. This won't cost you anything, but it helps us to keep the site running. Thanks for your support.
Crocodilian?!? What in the world is a crocodilian? It's a large predatory semiaquatic reptile and includes crocodiles, alligators, caimans, and gharial. Crocodilians are distinguished by long jaws, short legs, and a powerful tail. Grab our free Crocodilian Lapbook and learn more about these wild creatures.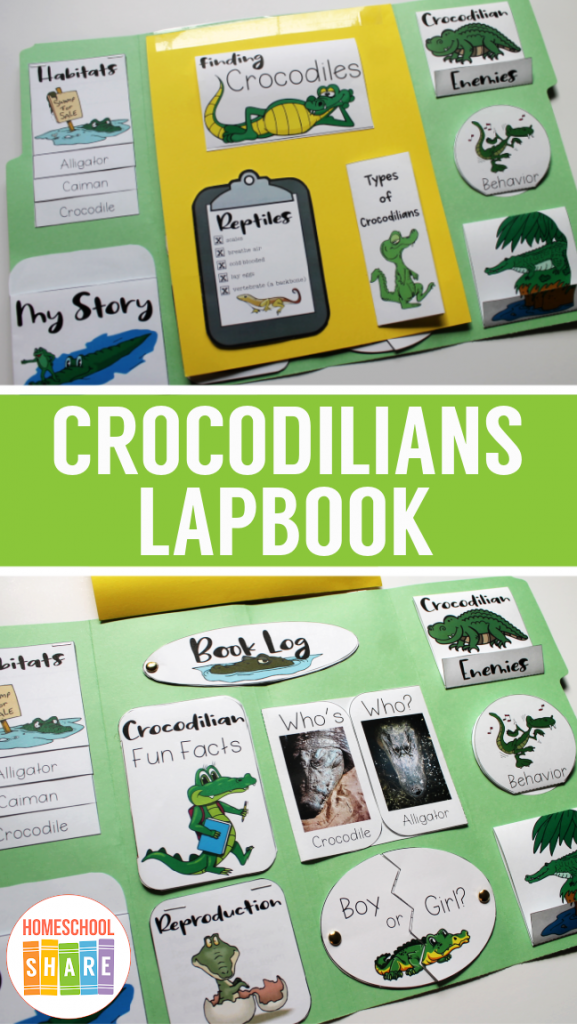 Crocodilian Lapbook Lessons
Here are some sample lessons from the Crocodilians Lapbook:
Alligator or Crocodile?
What is the difference between crocodiles and alligators?
When a crocodile's mouth is closed some of its teeth slide into a c-shaped groove on either side of the top jaw. The teeth can be seen when the mouth is closed. When an alligator's (and caiman) mouth is fully closed, you cannot see their teeth.
An alligator has a wide, rounded snout. A crocodile has a more pointed snout.
Alligators are freshwater reptiles. Crocodiles live in both salt and fresh water.
What do alligators and crocodiles have in common?
They have long, bumpy bodies covered in scales called scutes.
They have four short legs, sharp teeth, and a long, strong tail.
They are both reptiles.
They live in lakes, swamps, and rivers.
Crocodilian Diets
Crocodilians are carnivores. Young crocodilians eat insects, crayfish, crabs, frogs, and small fish. As they grow, they add small mammals, lizards, snakes, turtles, and birds. Large crocodilians will eat wildebeest, zebras, monkeys, deer, and people.
To access all of the lessons in this Crocodilians Lapbook, subscribe to Homeschool Share's email list using the form in this post.
Crocodilian Lapbook Printables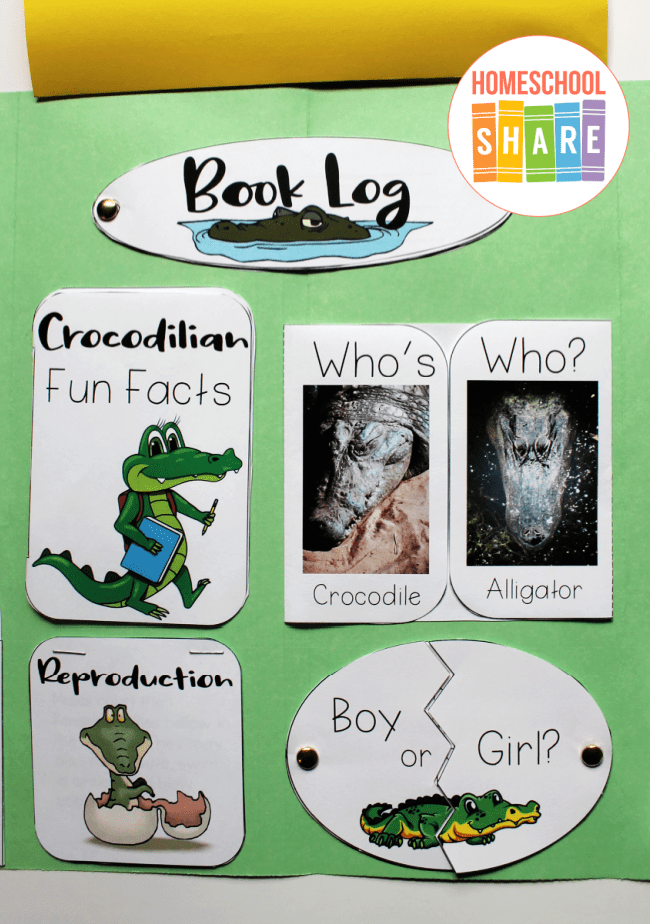 In addition to the research lessons, the file includes these mini-books for your student to create a Crocodilians Lapbook:
Crocodilian Diets Petal Book
Types of Crocodilians Shutterfold Book
Crocodilian Behavior Accordion
Boy or Girl? Egg Book
Crocodilian Fun Facts Bound Book
Crocodilian Reproduction Mini-book
Alligator Life Cycle Wheel Puzzle (two versions: color and black/white)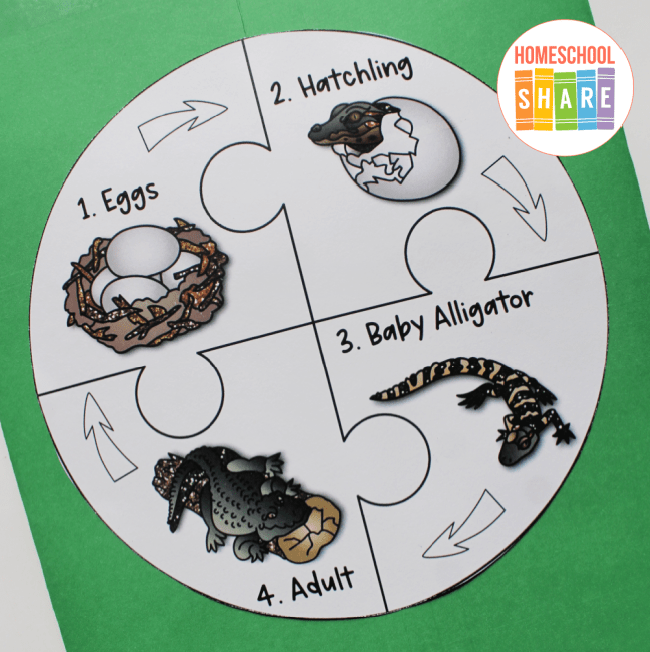 Crocodilian Enemies Matchbook
Blank Matchbook
Book Log Fan
Finding Crocodiles Map
Crocodile vs. Alligator Shutterfold Book
Crocodilian Habitats Layer Book
My Crocodilian Story Pocket
"How Doth the Little Crocodile" Copywork Page & Pocket
Reptiles Clipboard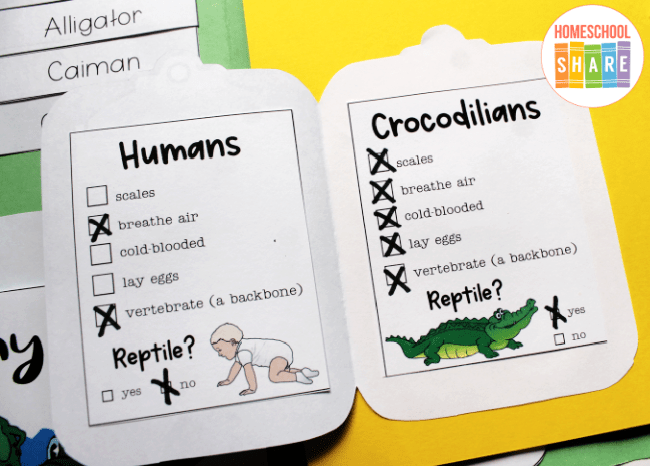 How to Get Started with Your Crocodiles & Alligators Lapbook
Follow these simple instructions to get started with the Crocodilians Lapbook.
If you want, go to your local library and check out books about crocodiles, alligators, caimans, and gharial. You can read these books throughout your crocodilians study.
Print the Crocodilians Lapbook.
Choose and prepare the mini-books you want to use with your student.
Enjoy a week of reading and learning all about crocodilians!
Crocodilians Lapbook Sample
This lapbook was made with one file folder and a piece of yellow cardstock taped to the middle section.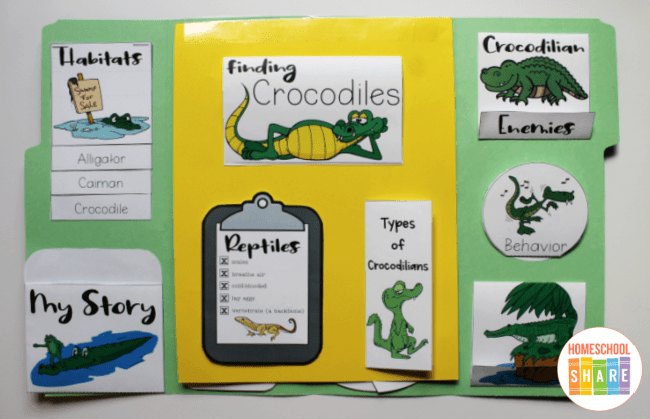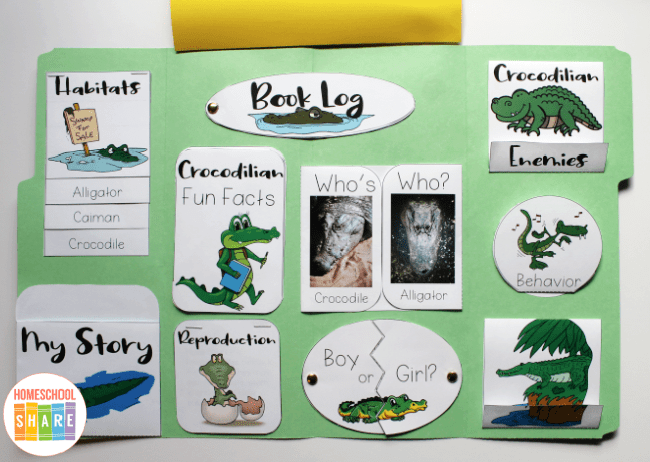 Download Your Free Crocodiles & Alligators Lapbook
Use the form below to subscribe to the newsletter. Once you confirm, you'll receive an email with the link to the lapbook. If you are already confirmed, simply enter your name and email address below, and you will receive an email with the link.
Explore More Reptile Lapbooks
Learn more about reptiles with these animal lapbooks.