Affiliate Disclaimer
We sometimes use affiliate links in our content. This won't cost you anything, but it helps us to keep the site running. Thanks for your support.
If your student wants to learn about snakes or if you are planning a snake unit, you're in the right place. Our Snakes Lapbook is crammed full of lessons about these fascinating reptiles.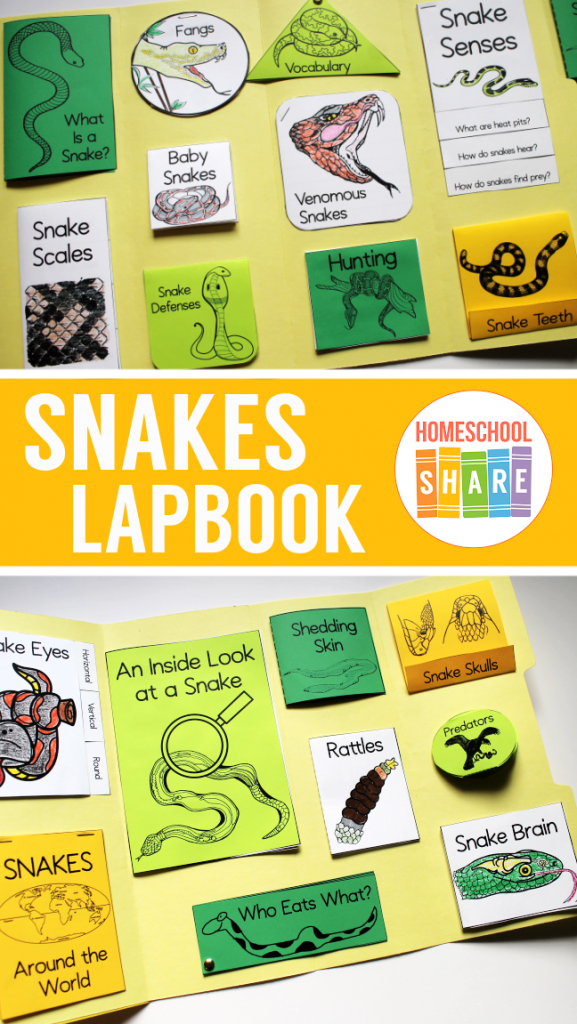 Thanks to Lynn Pitts for writing the research for the Snakes Lapbook.
Snakes Unit Study Lessons
Here are some sample lessons from the Snakes Lapbook:
Snake Characteristics
Snakes are cold blooded animals. This means their body temperatures are determined by outside sources, such as the heat of the sun, and is regulated only by basking or seeking shade. Most snakes, ideal temperature is 85 degrees. At low temperatures, snakes are sluggish, and body functions are slow. To digest meals, they need high body temperatures.
Size and Shape
All snakes have the same form, long and thin with no limbs. Yet vary from size from different species. The smallest, barely longer than the human finger, to the largest can extend six times the weight of a person.
Snakes can crawl, swim and climb to hunt. They have lots of bones so their bodies bend easily. They have strong muscles to move their bones. This allows snakes to loop side to side or push and pull themselves forward.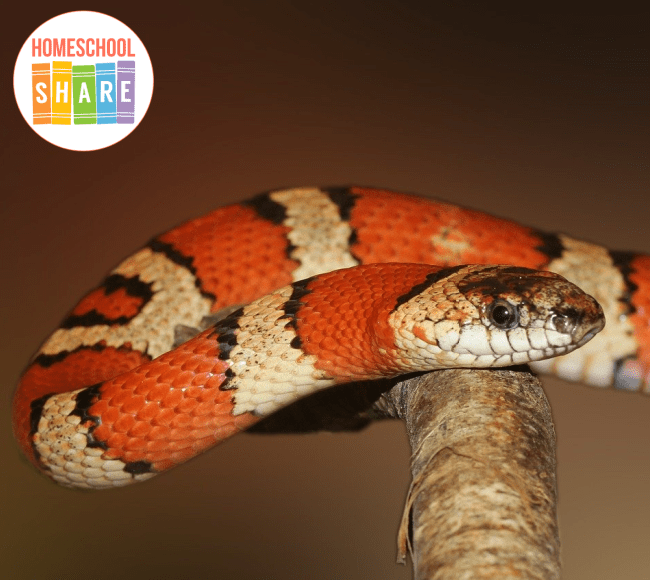 Snake Scales
Snakes bodies are covered with scales. They are thick fingernail like material on stretchy skin. Scales keep snakes from being hurt as they crawl over sharp rocks, through thorny brush, and up rough tree bark.
Snakes have four types of scales on different parts of their body.
Dorsal Scales-
Scales on their back are small and overlap like roof shingles. These act like armor to shield the snake. These scales are colored
Ventral Scales-
Scales on the belly are big and flat. These act like tire tread to dig in and pull the snake along.
Head Scales-
They are large and plate like in many species.
Subcaudal Scales-
Found beneath the snake's tail, similar to ventral scales.
Snakes have one big, clear scale over each eye. They cover the eye like goggles. Scales help protect snakes against biting insects, small predators, parasites, and snakes own prey.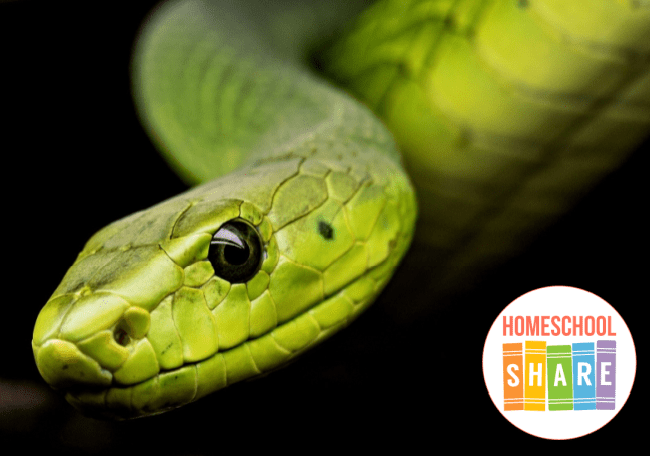 Snake Movement
Snakes have four types of motion, which vary according to the kind of terrain they live in.
Linear Progression- Waves of muscles contract along the length of its body to move the snake directly forward. The trailing edges of its large ventral scales provide grip.
Lateral Undulation- This is the most common type of motion. The snake moves forward by pushing the sides of its body against rocks or other ground irregularities.
Concertina Movement- In a tight space, snakes proceed by bunching its muscles in turn, first at the rear as it extends its front, then at the front as it draws up the rear.
Sidewinding- On loose sand or smooth surface, the snake lifts loops of its body clear as it moves sideways, creating downward pressure as it lifts to prevent sliding.
To access all of the lessons in this Snakes Lapbook, subscribe to Homeschool Share's email list using the form in this post.
Snakes Lapbook Printables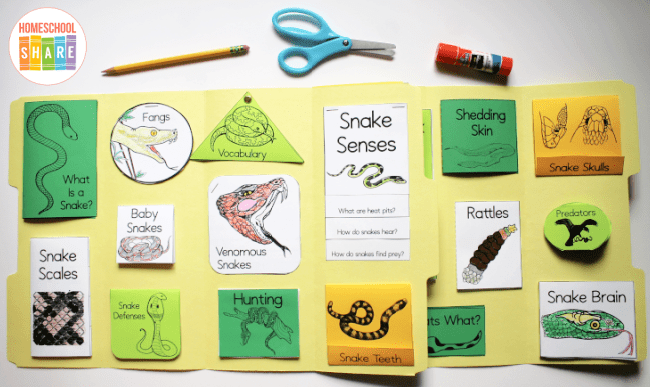 In addition to the research lessons, the file includes these free printables for your student to create a Snakes Lapbook:
Snakes Vocabulary Fan
What Is a Snake? Simple Fold Book
Shedding Skin Simple Fold Book
Snake Fangs Mini-book
Snake Scales Flap Book
Snake Brain Diagram
Baby Snakes Flap Book
Inside a Snake Diagram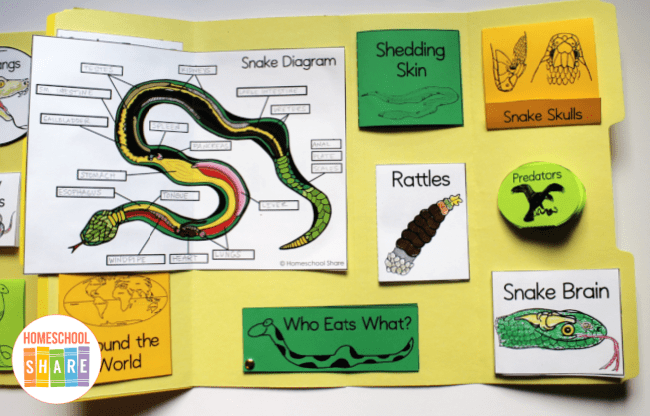 Snake Skulls Matchbook
Snake Teeth Matchbook
Rattles Simple Fold Book
Snake Movement Tab Book
Snake Eyes Tab Book
Snake Senses Layer Book
Hunting T-book
Venomous Snakes Mini-book
Life Cycle of the Snake Accordion
Toxicity Tri-fold Book
Predators Accordion
Snake Defenses Simple Fold Book
Snakes Around the World Mini-book
Snake Diets Fan
Blank Books
Snake Coloring Page
How to Get Started with Your Snakes Unit & Lapbook
Follow these simple instructions to get started with the Snakes Lapbook.
If you want, go to your local library and check out books about snakes. You can read these throughout your snake study.
Print the Snakes Lapbook.
Choose and prepare the mini-books you want to use with your student.
Enjoy a week of reading and learning all about snakes!
Snakes Lapbook Example
This lapbook was made with two file folders glued together. If you need more instructions, please read through this How to Make a Lapbook post.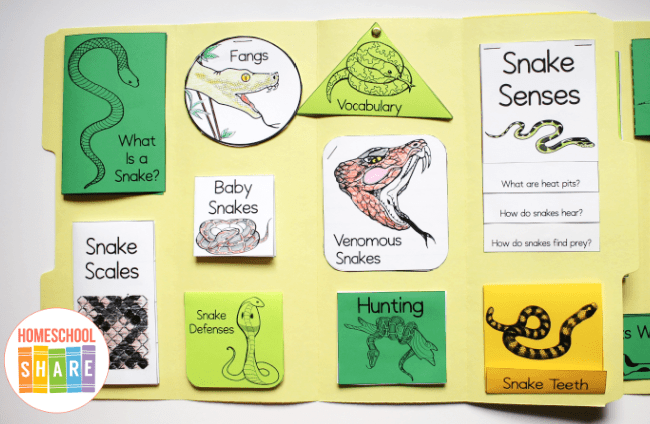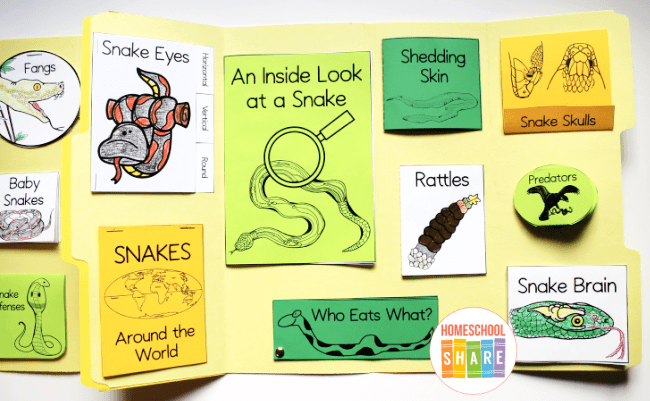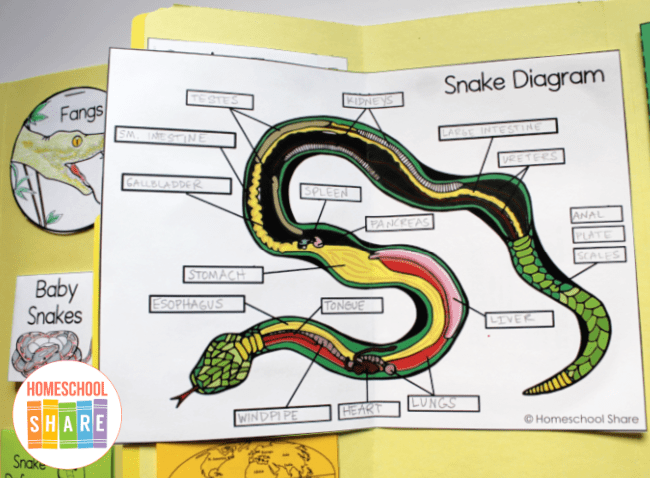 Grab Your Free Unit Study & Lapbook
Use the form below to subscribe to the newsletter. Once you confirm, you'll receive an email with the link to the lapbook. If you are already confirmed, simply enter your name and email address below, and you will receive an email with the link.
Explore More Animal Lapbooks
Check out these other animal lapbook studies: