Affiliate Disclaimer
We sometimes use affiliate links in our content. This won't cost you anything, but it helps us to keep the site running. Thanks for your support.
Are you ready for an adventure? Explore a diverse Southwestern European country with our Spain Lapbook.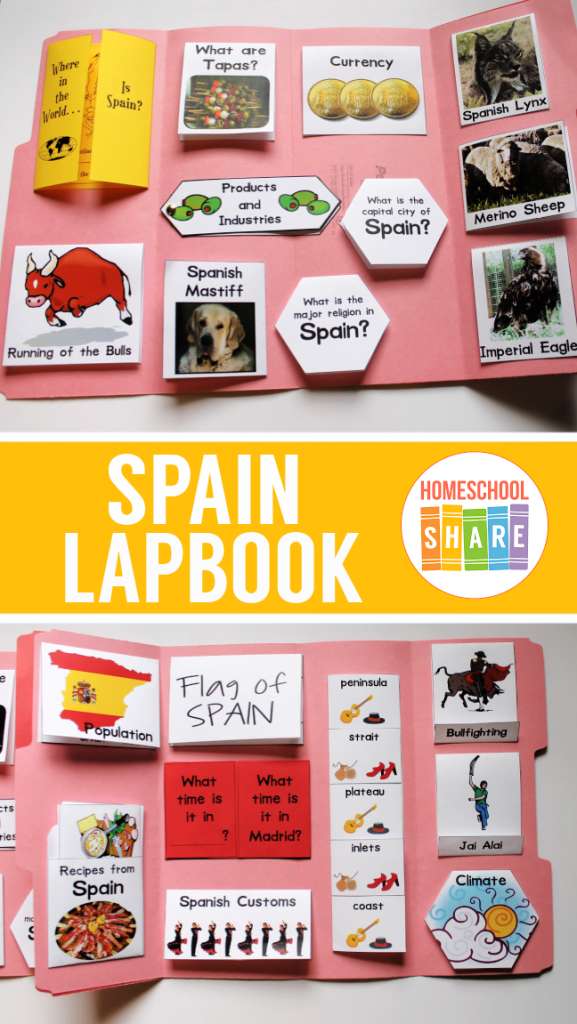 Spain Lapbook Information
Official Name: Kingdom of Spain
Size: 195,124 square miles
Capital: Madrid
Official Language: Spanish
Agricultural Products:
Spain produces grain, vegetables, olives, wine grapes, sugar beets, citrus, beef, pork, poultry, dairy products, and fish.
Major Industries: Major industries in Spain includetextiles and apparel, food and beverages, metals, chemicals, shipbuilding, automobiles, machine tools, tourism, clay products, footwear, pharmaceuticals, and medical equipment.
Currency: Euro
Climate: Spain's climate includes cold winters, hot summers in the inland and more temperate seasons along the coast.
Major Religion: 94% Roman Catholic, 6% other
Population: For current information, use this website: Population of Countries
Comparing Times: To compare the time in the capital city to the time where you live, use this website: The World Clock
Animals in Spain: Your student will need to research these animals in order to complete the mini-books.
Food: Look at the recipes together. Would you like to try making one this week?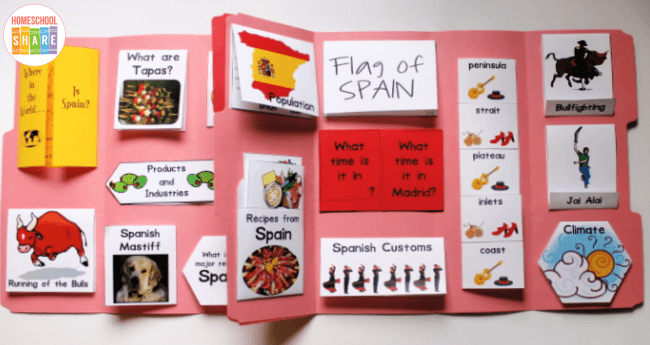 Tapas are enjoyed by people in Spain. They are small plates of foods that like snacks or samples. Popular types of tapas include: marinated meats, grilled meats, olives, and croquettes (small pastries filled with meat). Consider creating some tapas with your students.
Customs: Afternoons are hot in Spain, so people take a break from work to eat and sometimes nap. This is one of the oldest customs in Span and is known as the siesta.
People in Spain take a paseo in the late afternoon. It is a nice, relaxed walk with family and friends.
Sports:
For thousands of years, bullfighting has been a popular sport in Spain. Bullfights are called corridas. The matador is the main challenger against the bull, and he wears a colorful costume with a black hat. The matador has a red cape and tries to get the bull to charge him. At the end of the contest, the matador uses a sword to kill the bull.
Jai alai was invented in Spain thousands of years ago. It is played on a court and players use curved wicker baskets to fling a ball against a wall. You may want to find a video of this game to show your student.
Football (soccer) is also wildly popular.
Special Days:
People in Spain love to celebrate, and they have lots of parades, festivals, and holidays. One of the most famous festivals is the running of the bulls.
In July, on St. Fermín's Day, in the town of Pamplona, bulls are let loose to run in the streets. People run in front of the bulls or alongside them. It is exiting, but it is also dangerous.
If your student is interested, look for and watch a video about the running of the bulls.
Other holidays and events to explore: tomato-throwing festival, Easter, the Feast of Saint James, All Saints' Day, Christmas, and Epiphany.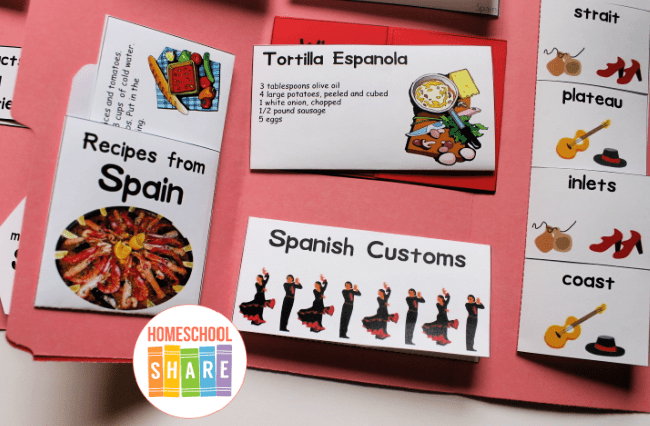 Make a Salt Dough Map: Add to your Spain study by making a salt dough map of Spain.

National Geographic Site: National Geographic has an amazing Spain site for your student to explore.
Make Castanets: Get musical and make some castanets. You might want to listen to some Flamenco music, too.
Spain Lapbook Example
This lapbook example was made with two file folders. If you are new to lapbooking, you can start here: How to Make a Lapbook.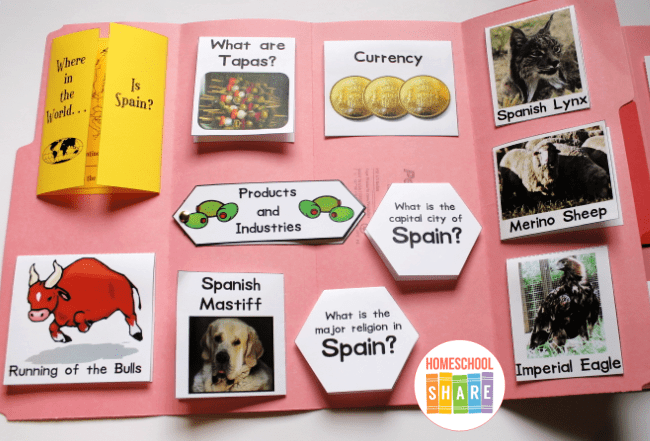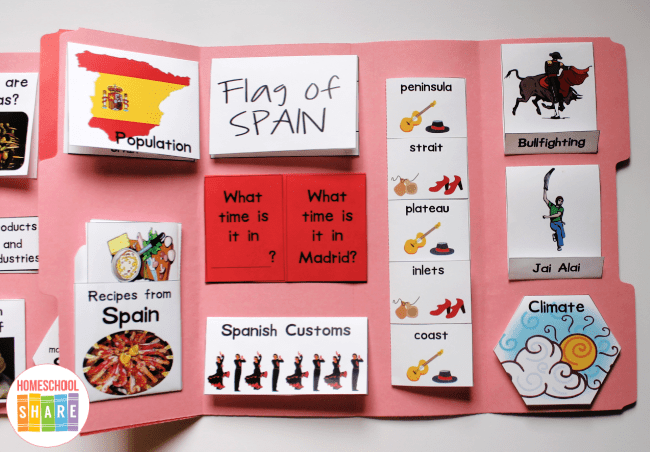 How to Get Started with Your Spain Lapbook
Follow these simple instructions to get started with the Spain Lapbook.
If you want, go to your local library and check out books about Spain. Children Just Like Me includes a profile for Lucas, a child living in Spain.
Print the Spain Lapbook.
Choose and prepare the lapbook mini-books you want to use with your student.
Enjoy a week of reading and learning all about Spain.
Download Your Spain Lapbook
Simply click on the image below to access your free Spain Lapbook.
Explore More Resources for Spain
We have a lapbook for The Story of Ferdinand (a picture book set in Spain).
We also have a set of printables for a younger student for The Story of Ferdinand.
If you are looking for additional country lapbooks, try our geography lapbook index.