Affiliate Disclaimer
We sometimes use affiliate links in our content. This won't cost you anything, but it helps us to keep the site running. Thanks for your support.
Kids love animals! Have fun with geography and introduce the seven continents with this free animals and their continents worksheet set.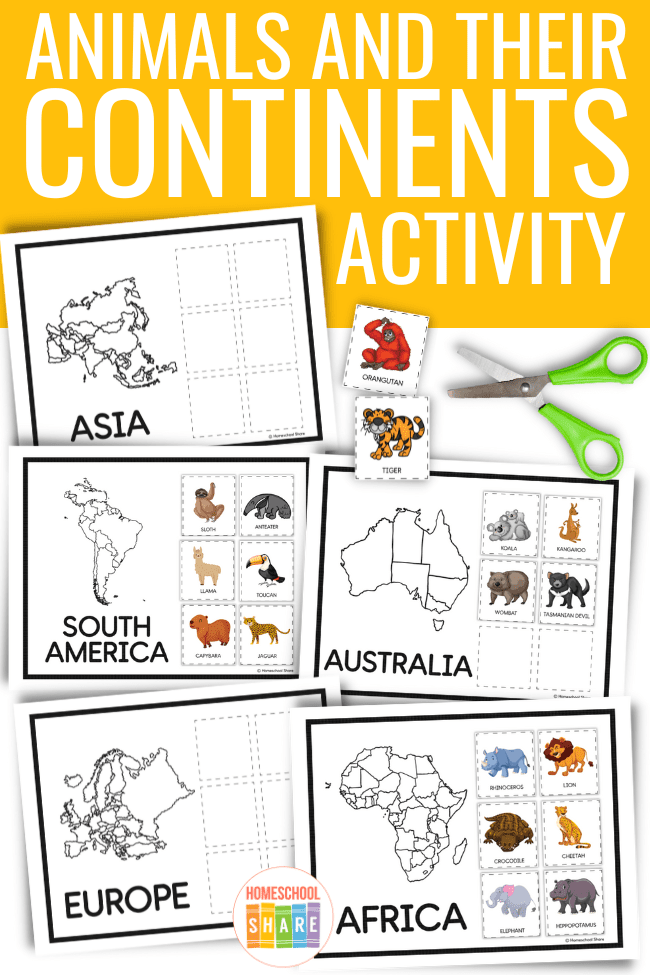 Students will cut and paste the corresponding animals to each continent activity sheet. This will help students learn the seven continents and which animals live there.
What's Included in the Animals and Their Continents Worksheet Set?
This set of animals continents worksheets includes an activity page for each continent.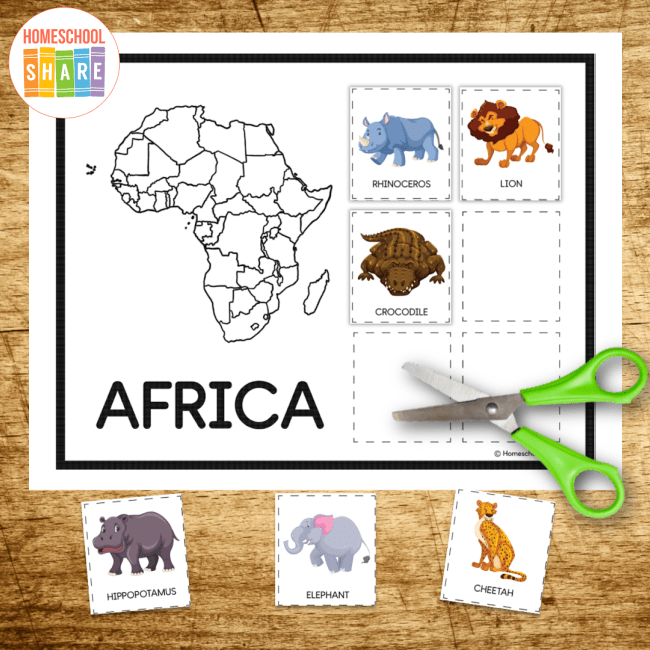 Asia (animals include panda, orangutan, sloth bear, tiger, camel, king cobra)
Europe (animals include goat, weasel, golden jackal, hedgehog, brown bear, and raccoon)
North America (animals include wolf, beaver, armadillo, moose, bison, and bald eagle)
South America (animals include jaguar, llama, sloth, toucan, capybara, and anteater)
Australia (animals include kangaroo, wallaby, koala, dingo, wombat, and Tasmanian devil)
Africa (animals include lion, hippopotamus, crocodile, elephant, rhinoceros, and cheetah)
Antarctica (animals include penguin, seal, blue whale, krill, orca, and squid)
How to Use the Animal Continents Activity Sheets
This set of activity sheets is simple to use.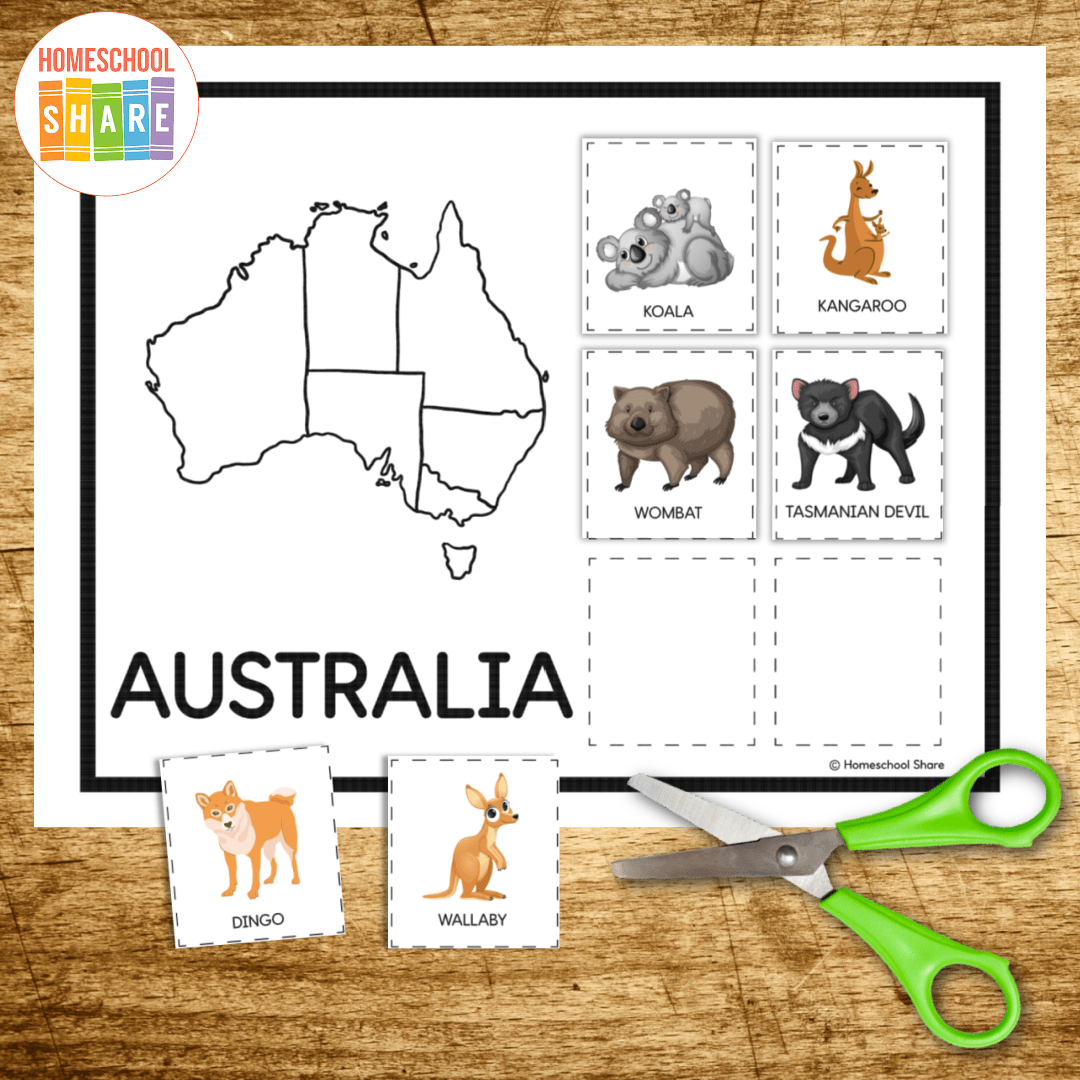 Gather the supplies your student will need to complete the activity: crayons, scissors, and glue.
Print the continent worksheets and animals.
Choose a continent activity sheet to complete.
Show your student a world map and where the continent is. Discuss the animals that live there, and let your student cut and paste the animals to the worksheet.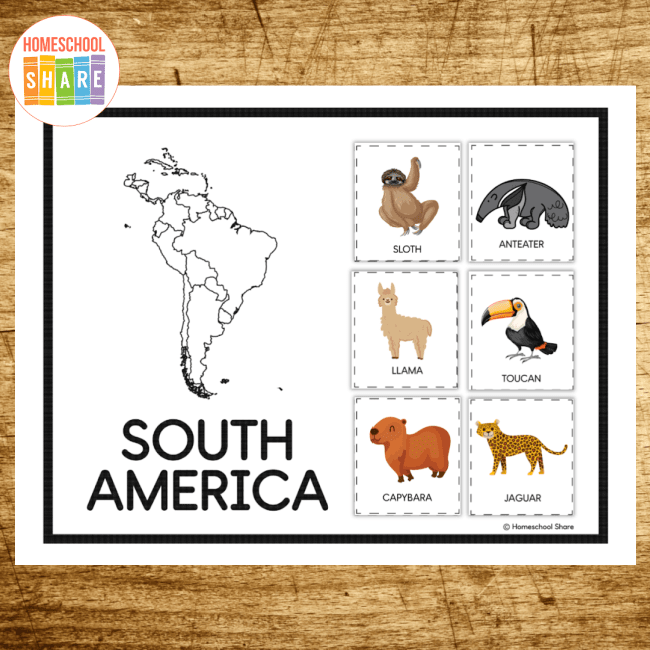 After your student finishes a page, encourage him to color the continent. If you have an older student, ask him to choose an animal to research.
Alternatively, you could laminate the pages and turn this into a reusable center activity. Simply add velcro to the pages and the back of each animal and let students match the correct animals to each continent. When finished, student can clear the page and have it ready for a different student to use.
Get Your Free Animal Continents Activity Sheets
Use the form below to subscribe to the newsletter. Once you confirm, you'll receive an email with the link to the animal continents printables. If you are already confirmed, simply enter your email address below, and you will receive an email with the link.
More Geography Activities for Your Kids
If you want to explore the world with your kids, try some of these printable geography activities: