Affiliate Disclaimer
We sometimes use affiliate links in our content. This won't cost you anything, but it helps us to keep the site running. Thanks for your support.
Read The Story of Ferdinand with your little learner and then dive into this pack of The Story of Ferdinand printables. The free printable pack includes a variety of activities for your preschool or kindergarten student–a word find, a number maze, a game, learning about your sense of smell, and more!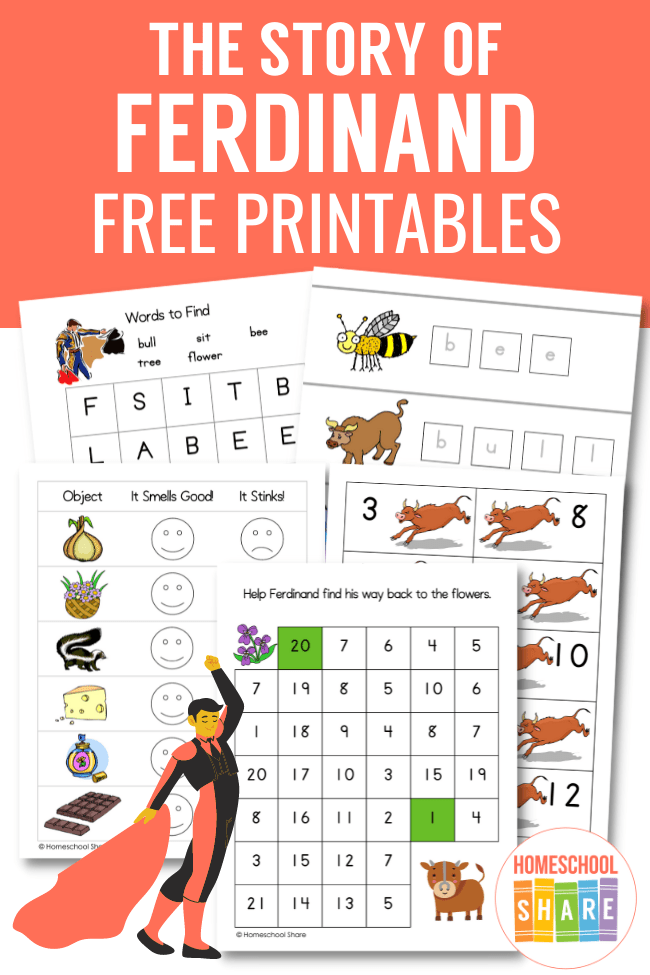 Note: If you are looking for something for early elementary students, try our Ferdinand activities and lapbook.
The Story of Ferdinand Printable Activities
This The Story of Ferdinand printable pack includes these activities:
1. Words to Find
Find the words from the story. Words include: bull, sit, bee, tree, and flower.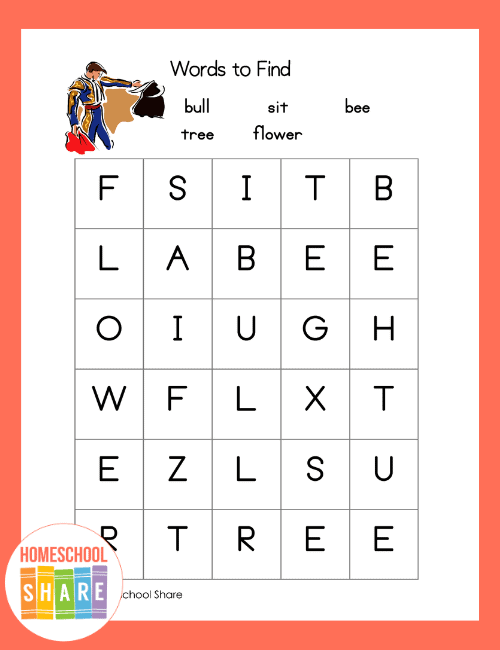 2. Number Maze
Work on number recognition and counting as you help Ferdinand find his way back to the flowers!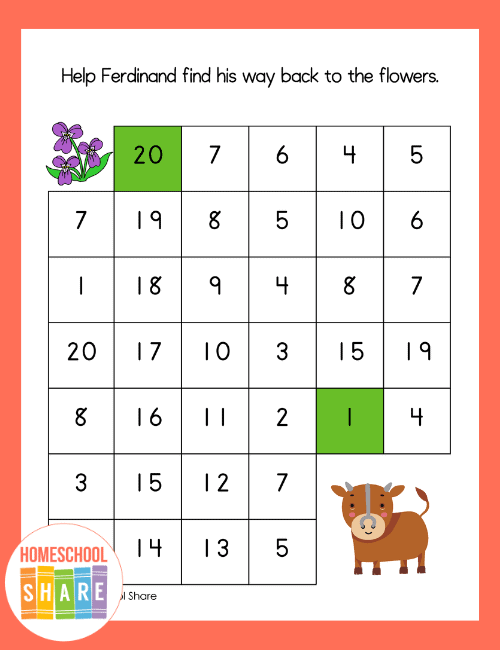 3. I Like To . . .
Ferdinand liked to sit and smell the flowers. Help your student make a list of what she likes to do. Write one thing on each flower shape.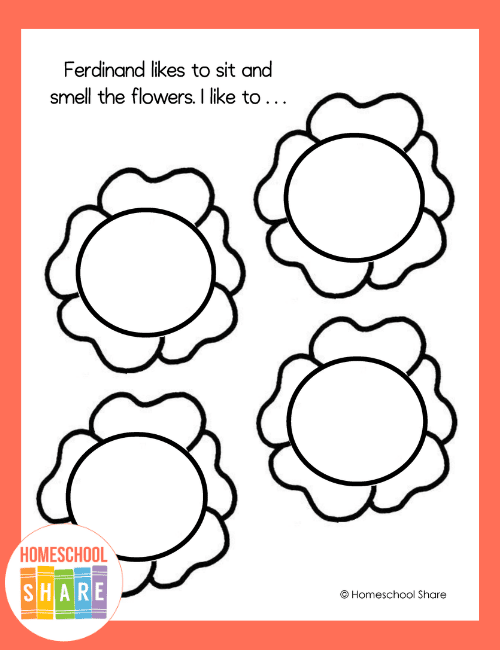 4. Bull Knock-Out Game
Promote basic math skills with this engaging game.
Cut the strips out and tape together to form one long strip. Let your student roll two dice and add the two numbers. Place a marker on the bull with that number; it's knocked-out! Keep playing until all bulls have a marker on them.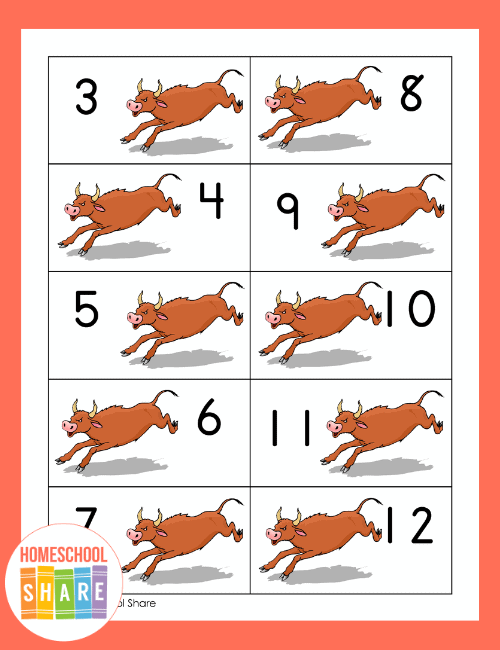 5. Sense of Smell
Learn more about your sense of smell and discuss good and bad smells. Why is a sense of smell useful?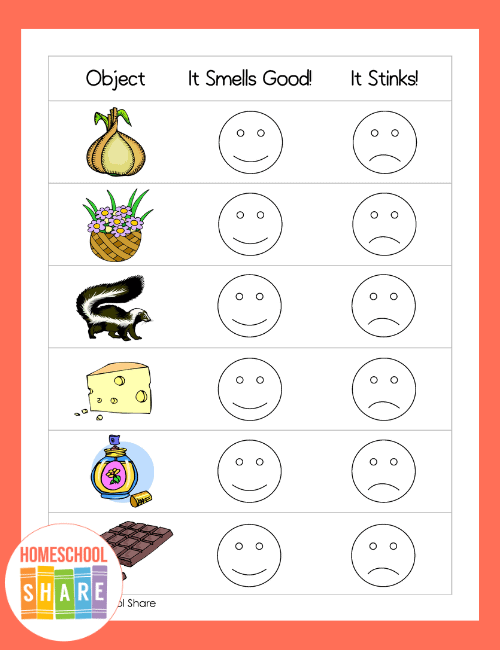 Activity Extension: Get ten film canisters or small containers. Put the same strong smelling object in two canisters. Cover each object with a cotton ball. Let your student try to match the smells! Ideas: cinnamon, lemon, garlic, orange peel, lavender, coffee beans, etc.
If your student is interested, consider grabbing this printable sense of smell emergent reader, Skunk's Perfume.
6. Building Words
Using Scrabble Tiles, alphabet stamps, magnetic alphabet tiles, or another manipulative of your choice, build the words. After your student has built the words a few times, see if she recognizes them in the story. Let her read them to you!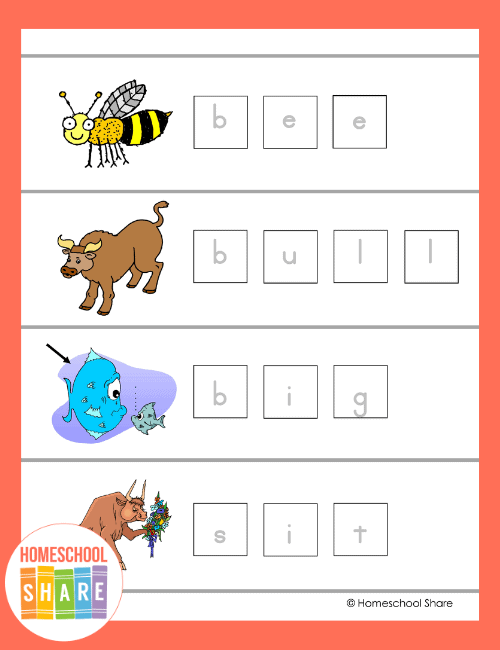 This activity is great for boosting spelling and reading skills.
How to Get Started with Your The Story of Ferdinand Printables
Follow these simple instructions to get started with the The Story of Ferdinand printables.
Buy or borrow The Story of Ferdinand by Munro Leaf. You should read the story multiple times to your student through your learning adventure.
Choose and prepare the printables you want to use with your student.
Enjoy a week of reading and learning with Ferdinand!
Get Your Free The Story of Ferdinand Printables
Simply click on the image below to grab your free set of The Story of Ferdinand printables.
More Printable Packs for Your Early Learners
Are you looking for more printables for your preschool or kindergarten students? Try these!