Affiliate Disclaimer
We sometimes use affiliate links in our content. This won't cost you anything, but it helps us to keep the site running. Thanks for your support.
Is there anything more fun or more energetic than a playful puppy? Puppies are great; they put big smiles on our faces with their sweet, crazy antics. If you have a puppy loving preschool or kindergarten student, this set of free Puppy Printables and activities will be perfect for you.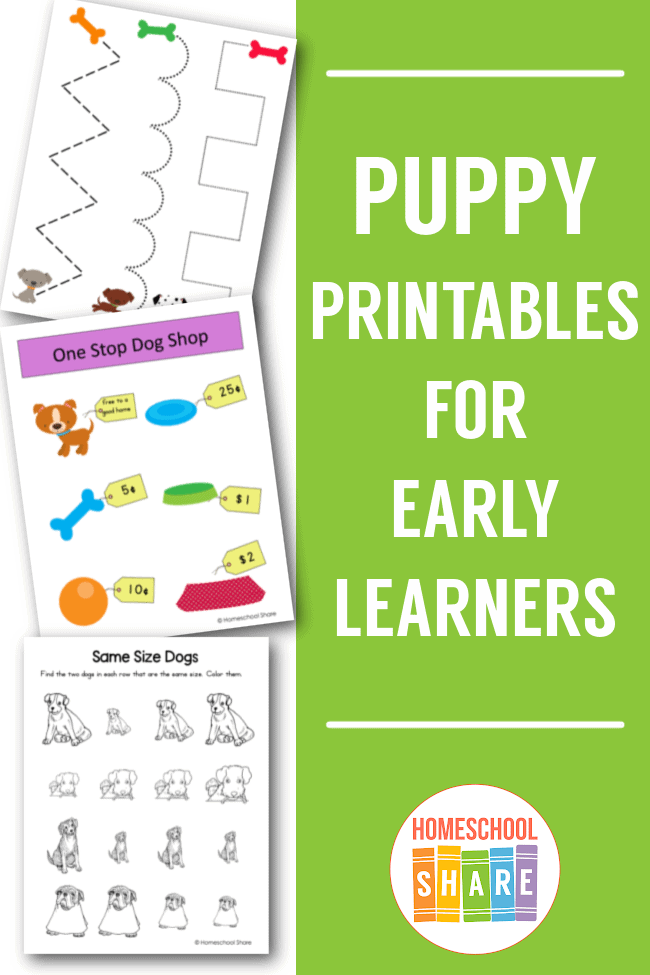 Puppy Themed Printables and Activities
My Dog Tale Writing Activity
Let your preschooler tell you a dog tale. You can type right on this page provided. Let your child dictate his puppy story to you while you type.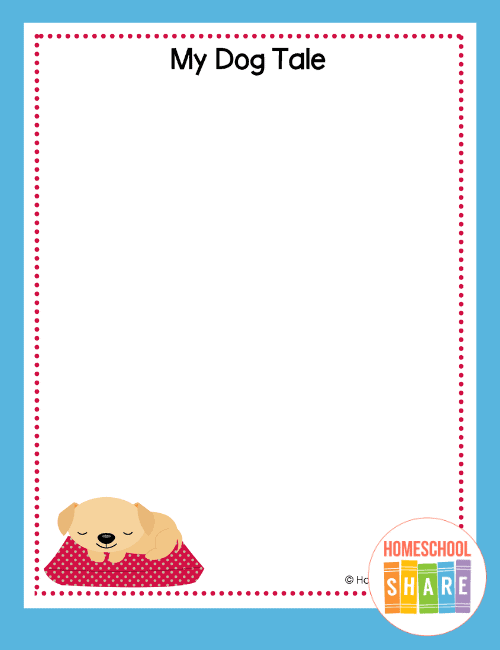 This method makes story writing easy for young children. They can write a great story without having to worry about handwriting, spelling, punctuation, etc. Kids usually generate better stories when someone scribes for them!

The Truth About Dogs
At the end of your puppy study (after you've read some nonfiction dog books together), ask your student what he has learned. Record the information on this page and put it in his notebook.

Same Size Dogs Worksheet
Let your student put his visual discrimination and fine motor skills to work with this same size dogs printable.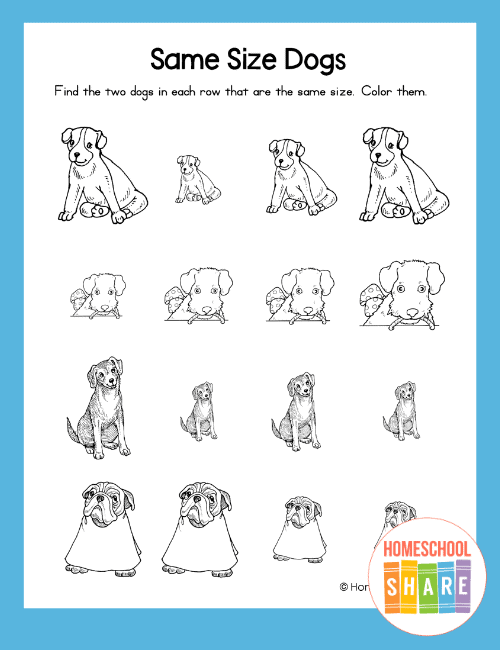 Puppy Vowels Game
This game has two options.
The beginner option is good for a student who is just learning letter names or sounds. Cut apart the cards. Hide the "bone" behind one of the puppies. Let your student guess where the bone is (you can decide if you want her to use the name of the letter or the letter sound when she is guessing). Once she finds it, let her hide it for you! Continue playing.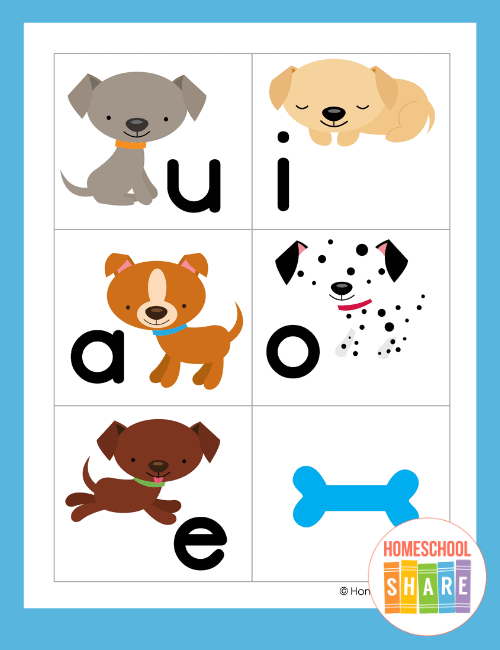 The advanced option is best for a student who is beginning to read CVC words. Cut apart the puppy cards and the name cards. You do not need the bone card for this game. Can your student help you figure out the names of the puppies?
Show your student the B_d card. Tell him that one puppy is named Bud. Can he figure out which one? Continue with the other puppies: Jip, Pal, Dot, and Pep.

One Stop Puppy Shop Game
This game helps students learn to take turns. It also introduces students to money (coins and bills) and requires number recognition.
You and your student will take turns rolling dice to determine which item you are eligible to buy from the shop. The first player to have all six items, wins the game.
You could also play this as a cooperative game, working together to achieve one set of items.

ABC Magnet Word Building: Build Puppy Words
Use your alphabet magnets and a cookie sheet to build the words.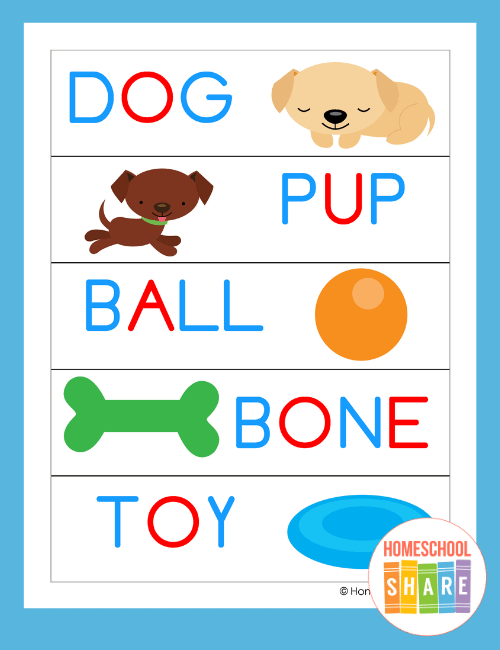 Puppy Measurement Activity
Cut out the dogs and the ruler. Measure the dogs. How many dog bones high is each puppy?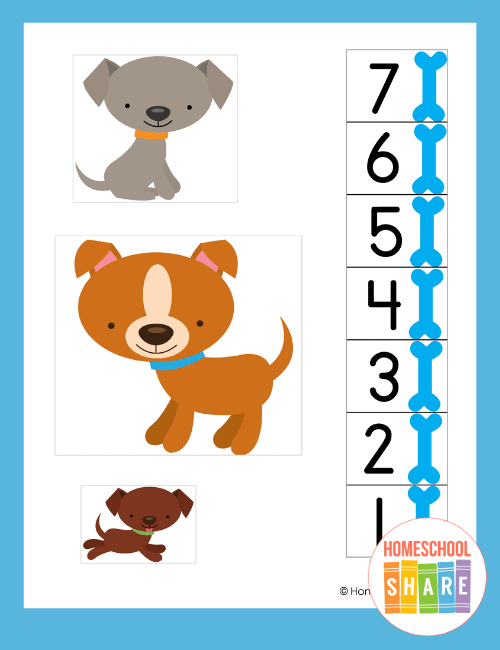 Measure other things around your house. Can your student find something that is six dog bones high? Can your student find something that is seven dog bones high?
Doggy, Doggy, Where's Your Bone? Game
Cut and paste the missing numbers into the chart. Count to 30 and help the dog find his bone.
You may want to review this several times throughout the week if your student is new to counting above 10 or 20.

Playful Puppy Calendar
If you are using this unit for one week, use this calendar as an introduction to the days of the week for your student. Each day, let your student stick one bone sticker on the playful puppy calendar.
At the end of the week, review the days of the week together. 
Fine Motor Skills: Cutting Practice Page
Can your child cut her way to the dog's bones?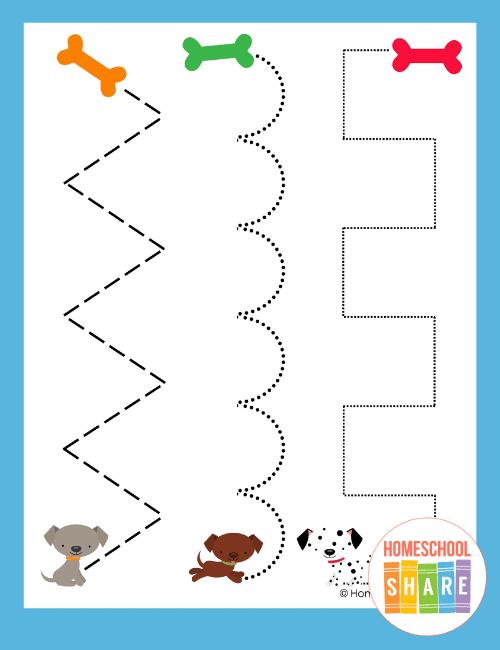 This fine motor activity can be done with scissors, or you can simply use a crayon to trace the lines.
Playful Puppy Library List
You do not need these exact books for these Puppy Printables.
Please use whatever dog books your library has available and read, read, read to your child!
Reading is great for language development, literacy skills, and snuggling; it is the best thing you can do with your preschool or kindergarten student.
Download Your Set of Free Puppy Printables for Preschool and Kindergarten
Simply click on the image below to snag your free set of dog themed printables.
More Dog Themed Resources
If you are looking for more dog themed resources, we have a gazillion! Start with these: