Affiliate Disclaimer
We sometimes use affiliate links in our content. This won't cost you anything, but it helps us to keep the site running. Thanks for your support.
Nothing makes us smile more than our pet dog. Gene Zion captured this great dog trait in his book, Harry the Dirty Dog, and Harry's antics are sure to capture lots of smiles from your kids. Explore gobs of learning opportunities with our free Harry the Dirty Dog activities and printables.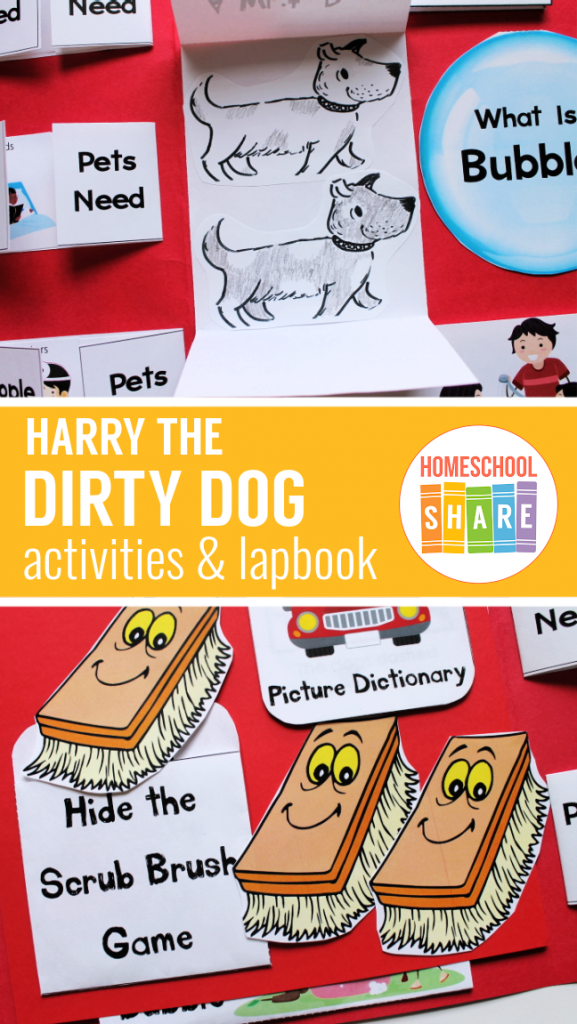 Harry the Dirty Dog Summary
Harry is a white dog with black spots who loves everything . . . except baths. So one day before bath time, Harry runs away. He plays outside all day long, digging and sliding in everything from garden soil to pavement tar. By the time he returns home, Harry is so dirty he looks like a black dog with white spots. His family doesn't even recognize him!

from Harry the Dirty Dog's back cover
Harry the Dirty Dog Activities & Lessons
Here are some sample lessons from our Harry the Dirty Dog unit study:
Social Studies: Pets
Look throughout the story at all the different animals (dogs, birds, cats, spider, caterpillar, butterfly, etc.). Which ones make good pets? You may even want to take this one step further and think of other animals (elephant, flamingo, etc.) that would probably not make good pets and discuss why.
Social Studies: Taking Care of Pets
Harry is the pet of the family in the story.  Does your student know how to take care of a pet?

Discuss the similar needs that animals and humans have: food & water, shelter, affection, grooming, etc. Use the shutterfold book activity to aid in your discussion of the various things that people and animals both need.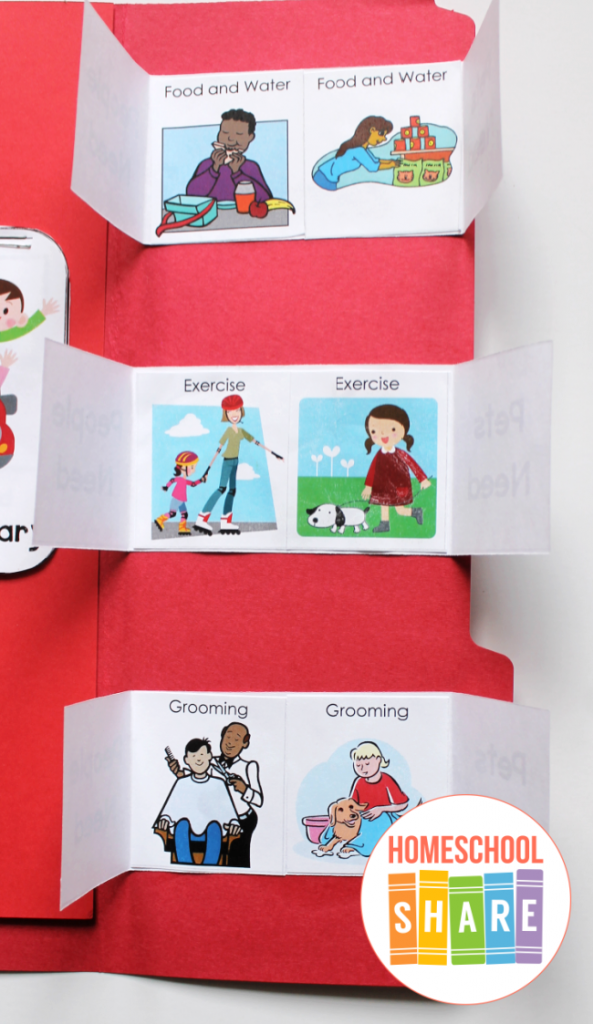 Social Studies: Domestic Animals
A domestic animal is an animal that adapts to living with human beings and to serving their purposes; they are generally tame and depend on their owners for food and water. Discuss the differences between a dog and a wolf (even though they are both canines). Would your child want a wolf for a pet? Discuss the differences between a cat and a lion or tiger (even though they are both felines). Discuss other animals that are commonly considered domestic in your neck of the woods.
Language Arts: Vocabulary and Drama
Discuss and act out the following words with your student.
buried
dig furiously
up the stairs he dashed
slept soundly
slid down a coal chute
Language Arts: Exclamation Points
Show your student what an exclamation point is in the text of the book. Demonstrate how you read a sentence with emphasis when an exclamation point is at the end. You may want to go through the entire text together and count the exclamation points that you find. Encourage your student to practice reading these sentences with enthusiasm and excitement!
Science: Bubbles!
Harry gets a bath with bubbles. Does your student know how bubbles are made? What are they?
A bubble is like a pocket–a pocket made of soap and water and filled with air. When you blow air into a soap and water mixture, the soap forms a thin skin around the air, trapping it . . . and creating a bubble!

Make some bubbles this week and have fun playing with them.
Art: Color Choices in the Illustrations
Look through the illustrations with your student. What main colors did Bloy choose? (green, yellow, black, and white). Encourage your student to draw a picture using only those colors. (The two page spread of Harry playing tag with the other dogs is a good example of the green, yellow, black, and white color choices.)
To access all of the lessons in this unit study, subscribe to Homeschool Share's email list using the form in this post.
Harry the Dirty Dog Lapbook Printables
The following printables are included with this unit study to create a Harry the Dirty Dog lapbook.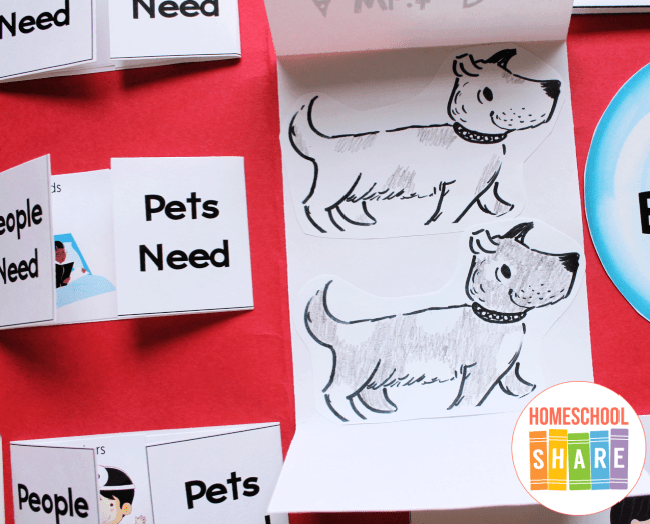 Harry the Dirty Dog Picture Dictionary
Harry the Dirty Dog Sequencing Mini-book
How Did Harry Get So Dirty? Envelope Fold
What Is a Bubble? Shape Book
The Best Bubble Science Observation Book
Domestic vs. Wild Animals Flapbook
A Black Dog with White Spots & A White Dog with Black Spots Shutterfold Book
Hide the Scrub Brush Game Pocket
Pets Need vs. People Need Shutterfold Books
Harry the Dirty Dog Lapbook Example
This lapbook example was made with one file folder and one piece of cardstock taped to the middle section to form an extension flap. It includes most of the printable mini-books found in the file.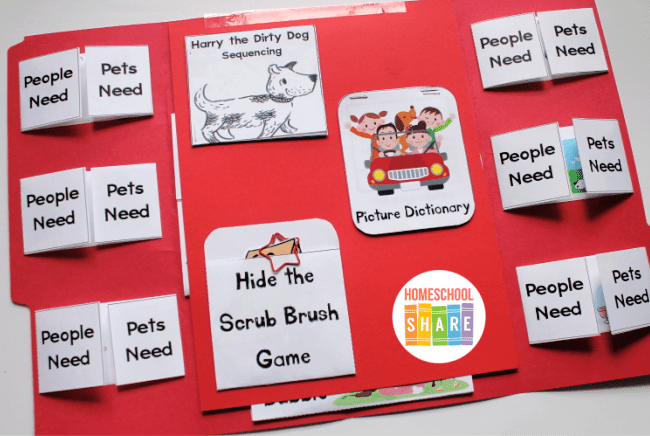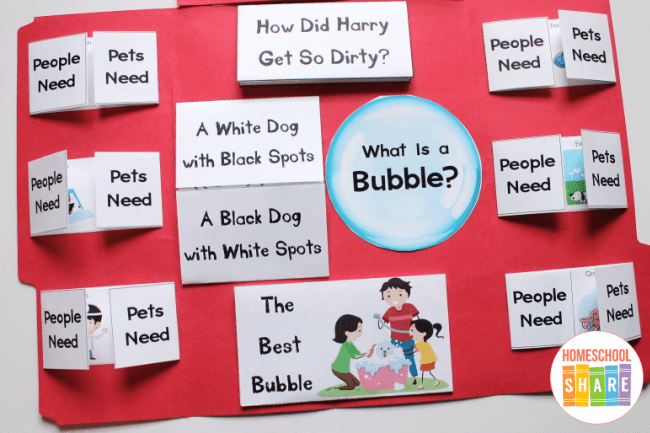 Other Harry the Dirty Dog Printables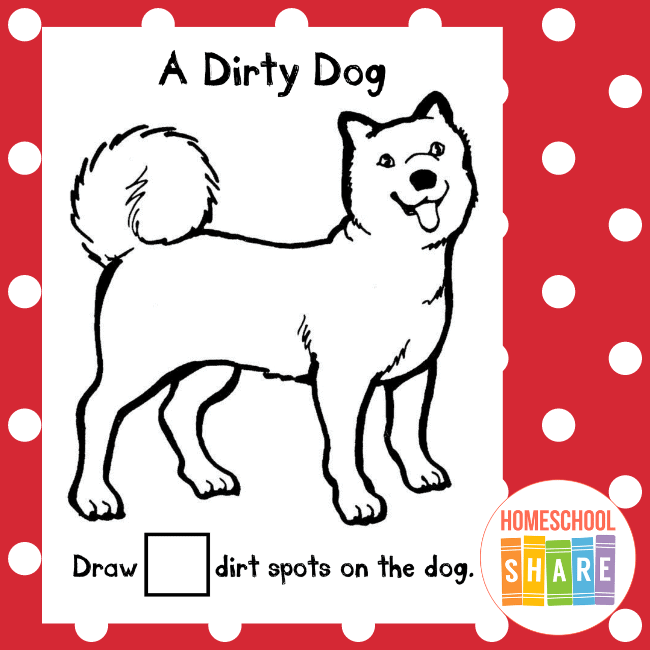 The file also includes these printable activities:
A Dirty Dog Math Mat
Perfect Pals Pet Shop Prices & Word Problems
Find the Pets Word Find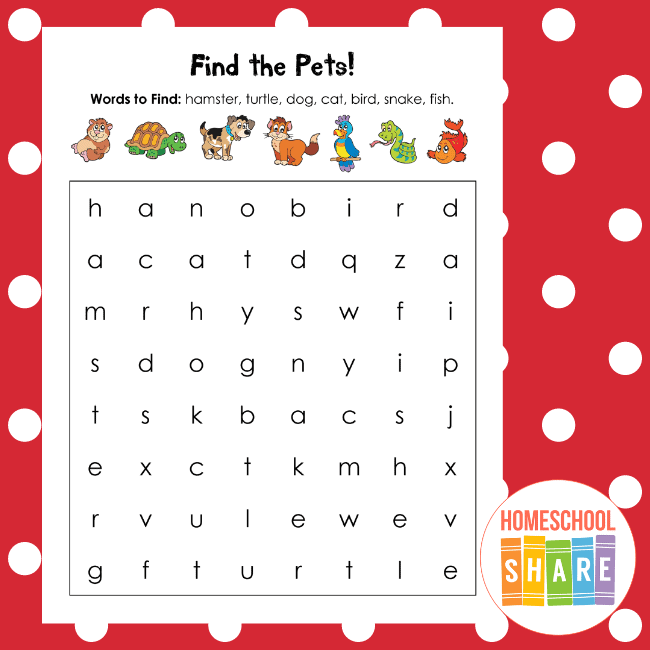 How to Get Started with the Harry the Dirty Dog Activities & Printables
Follow these simple instructions to get started with the Harry the Dirty Dog unit study and lapbook.
Buy a copy of the book, Harry the Dirty Dog by Gene Zion, or grab one from your local library.
Print the Harry the Dirty Dog unit study.
Choose the lessons you want to use with your student (a highlighter works great for this).
Choose and prepare the printables you want to use with your student.
Enjoy a week of smiles and learning with your student.
Download Your Harry the Dirty Dog Lessons and Activities
Use the form below to subscribe to the newsletter. Once you confirm, you'll receive an email with the link to the activities, lessons, and printables. If you are already confirmed, simply enter your name and email address below, and you will receive an email with the link.
More Pet Themed Resources
Pets make learning more fun! Try some of our other pet themed resources: