Affiliate Disclaimer
We sometimes use affiliate links in our content. This won't cost you anything, but it helps us to keep the site running. Thanks for your support.
This The Little Rabbit lapbook holds many lessons for your student: rabbit diet, rabbit anatomy, rabbit family names, rabbit songs and fingerplays, and more.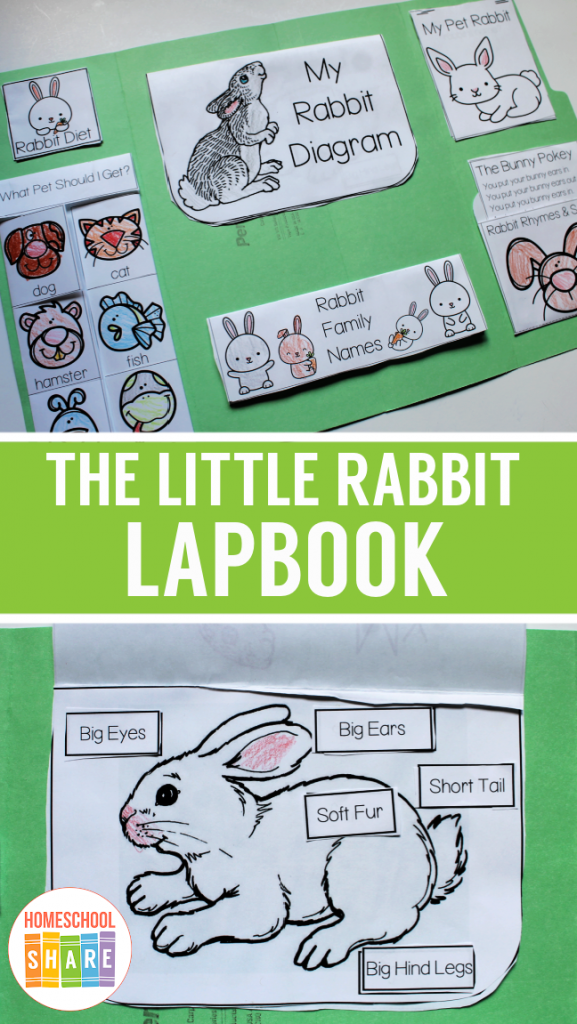 The Little Rabbit Lapbook Printables
In Judy Dunn's book, The Little Rabbit, Sarah receives a new bunny, Buttercup, for Easter. This book tells the tale of Buttercups adventures and it provides good discussion about what it means to be a pet owner. Grab our printable activities and get started.
My Pet Rabbit Mini-book
What if your student had a pet rabbit? What would she name it? What would it eat? What would it like to do? Where would it live? Have fun letting your student imagine all of these things about her own pet rabbit.
My Rabbit Diagram
Introduce your student to animal diagrams with this simple rabbit anatomy mini-book.
Discuss rabbit anatomy. How is a rabbit different than a human? How is a rabbit different than a dog or a cat? A rabbit has big ears and big eyes. It also has soft fur, long hind legs and a short tail.
Encourage your student to cut and paste the labels to the rabbit diagram.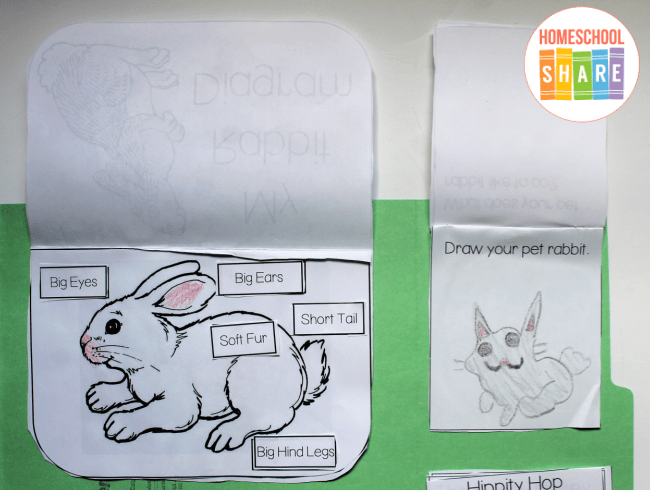 What Pet Should I Get?
Have fun with this shutterfold book. Ask your child which pets she would like to have. Under the flaps of the pets she'd like to have, write YES or a happy face. Under the flaps of the pets she would not like to have, write NO or a frowny face.
Pets in this shutterfold book include: cat, dog, fish, hamster, snake, and bird.
Rabbit Rhymes and Songs
There are four rabbit rhymes and songs cards and a pocket to store them in. Enjoy singing the songs and acting out the fingerplays together.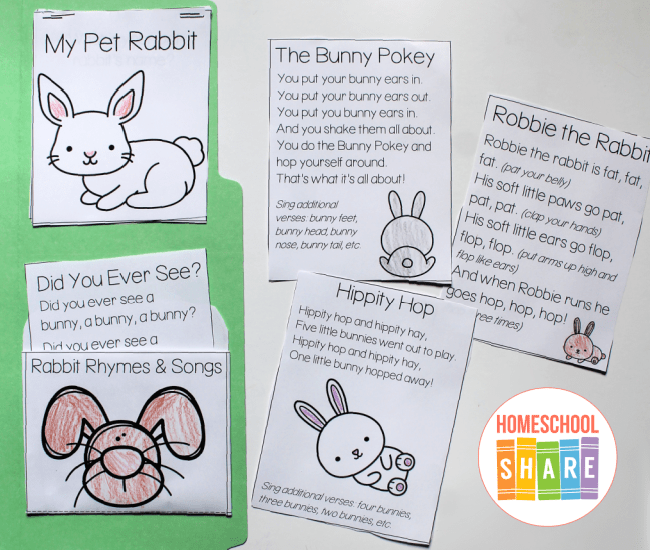 Rabbit Family Names
Just like humans have names, animal families have names, too. Teach your student the rabbit family names.
Male rabbit = buck
Female rabbit = doe
Baby rabbit = kitten or kit
Pet Rabbit Diet
An adult rabbit should have a regular diet of unlimited timothy grass, oat hay, or straw. Its diet should also include 1/2 cup of pellets, some veggies a little bit of fruit.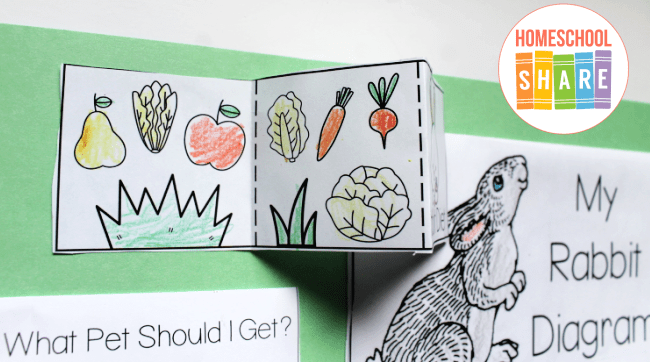 R is for Rabbit
This lapbook doesn't include a mini-book for the letter R, but you could use this book to review or introduce the letter R. Just grab our letter R printables from our Alphabet Notebook.
How to Get Started with The Little Rabbit Lapbook
Follow these simple instructions to get started with this literature based lapbook.
Buy a copy of the book, The Little Rabbit, or find it at your local library.
Print the The Little Rabbit lapbook.
Choose and prepare the lapbook mini-books you want to use.
Enjoy a week of hopping fun with your preschool student.
Lapbook Sample
Here is a sample of this lapbook. This was made with one file folder.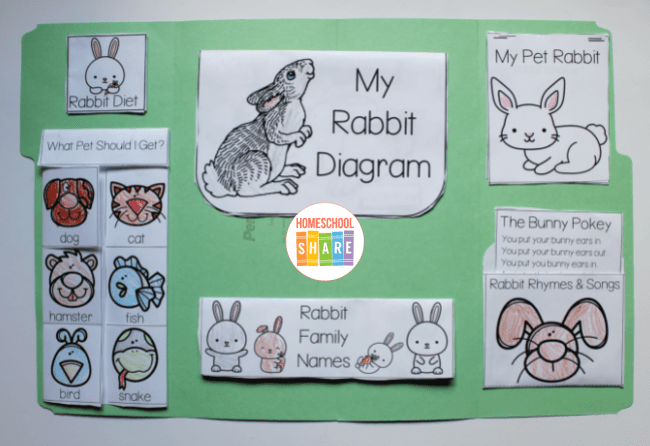 Download Your The Little Rabbit Lapbook
Simply click on the image below to get a copy of your free The Little Rabbit lapbook.
More Rabbit Themed Preschool Resources
If you want more rabbit themed resources for your preschool student, check out these: