Affiliate Disclaimer
We sometimes use affiliate links in our content. This won't cost you anything, but it helps us to keep the site running. Thanks for your support.
Learn all about these large mammals living in the north with our Reindeer Lapbook.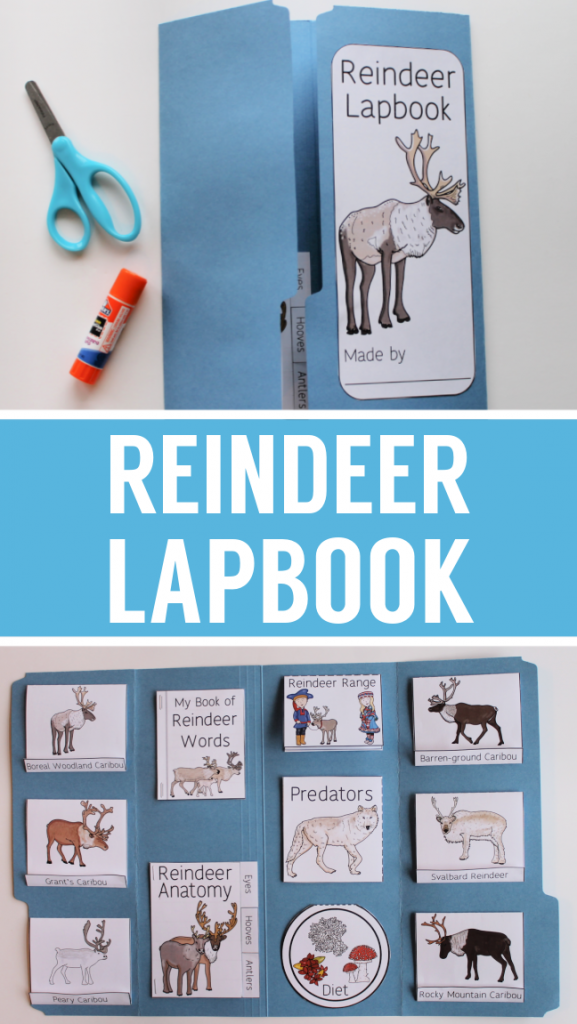 How to Complete Research for the Reindeer Lapbook
By the time your student is finished with this lapbook, she will be an expert on reindeer (caribou).
This lapbook was designed to give your student ample research opportunities. I recommend teaching your student how to find quality websites such as National Geographic or National Geographic Kids, or going to the library to get books for this project.
Your student will have to conduct simple research in order to create this lapbook. However, prompts on the pages will guide her through the process and teach her the meanings of new words.
For example, as your student is completing the reindeer predators book, she will read through this information on the page:
What is a predator? A predator is a wild animal that hunts other animals. The hunted animal is called prey.
Record the names of and facts about reindeer predators inside the book.
Reindeer Lapbook Printables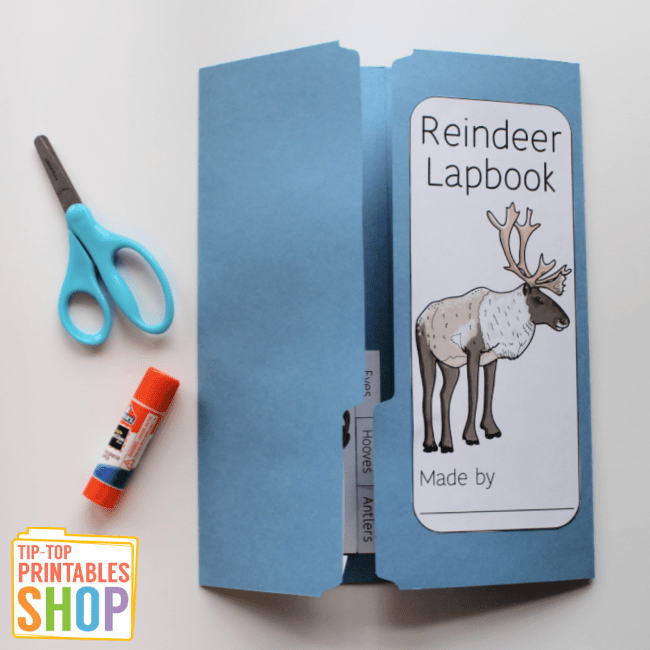 The printable file includes ten mini-book templates for your student to complete this reindeer research project:
Cover Piece
Reindeer Words Book
Reindeer Species Matchbooks
Includes six different species to research and write about: Barren-ground caribou, Boreal Woodland caribou, Grant's caribou, Peary caribou, Rocky Mountain caribou, and Svalbard reindeer.
Reindeer Anatomy Tab Book
Reindeer Range Simple Fold Book
Reindeer Predators Accordion
Diet Plate Shape Book
How to Get Started with Your Caribou Lapbook
Follow these simple instructions to get started with the lapbook.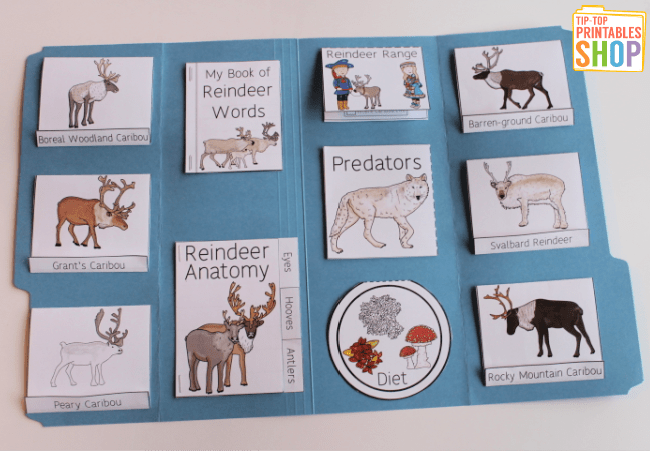 If you want, go to your local library and check out books about reindeer and caribou. You can also encourage your student to use websites.
Gather supplies: a file folder, scissors, glue, crayons, pencils, and colored pencils.
Buy the lapbook from the Tip-Top Printables Shop.
Choose from two versions: full color mini-books or black and white mini-books.
Print and prepare the mini-books you want to use with your student.
Enjoy a week of reading and learning all about reindeer!
Get Your Reindeer Lapbook
You can snag your lapbook right here, or you can go to the shop to check out the details and other animal lapbooks.
Explore More Animal Lapbooks
We have gobs of animal lapbooks at Homeschool Share. Check out these: