Affiliate Disclaimer
We sometimes use affiliate links in our content. This won't cost you anything, but it helps us to keep the site running. Thanks for your support.
What animal can turn a door handle, turn on a water faucet, and open your camping cooler? The sneaky, masked raccoon. Learn all about these rascally mammals with our Racoon Lapbook.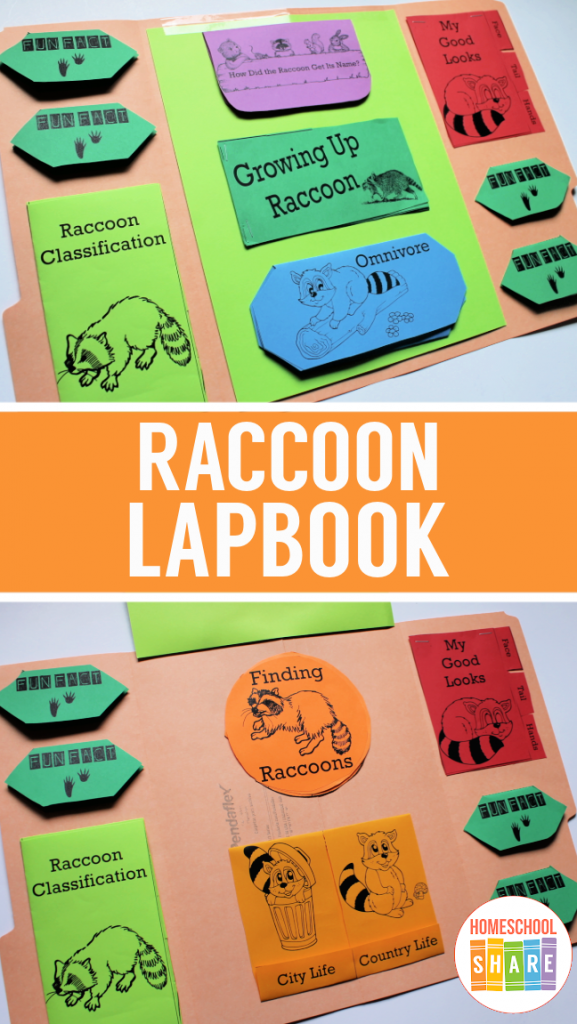 Thanks to Christy Hubbard and Kelly Cooper for creating this Raccoon Lapbook for Homeschool Share.
Raccoon Lapbook Information
Here are some sample lessons from the Raccoon Lapbook:
Predators
Who preys on adult raccoons? coyotes, bobcats and wolves
Who preys on baby raccoons? owls, foxes and badgers
What are other dangers that raccoons face? humans, cars and disease
Range
Where do Raccoons live? They live in North America except in northern Canada and the Western Mountain ranges. They are also in central and the northern part of South America.
Raccoon Diet
Raccoons are omnivorous eating plants and animals including fish, eggs, garbage, nuts, berries, seeds, crayfish, clams, frogs, mussels, corn, etc.
You can grab a copy of the entire Raccoon Lapbook in an easy-to-print file at the end of this post.
Raccoon Lapbook Printables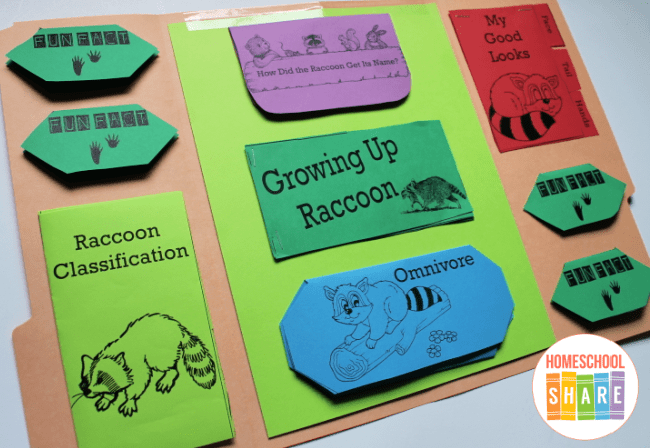 These mini-books are included in this lapbook:
Growing Up Raccoon Tab Book
How Did the Raccoon Get Its Name? Simple Fold Book
Omnivore Tri-fold Book
Raccoon Classification Flap Book
My Good Looks Tab Book
Finding Raccoon Map
Fun Fact Simple Folds
Raccoon Predators Layer Book
City Life vs. Country Life Split Matchbook
New Words Book
How to Get Started with Your Free Raccoon Lapbook
Follow these simple instructions to get started with the Raccoon Lapbook.
If you want, go to your local library and check out books about raccoons.
Print the Raccoon Lapbook.
Choose and prepare the mini-books you want to use with your student.
Enjoy a week of reading and learning all about raccoons.
Lapbook Sample
This lapbook sample was made with one file folder and a center extension. The extension is a piece of cardstock taped to the center of the lapbook.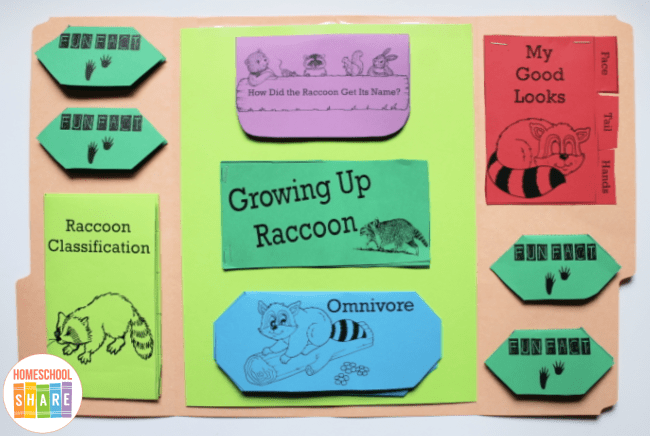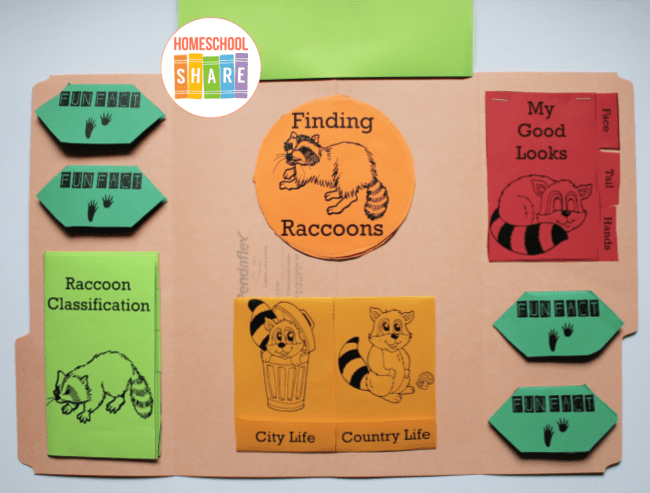 Download Your Raccoon Lapbook
Simply click on the image below to access your free Raccoon Lapbook.
Explore Our Other Mammal Animal Studies
We have tons of animal studies and lapbooks featuring mammals. Check out some of these.