Affiliate Disclaimer
We sometimes use affiliate links in our content. This won't cost you anything, but it helps us to keep the site running. Thanks for your support.
Prairie dogs are busy, cute rodents that are fun to observe. Learn all about these little animals with our free Prairie Dogs Lapbook.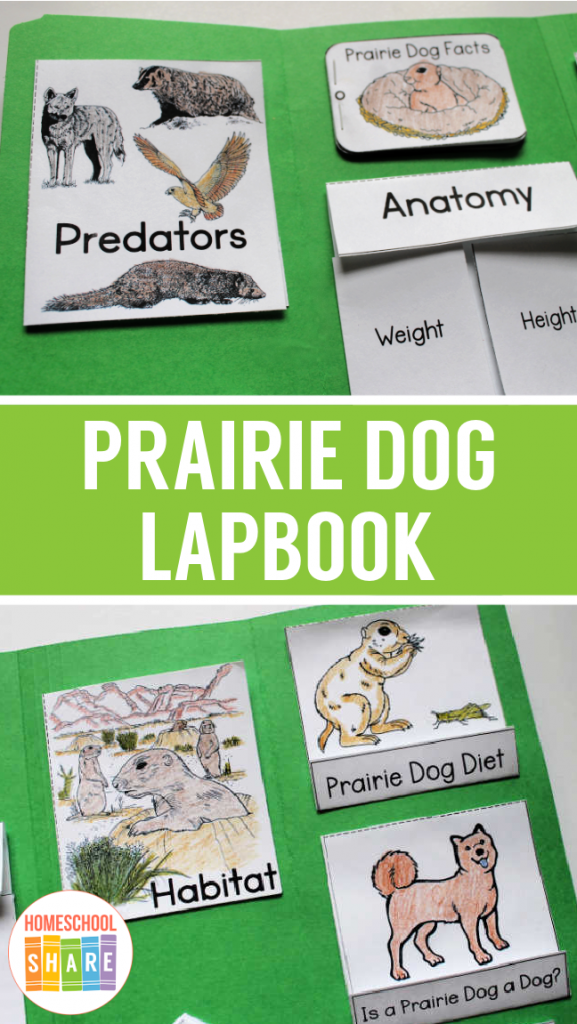 Thanks to Lynn Pitts for compiling the research and writing the lessons for this lapbook.
Prairie Dogs Lapbook Information
Here are some sample lessons from the Prairie Dogs Lapbook:
Prairie Dog Communication: What Did You Say?
Prairie dogs from the same colony nuzzle and kiss when they meet. If prairie dogs from different colonies meet, they stare, chatter, flick their tails and may fight or chase each other.
Black tailed prairie dogs have about 11 calls. When danger is near, they alert other members of the colony by making a loud yelp or bark.
Sometimes a prairie dog will stand on its hind legs, stretch up, and throw its front feet high into the air. At the same time, it gives a loud call.
Friendly relations are also maintained through mutual grooming.
Even though their calls sound like squeaks, they have a complex language system and communicate details to one another.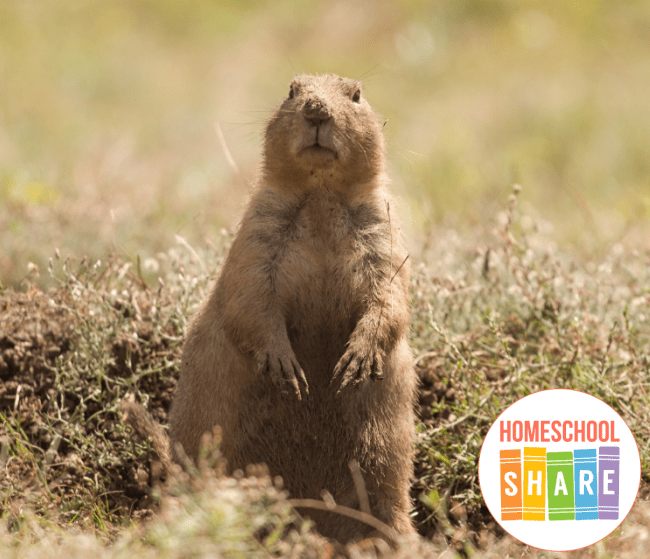 Prairie Dog Diet
Prairie dogs eat these items:
Leaves
Grasses
Grass Roots
Weeds
Seeds and Other Plants
Grasshoppers
Cut Worms
Bug & Beetles
Prairie Dog Towns
Prairie Dogs live in groups called towns. Towns may contain hundreds of prairie dogs. Towns are divided into wards, then into neighborhoods. Each neighborhood is made up of family members–babies, brothers and sisters, females and one or two males. Their underground tunnels connect to rooms. There are nurseries, bedrooms lined with dried grass, bathrooms and a listening room which is close to the entrance. The tunnels go down about 10 feet and can be 50 feet from one entrance to the other.
The entrance to the burrow is surrounded by a pile of soil. This mound serves as a lookout and protects the burrow against floods. One entrance slants downward from a low mound of dirt about 5 feet in diameter. This is the end from which the tunnel was dug. Another entrance plunges straight down and is topped by a crater like mound as tall as 3 feet. Both are shaped by the animals.
You can grab a copy of the entire Prairie Dogs lapbook in an easy-to-print file at the end of this post.
Prairie Dogs Lapbook Printables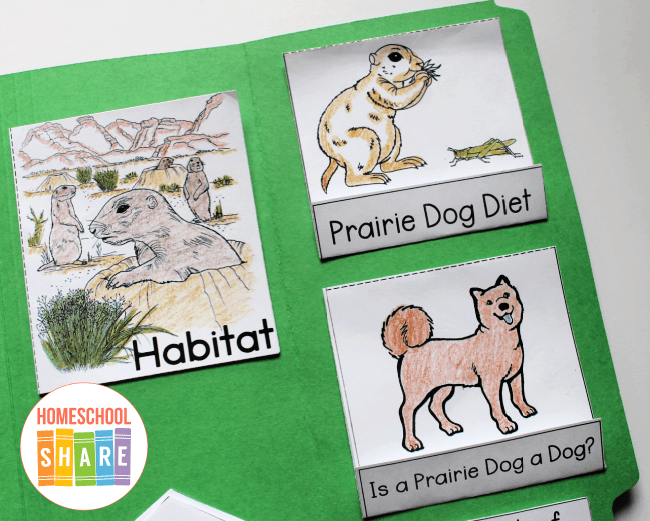 This lapbook comes with a variety of mini-books for your student to create an interesting hands-on project.
My Book of Prairie Dog Words
Prairie Dog Life Cycle Puzzle Wheel (paste this to the back of your lapbook)
Anatomy Flap Book
Prairie Dog Habitat Simple Fold
Prairie Dog Predators Simple Fold
Home Sweet Home Bound Book
Prairie Dog Communication Shuttertied Book
Prairie Dog Diet Matchbook
Is a Prairie Dog a Dog? Matchbook
Prairie Dog Facts Fan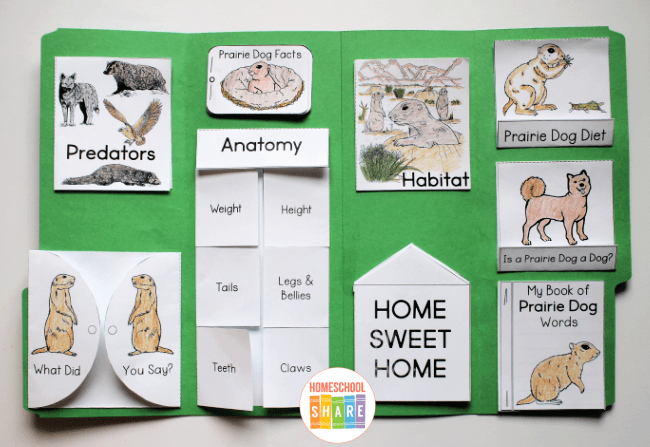 How to Get Started with Your Lapbook
Follow these simple instructions to get started with the Prairie Dogs Lapbook.
If you want, go to your local library and check out books about prairie dogs.
Print the Prairie Dogs Lapbook.
Choose and prepare the mini-books you want to use with your student.
Enjoy a week of reading and learning all about prairie dogs.
Download Your Free Lapbook
Simply click on the image below to access your free Prairie Dogs Lapbook.
Learn More About Mammals with These Resources
Grab a few more animal lapbooks!