Affiliate Disclaimer
We sometimes use affiliate links in our content. This won't cost you anything, but it helps us to keep the site running. Thanks for your support.
What does a zebra eat? Where does it live? How does it take a bath? Find answers to these questions (and more!) with our free Zebra Lapbook study.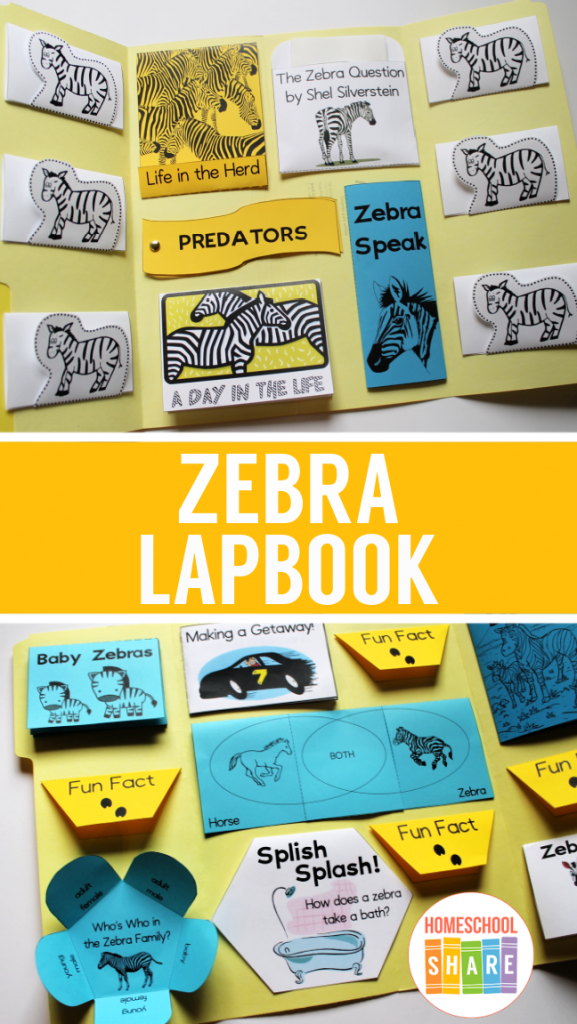 Zebra Lapbook Lessons
Here are some sample lessons from the Zebras Lapbook:
Zebra Anatomy
Zebras can be up to 950 pounds in weight, and are around 4-5 feet tall at the shoulder.
Zebra ears are designed to swivel around in just about all directions to hear any sound around them.
Zebra eyes are on the sides of their heads to help with extended eyesight. They can see not only completely in front, but also see a little to the sides and behind. When zebras graze, they like to stand side by side facing opposite directions so a complete view is covered.
Zebra manes are striped and go down to their neck, with the exception of foals and younger zebras having their mane go all the way down their backs.
Zebra hooves are tougher than the average horse's hooves, allowing them to easily run on rocky, hard ground.
Zebras use their feet to kick at predators and sometimes other zebras. They mostly use their back feet for fighting since the front feet aren't as strong.
Zebra teeth are designed especially for chewing grass. The front teeth are sharp and act like scissors for cutting the grass apart, and the tough molars in the back chew the grass down.
Zebra Baths
Zebras don't take a bath like you would think. Instead of using water, they roll around in mud. As the mud dries and falls of, it takes dry skin and loose hair with it. The dust leftover from the mud serves as protection against heat, wind, and little bugs.
Zebra Range
Zebras live in the wide, flat grasslands of Africa. There's always plants to eat, but nowhere to hide from predators.
To access all of the lessons in this Zebras Lapbook, subscribe to Homeschool Share's email list using the form in this post.
Zebra Lapbook Printables
In addition to the research lessons, the file includes these mini-books for your student to create a Zebra Lapbook:
Zebra Diet Simple Fold Book
Zebra Communication Flap Book
Zebra Bath Simple Fold Book
A Day in the Life Simple Fold Book
Zebra Fun Facts Simple Fold Books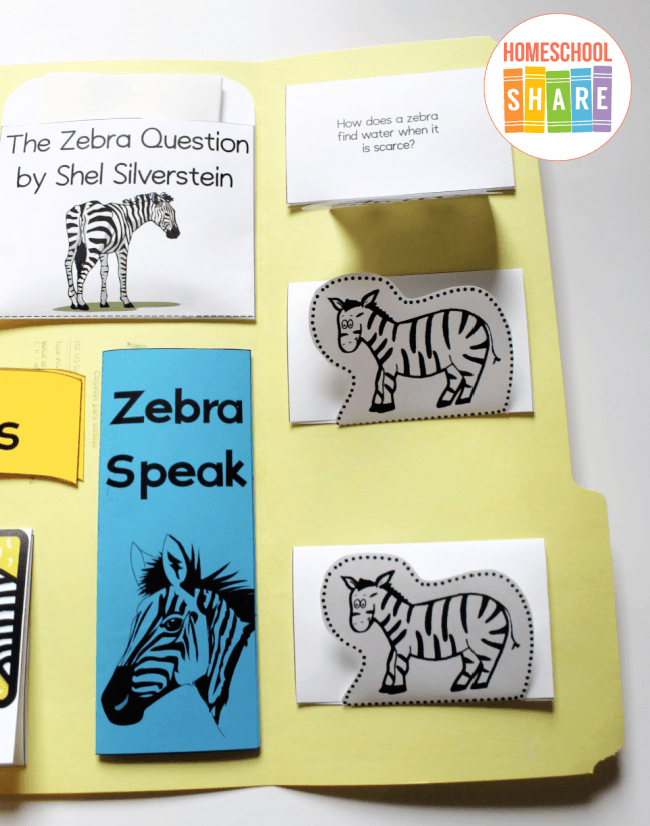 Predators Fan Book
Zebra Range Map
Who's Who in the Zebra Family? Petal Book
Poem for Copywork
Zebra Teeth Flap Book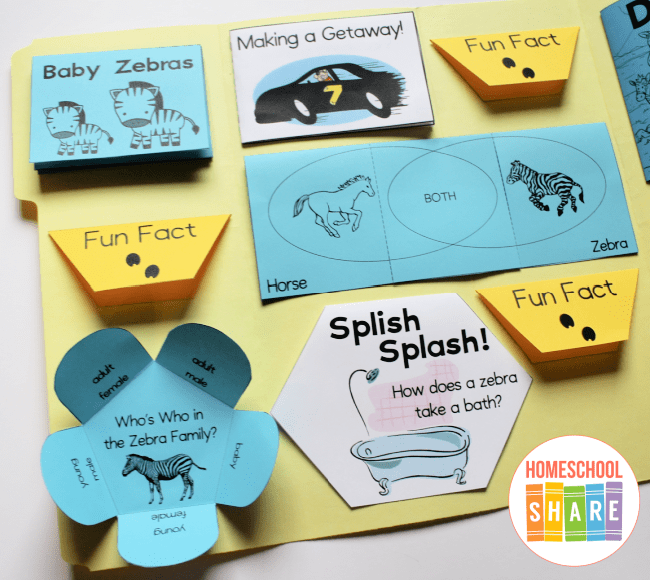 Zebra Anatomy File Folder
Baby Zebras Accordion Book
Fleeing a Predator 3/4 Book
Zebra Questions Mini-books
Horse vs. Zebra Venn Diagram Flap Book
How to Get Started with Your Zebra Lapbook
Follow these simple instructions to get started with the Zebra Lapbook.
If you want, go to your local library and check out books about zebras.
Print the Zebra Lapbook.
Choose and prepare the mini-books you want to use with your student.
Enjoy a week of reading and learning all about zebras!
Lapbook Example
This lapbook example was made with two file folders. If you are new to lapbooks and need more directions, try How to Make a Lapbook.
This sample does not include every mini-book included in the download. Please pick and choose the mini-books that will work best for your student.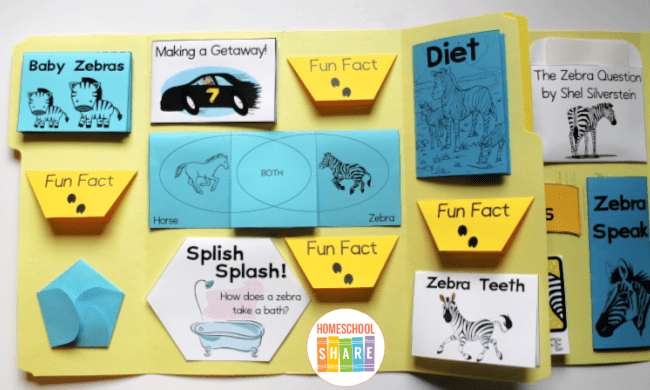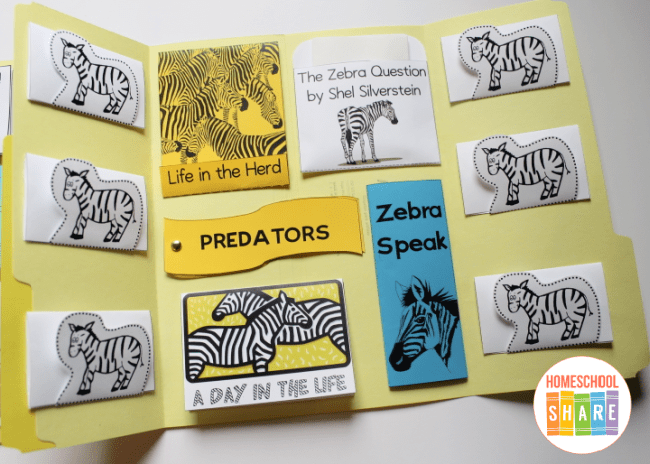 Download Your Free Zebra Lapbook
Use the form below to subscribe to the newsletter. Once you confirm, you'll receive an email with the link to the lapbook. If you are already confirmed, simply enter your name and email address below, and you will receive an email with the link.
Explore More Animal Lapbooks
Whether you want to study the forest or the savanna, mammals or fish, we have resources for you! Check out some of these animal lapbooks: