Affiliate Disclaimer
We sometimes use affiliate links in our content. This won't cost you anything, but it helps us to keep the site running. Thanks for your support.
Are you looking to learn more about pigs? Grab our free Pig Lapbook and learn all about this popular farm animal.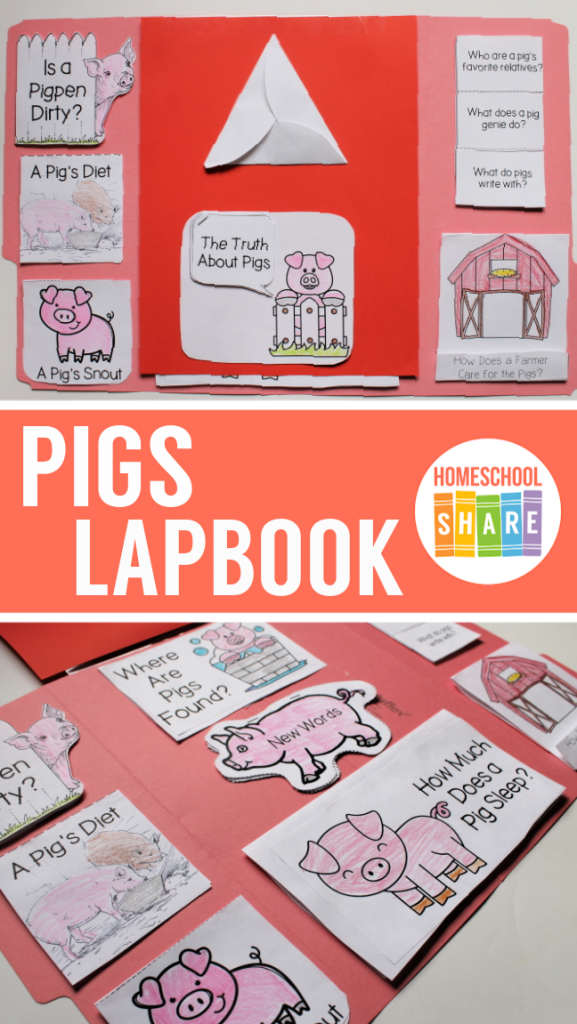 Special thanks to Louisa for contributing the research for this Pigs Lapbook.
Pigs Lapbook Information
Here are some sample lessons from the Pigs Lapbook:
Pig Characteristics
What is a pig? Pigs are mammals (they are warm blooded, have hair, and the mothers feed their own milk to the piglets). Pigs have four legs with feet called hooves. They have small eyes, small curly tails, and short flat snouts.

Coloring
Pigs have pink skin which makes them look pink in color when they are born. However, their hair can be a variety of colors and patterns. You'll find pigs with red, brown, black, white, and even spotted hair. Piglets are born with a soft covering of hair; as they grow, the hair becomes rough and bristly.

The Snout
Pigs use their snouts to make grunting and squealing sounds. It is also used to as a digging tool! A snout can help a pig find a meal in the dirt: grubs, snails, and plant roots.
Pigs in the Mud
You may think pigs wallow (or roll) in the mud for fun, but that's not the reason. What are the reasons?
1. To cool off! Pigs can't sweat but a nice romp in the mud will help them feel better on hot days.
2. To protect their skin from sunburn (suntan lotion!)
3. To protect their skin from insect bites.
Pig Diets
Pigs in the wild eat differently than pigs on the farm (based on what is available to them), but the one thing they have in common is that they are omnivorous (feeding on plants and animals) and will eat almost anything!

Some items that pigs feed on include: worms, small animals (such as snakes), snails, roots, grubs, eggs, slop, corn, soybeans, oats, wheat, sorghum (usually the grains on the farm are harvested, dried up, and ground together making a concoction similar to granola).

What items from the list would be consumed by domestic (farm) pigs? What items would be eaten by pigs in the wild?
You can grab a copy of the entire Pigs Lapbook in an easy-to-print file at the end of this post.
Pigs Lapbook Printables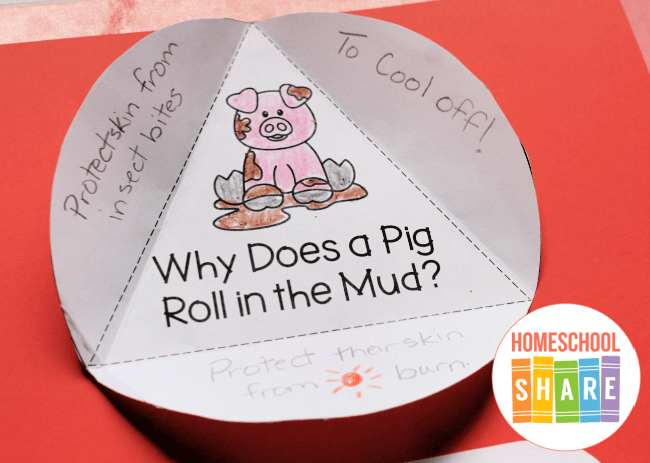 In addition to the pig research and lessons, the following mini-books are included in the Pigs Lapbook:
Pig Diagram
A Pig's Snout Simple Fold
Why Does a Pig Roll in the Mud? Triangle Petal Book
The Truth About Pigs Mini-book
A Pig's Diet Simple Fold
Is a Pigpen Dirty? Shape Book
My Three Little Pigs Story Pocket
New Words Pig Shape Book
Pig Sayings Shutterflap Book
Piglet Numbers Mini-book
Pig Report Pocket
Pig Map
How Much Does a Pig Sleep? Graph Mini-book
How Does a Farmer Care for Pigs? Matchbook
Pig Riddles Flap Book
Different Meanings for the Word Hog Petal Book
This Little Piggy Hotdog Book (find folding instructions here)
Pigs Lapbook Sample
This Pigs Lapbook sample was made with one file folder and one center extension (a piece of cardstock taped to the center section of the lapbook).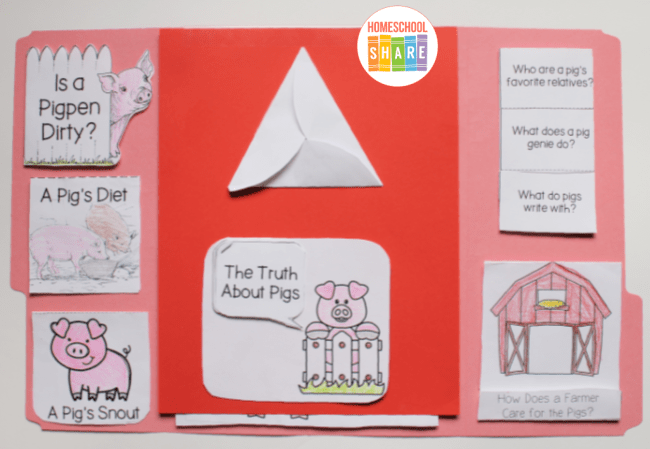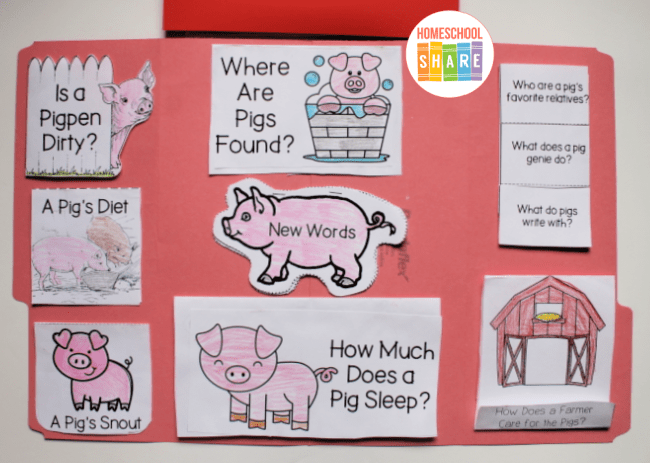 How to Get Started with Your Pigs Lapbook
Follow these simple instructions to get started with the Pigs Lapbook.
If you want, go to your local library and check out books about pigs.
Print the Pigs Lapbook.
Choose and prepare the mini-books you want to use with your student.
Enjoy a week of reading and learning all about pigs.
Download Your Pigs Lapbook
Simply click on the image below to access your free Pigs Lapbook.
Explore Our Farm Animal Resources
Grab one of our other animal lapbooks or other resources and learn more about farm animals.