Affiliate Disclaimer
We sometimes use affiliate links in our content. This won't cost you anything, but it helps us to keep the site running. Thanks for your support.
Old MacDonald had a farm
E—I—E—I—O!
Use our Farm Animals Printables to learn about farm animals plus a barnyard full of preschool concepts.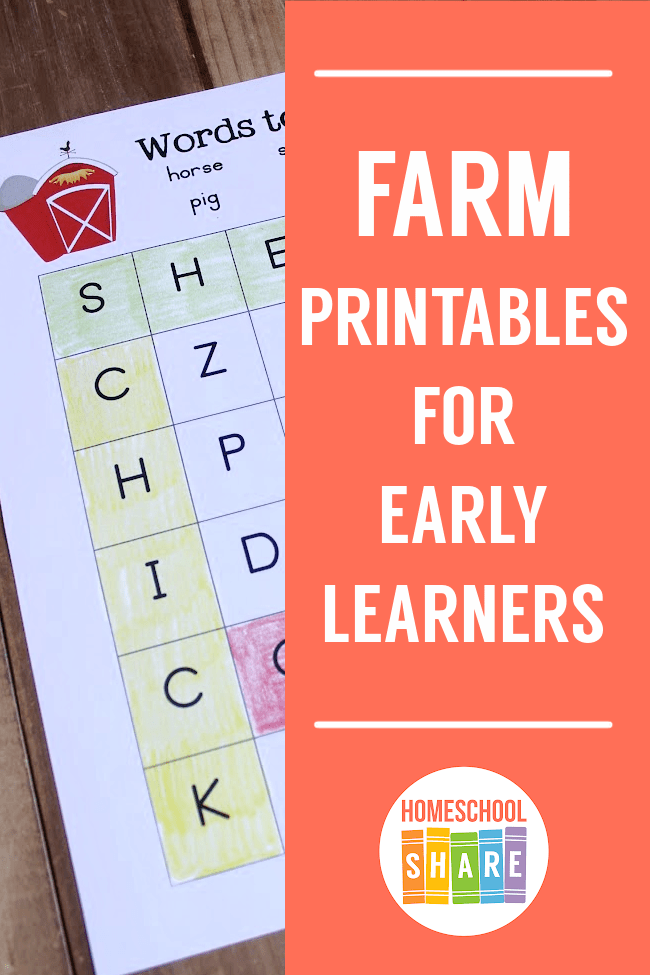 Farm Animals Printable Activities
ABC Magnet Word Building
Use your alphabet magnets and a cookie sheet to build the farm animal words.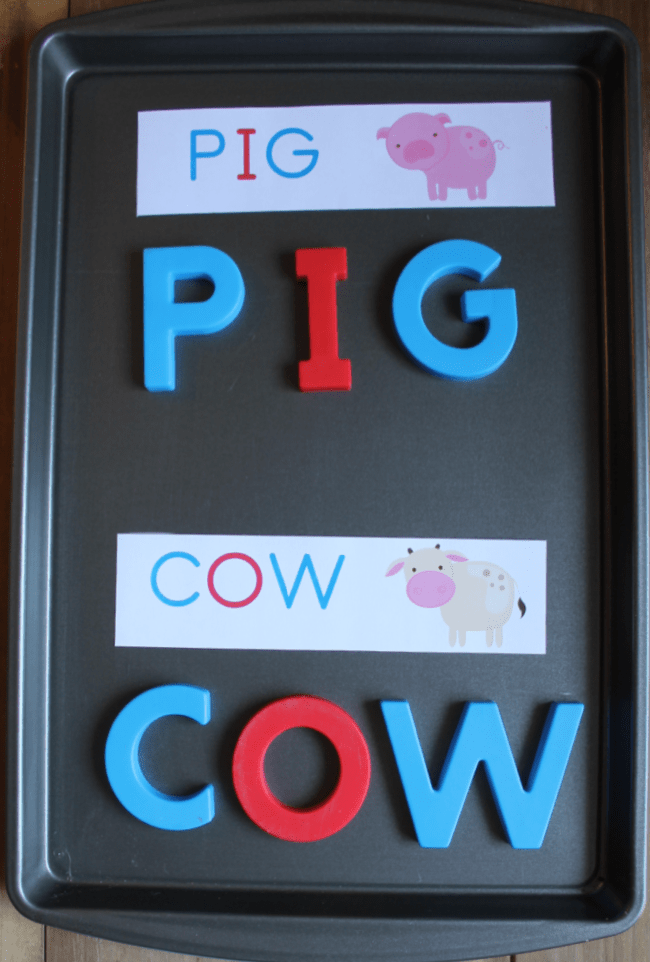 Farm Animals Word Find
Use visual discrimination skills to find the words in the farm animals word find.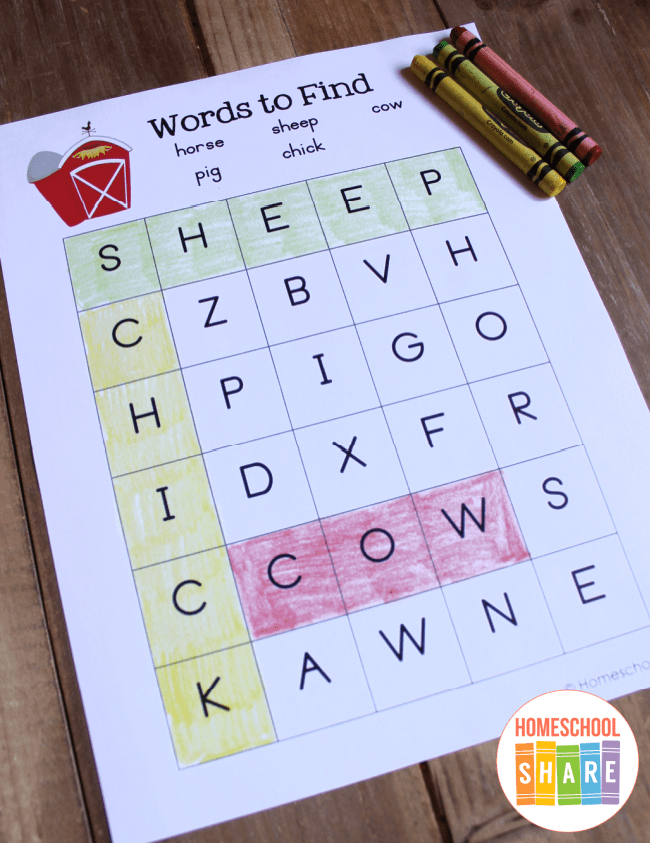 Directions: Find a word. Color in the squares. Find another word. Color the squares with a different color. Continue until all words are found.
Farm Friends Book
Ask your student to color the animals. After she does this, give her the "Color Words" page for reference and help her write the correct color words on the pages. When finished, you can cut out the pages, stack them together, and staple on the top to form a mini-book.
How Many Eggs?
Print and laminate page. Mom needs to write numbers in the second column. The student should use playdough to make eggs. The student should then place the correct amount of eggs for each chicken in the third column.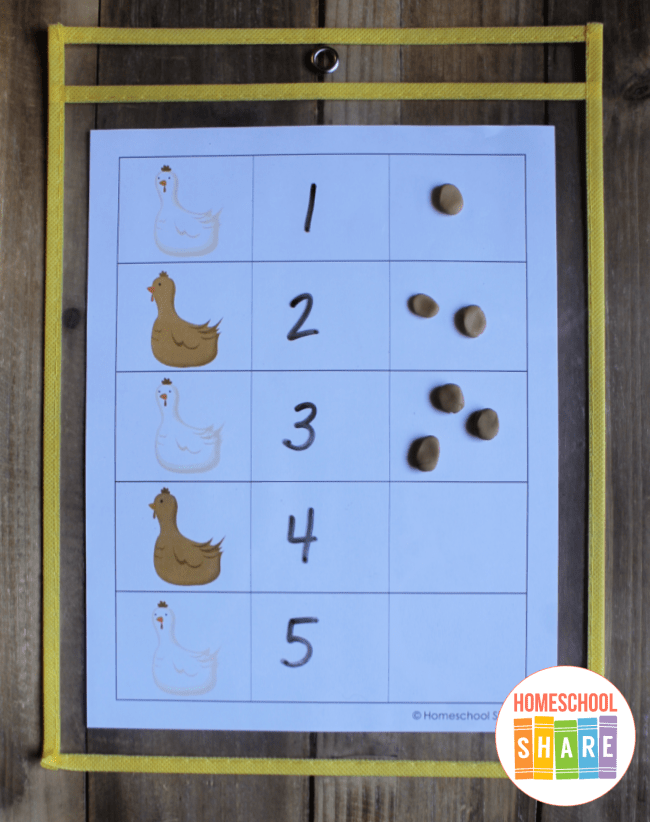 Tally Marks
Using a scrap piece of paper, show your student what tally marks are.  Grab some simple objects from around your house and show how your student how to count them with tally marks.  Complete the farm animals tally marks page together.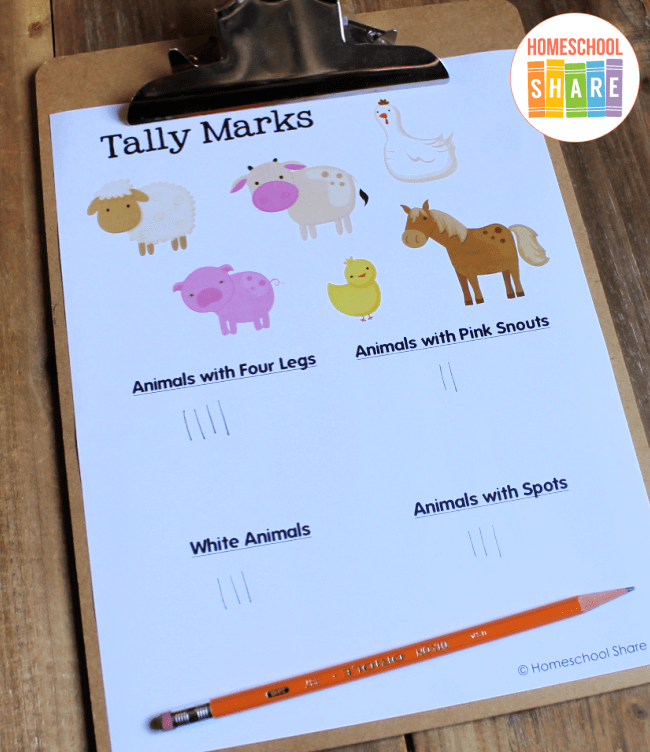 My Favorite Farm Animal
Mom can type right on this page! At the end of your study, ask your student what he has learned about his favorite farm animal. Record the information on this page, print it, and put it in his notebook.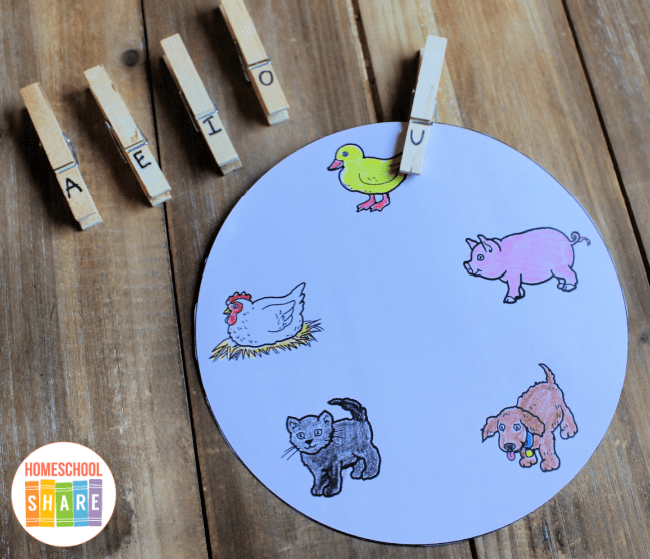 Farm Animals Short Vowel Wheel
Print the wheel on cardstock. Color. Laminate. Cut wheel out. Write  the letters a, e, I, o, and u on five clothespins. Let your student clip the corresponding clothespin to the correct section of the wheel.
Tracing Words: Farm Animal Sounds
Encourage your student to trace the farm animal sounds. Sounds include: neigh, baa, meow, moo, maa, and oink.

Farm Animal Graph
Boost math skills with this graphing game.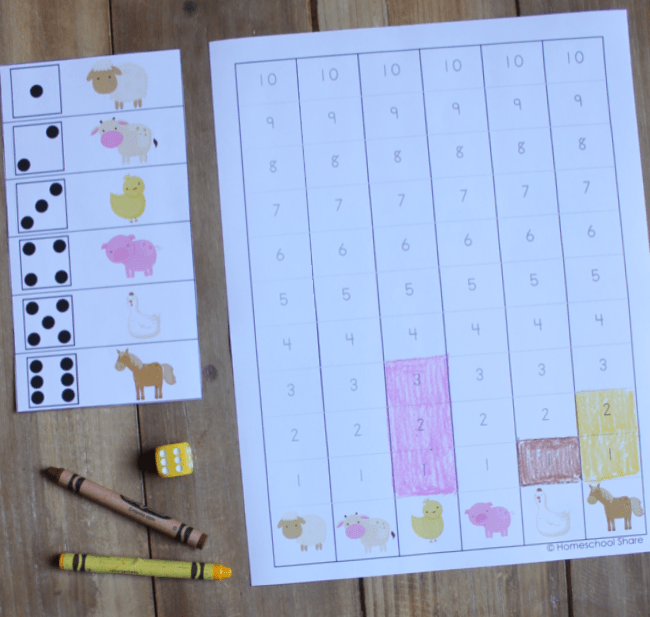 Each player takes a turn rolling a die. Fill in one square of the animal that was rolled (using the chart below to show you the numbers with the corresponding animals). Keep taking turns until one of the animals reaches ten.
Farm Finger Play
Learn the farm finger play this week. Practice the motions together.
Farm Animal Babies Tic-Tac-Toe
This is Tic-Tac-Toe with a twist! Instructions are included in the farm animals download.
Farm Animals Library List
You do not need these exact books to use with the Farm Animals Printables.
Please use whatever farm animal books your library has available and read, read, read to your child!
Reading is great for language development, literacy skills, and snuggling; it is the best thing you can do with your preschool or kindergarten student.
The Little Red Hen by Diane Mudrow

The Milk Makers by Gail Gibbons

Milk – from Cow to Carton by Aliki

Honey Cookies by Meredith Hooper

Rooster's Off to See the World by Eric Carle

Barn Dance by John Archambault

What a Wonderful Day to be a Cow b y Carolyn Lesser

Click, Clack, Moo Cows That Type by Doreen Cronin

Pigs by Gail Gibbons

Where Do Chicks Come From? by Amy E. Sklansky
Download Your Farm Animal Printables
Simply subscribe to the newsletter using the form below to grab your free farm animals printables.
More Farm Animal Themed Activities
If you are looking for more farm animal printables for your preschool or kindergarten student, try these: