Affiliate Disclaimer
We sometimes use affiliate links in our content. This won't cost you anything, but it helps us to keep the site running. Thanks for your support.
The sun dims. The moon brightens. Who's asleep? And who's awake? Owls, bats, and racoons come to life at night with a host of other animals. Learn more about them with this Nocturnal Animals Lapbook.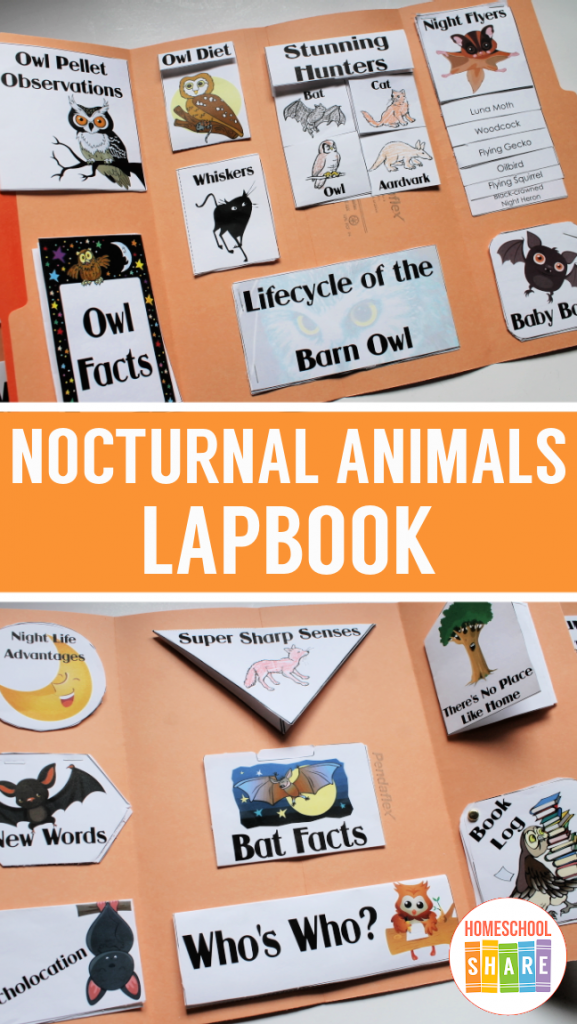 Nocturnal Animals Lesson Plans
Here are some sample lessons from the Nocturnal Animals Lapbook:
Nocturnal, Diurnal, and Crepuscular: Understanding the Difference
Different animals are awake at different parts of the day. Here are a few basic distinctions:
Nocturnal: awake and active during the night; examples include raccoon, skunk, and red fox
Diurnal: awake and active at day; examples include chipmunk, butterflies
Crepuscular: active at dawn and dusk; examples include Kodiak Bear, snow leopard, mule deer
Advantages to the Nightlife
Can your student think of any reasons why animals would want to sleep through the day and come out at night?
Here are three basic advantages to being a night owl.
1. Some animals would get too hot or dry out in the daytime. Night is cooler.
2. It's easier to find a food source at night because there isn't as much competition.
3. It's also easier to hide at night (from predators). Many nocturnal animals are black or grey, and they are camouflaged at night.
Nocturnal Animals: Senses
Nocturnal animals must have special senses in order to find their way, hunt their food, and flee predators.

Smell: Generally speaking, night animals have a better sense of smell than day animals. Smells linger in the air for longer at night since the air is more still. Animals use their nose to track the scents and find dinner.

Touch: Many animals use this sense to help them "see" in the night. While fishing in the river, a raccoon is dependent on its sense of touch rather than sight to reach in the water and find fish to eat. Whiskers also help animals find their way. Whiskers are sensitive like a human's fingertips; cats can stick their whiskers out front to help them feel their way around in the dark.
To access all of the lessons in this Nocturnal Animals Lapbook, subscribe to Homeschool Share's email list using the form in this post.
Nocturnal Animals Lapbook Printables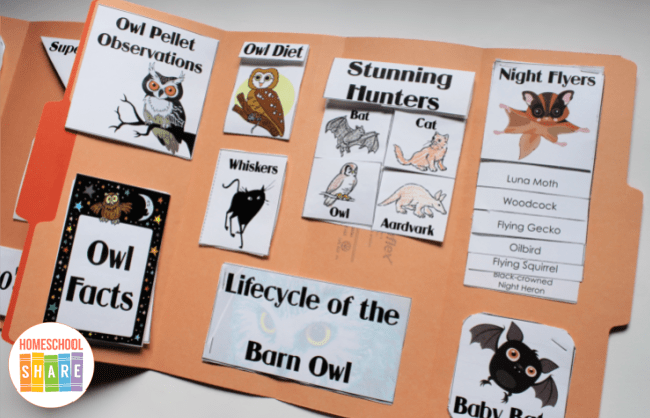 In addition to the research lessons, the file includes these mini-books for your student to create a Nocturnal Animals Lapbook:
Owl Facts Accordion
Owl Diet Matchbook
Book Log Fan
New Owl Words
Owl Pellet Observations Simple Fold Book
Night Life Advantages Tri-fold Book
Whiskers Simple Fold Book
Baby Bats Mini-book
Who's Who? (diurnal, nocturnal, and crepuscular) Flap Book
Super Sharp Senses Envelope Fold Book
There's No Place Like Home Accordion Book
Life Cycle of the Barn Own Tab Book
Night Flyers Layer Book
New Bat Words Mini-book
Stunning Hunters Shutterflap Book
What Owls Do (Day vs. Night) Flap Book
Bat Facts File Folder
Echolocation Mini-book
Nocturnal Animals Book List
The file includes information about nocturnal animals, but it's a good idea to read some books together, too. Here are our suggestions:
How to Get Started with Your Nocturnal Animals Lapbook
Follow these simple instructions to get started with the lapbook.
If you want, go to your local library and check out books about nocturnal animals: bats, owls, moles, flying squirrels, hedgehogs, badgers, etc.
Print the Nocturnal Animals Lapbook.
Choose and prepare the mini-books you want to use with your student.
Enjoy a week of reading and learning all about nocturnal animals.
Lapbook Sample
Here is a sample lapbook made with two file folders. If you need help making a lapbook, you can find more information here: How to Make a Lapbook.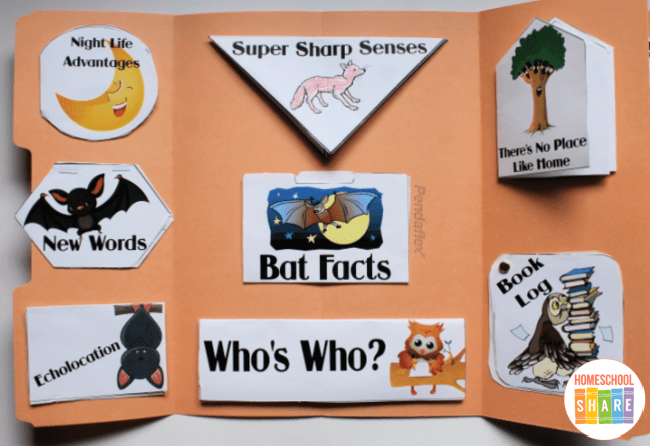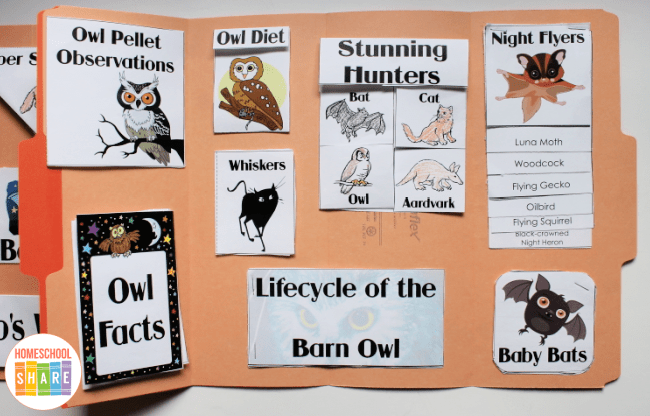 Download Your Free Nocturnal Animals Lapbook
Use the form below to subscribe to the newsletter. Once you confirm, you'll receive an email with the link to the lapbook. If you are already confirmed, simply enter your name and email address below, and you will receive an email with the link.
Explore More Animal Lapbooks
Check out these animal lapbooks and learn even more about nocturnal animals.