Affiliate Disclaimer
We sometimes use affiliate links in our content. This won't cost you anything, but it helps us to keep the site running. Thanks for your support.
This free Cats Lapbook provides lessons for multiple subject areas, including cat math and copywork practice. Your student will learn about pet care, cat communication, cat anatomy, and more!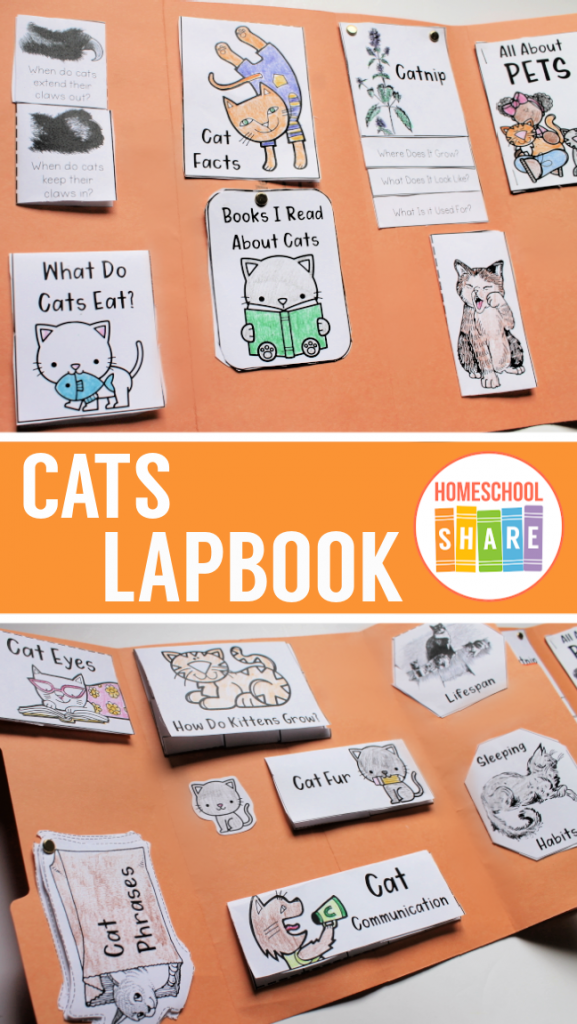 Thanks to Wende for writing all of the research for this animal lapbook.
Cats Lapbook Lessons
Here are some sample lessons:
Cat Growth
As with all mammals, cats are born by live birth. The mama cat will be pregnant for about two months, and will then give birth to a litter of kittens.
They are born blind and instinctually know where to go to mama cat for milk. The first two weeks of their lives they mostly just sleep and eat. Usually around the fourteenth day of their lives, the kittens' eyes will open and by the twentieth day they will try to walk around, dragging their hind legs. By the time they are a month old they will be able to walk, and will even play with each other a bit. They still depend on their mother for milk. By the sixth week, the kittens will learn to climb, eat out of a bowl, and will be very curious about their surroundings.
The mother cat will wean the kittens (stop giving them milk) by the time they are two months old, when the kittens are ready to find new homes.
Cat Diet
Cats are carnivores, which means they are meat eaters. By God's design, cats have a natural instinct and are equipped with especially designed claws to catch prey, and sharp pointy teeth to kill their meal. What kind of foods do cats eat? Other than store bought cat food, they eat most any small animal that they can catch, including mice, shellfish, fish, birds, moles, rabbits, etc. When very hungry they will move from their regular diet to whatever is available, including sometimes-even insects. Sometimes you will even see cats eating grass, to obtain nutrients or fiber that their bodies instinctually know they need.
If you want, learn more about cats at National Geographic Kids.
To access all of the lessons in this Cats Lapbook, subscribe to Homeschool Share's email list using the form in this post.
Cats Lapbook Printables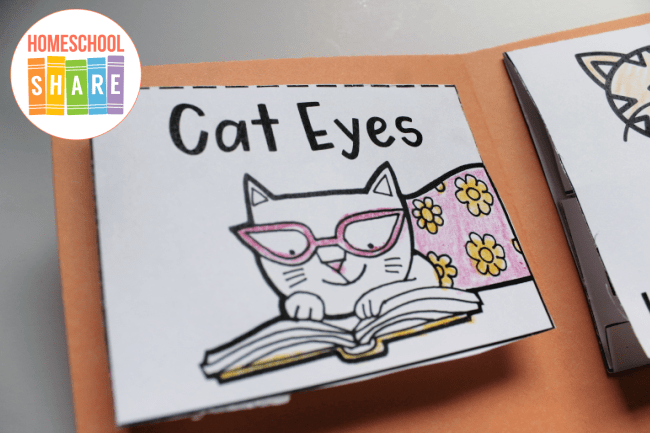 In addition to the research lessons, the file includes these mini-books for your student to create a Cats Lapbook:
All About Pets Tab Book
What Do Cats Eat? Simple Fold Book
Cat Facts Simple Fold Book
Cat Fur Flap Book
How Do Kittens Grow? Side by Side Book
Cat Communication Flap Book
Cat Eyes Accordion
Cat Claws Bi-fold Book
Cat Tri-fold Blank Book (use as desired)
Catnip Layer Book
Cat Phrases Shape Book
Sleeping Habits Simple Fold
Lifespan Simple Fold
Books I Read About Cats Mini-book
Wild Cats Vs. Domestic Cats Shuttertied Book
Cats Coloring Page
Lapbook Example
Here is a sample of the lapbook. It was made with most of the mini-books and two file folders. You can pick and choose the mini-books based on your student's needs and interests.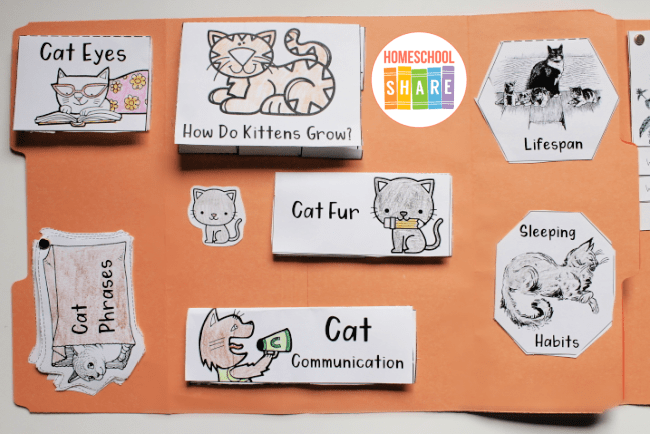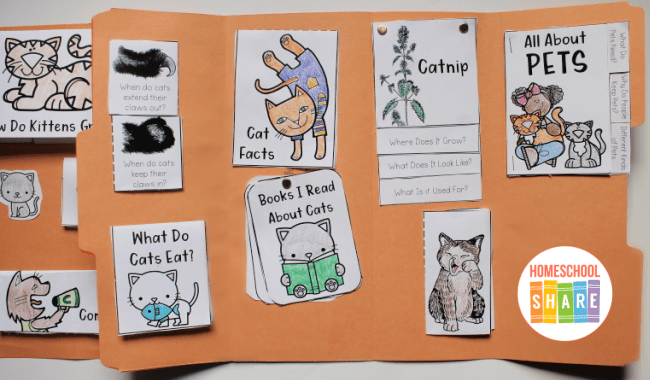 How to Get Started with Your Lapbook
Follow these simple instructions to get started with the Cats Lapbook.
If you want, go to your local library and check out books about cats. Read the books throughout your cat study.
Print the Cats Lapbook.
Choose and prepare the mini-books you want to use with your student.
Enjoy a week of reading and learning all about cats!
Download Your Free Cats Lapbook
Use the form below to subscribe to the newsletter. Once you confirm, you'll receive an email with the link to the lapbook. If you are already confirmed, simply enter your name and email address below, and you will receive an email with the link.
Explore Our Other Cat Resources