Affiliate Disclaimer
We sometimes use affiliate links in our content. This won't cost you anything, but it helps us to keep the site running. Thanks for your support.
Head, shoulders, knees, and toes! Introduce your preschool student to the science of the human body with our My Body Lapbook.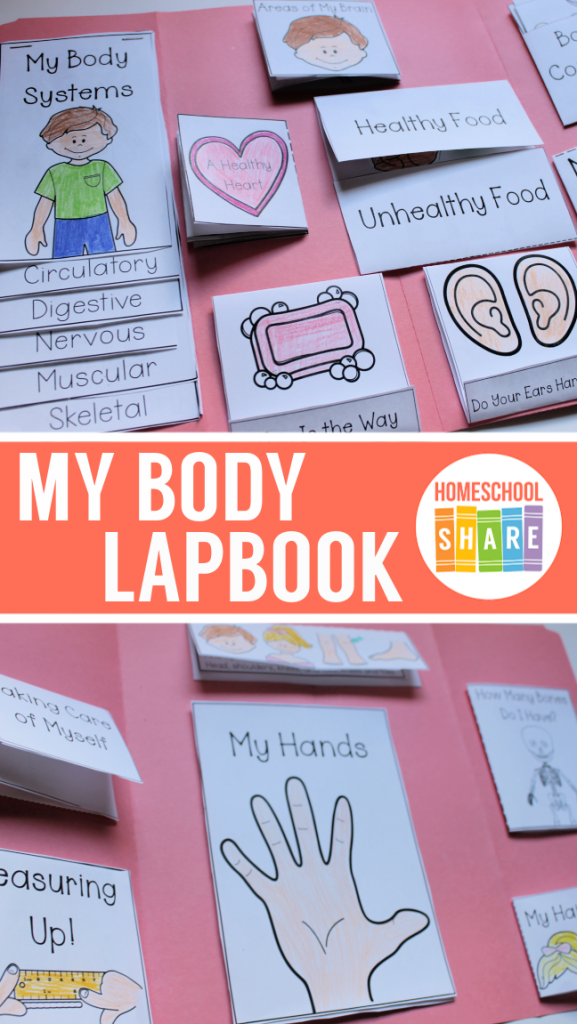 My Body Lapbook Objectives
As your student works through the My Body Lapbook, they will complete the following:
Learn and sequence steps for brushing teeth.
Match number symbols to corresponding number of body parts.
Explore steps for healthy living.
Sort food into healthy and unhealthy groups.
Solve the body part riddles.
Learn the color of your eyes and hair.
Use fine motor skills to cut and paste.
Recite and sing poems and songs related to the body.
My Body Lapbook Mini-books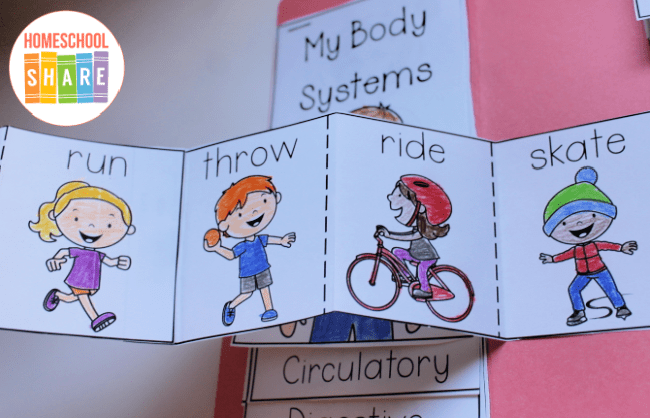 The My Body Lapbook includes several mini-books for your preschooler to learn and review.
My Arms
Discuss your student's arms. What can they do? Make a list of things your student's arms can do.
Measuring Up
Introduce your student to measurement. Measure his foot, thumb, etc. and record the measurements in the mini-book provided.
How Many Bones?
Discuss your student's bones. Read a book about bones, if possible, to learn how bones grow and what they are made of. An adult human body has 206 bones! Record that number in the mini-book provided.
A Healthy Heart
Discuss how exercise keeps your heart healthy and complete the Healthy Heart Accordion.
My Hands
Discuss right and left. Trace your student's hands in the book provided. Reinforce right and left with "The Hokey Pokey" song.
Unhealthy vs. Healthy Food
Discuss healthy foods and unhealthy foods and how we should try to eat more healthy foods than unhealthy foods. Have your student sort the foods provided and paste them into the mini-book.
Areas of My Brain
Discuss the human brain. It has several different areas that control different parts of the body. Use the t-book provided to enhance your discussion.
My Eyes and My Hair
Use the shutterfold book provided and let your student draw his eyes and hair. You can use this as a springboard for a discussion on colors.
My Body Systems
If possible, get a simple book about body systems. Provide as much or as little detail as you want for the body systems. Introduce your student to the following systems using the layer book provided:
Skeletal System: Your bones
Circulatory System: Your veins, arteries, and heart
Digestive System: Your mouth, esophagus, stomach, small intestine, and large intestine
Nervous System: Your brain and nerves
Muscular System: Your muscles
Respiratory System: Your nose, larynx, trachea, and lungs
Taking Care of Myself
Discuss ways to take care of yourself. Use the t-book provided to reinforce this concept.
Brushing My Teeth
This is another way to take care of yourself. Discuss it in detail with your student and complete the accordion book.
Body Counting Game
Practice counting 1-10 with this fun matching game.
Riddle Matchbooks
Have fun thinking about body parts with these matchbooks.
Lapbook Cover Idea
Let your student stamp the front of the folder with her freshly painted handprint and footprint!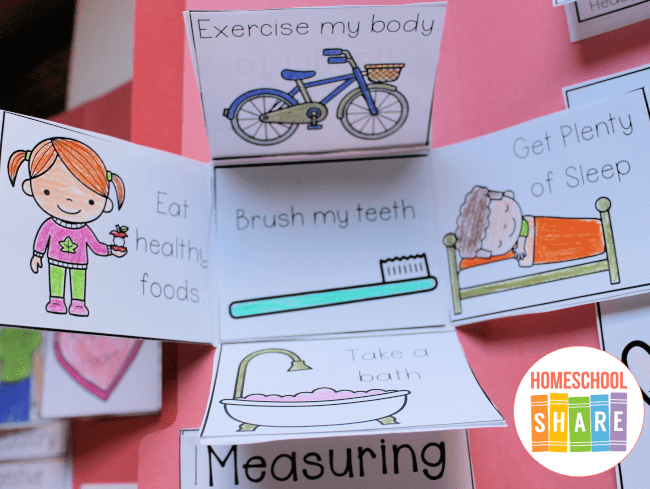 Human Body Books for Your Preschool Student
Grab some great books to read to your preschooler this week as you complete the My Body Lapbook.
My Body Lapbook Sample
This sample lapbook was made with two file folders.
Remember, there isn't a right or wrong way to make a lapbook. Pick and choose the mini-books that will work best for your student and create your own layout.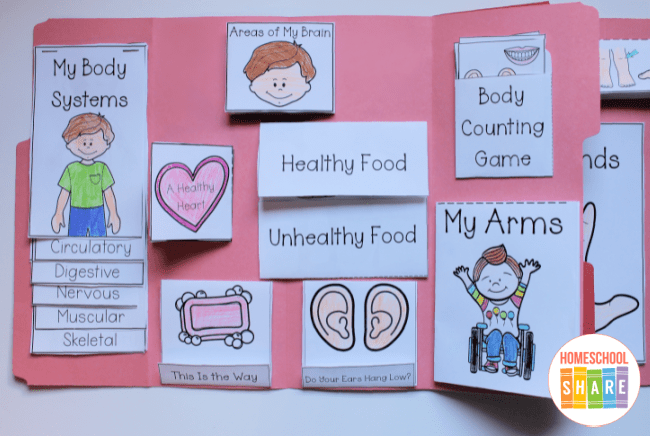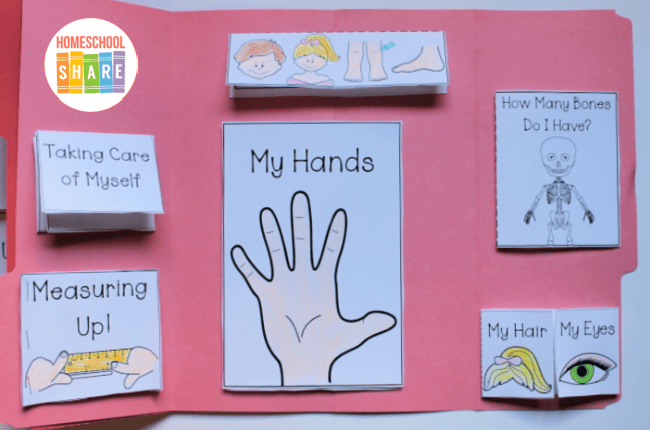 How to Get Started with Your My Body Lapbook
Follow these simple instructions to get started with the My Body Lapbook.
Gather books about the human body that are appropriate for your preschool student.
The lapbook comes in two versions: black and white and color. Choose the version that suits your needs and print the My Body Lapbook.
Prepare the lapbook mini-books you want to use with your student.
Enjoy a week of reading, singing, dancing, and creating a My Body Lapbook.
Get Your Free My Body Lapbook
Use the form below to subscribe to the newsletter. Once you confirm, you'll receive an email with the link to the lapbook. If you are already confirmed, simply enter your name and email address below, and you will receive an email with the link.
More Human Body Resources for Your Early Learner