Affiliate Disclaimer
We sometimes use affiliate links in our content. This won't cost you anything, but it helps us to keep the site running. Thanks for your support.
Kids need to move, and these ABC Exercise Cards are a fantastic way to promote fitness fun. This set of alphabet exercise cards is a great addition to our My Body Lapbook (for kindergarten and preschool students).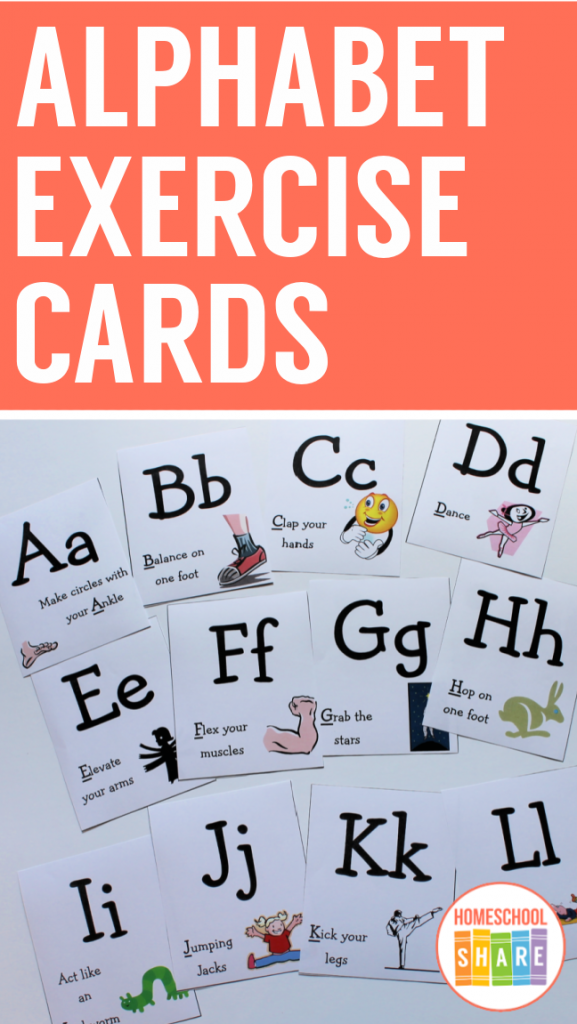 What's Included in the ABC Exercise Cards?
The alphabet exercise cards include 26 different exercises for your students to complete.
A = Make circles with your ankle
B = Balance on one foot
C = Clap your hands
D = Dance
E = Elevate your arms
F = Flex your muscles
G = Grab the stars
H = Hop on one foot
I = Act like an inchworm
J = Jumping jacks
K = Kick your legs
L = Lift your legs
M = March in place
N = Nod your head
O = Jump over a pillow
P = Push-ups
Q = Quickly walk in place
R = Run in place
S = Sit-ups
T = Touch your toes
U = Ride a unicycle
V = Pretend you are a volcano
W = Windmills with your arms
X = Pick your eXercise
Y = Pretend you are using a yo-yo
Z = Run in a zigzag
How to Use the Alphabet Exercise Cards
You can use the cards any way you see fit. Here are some ideas.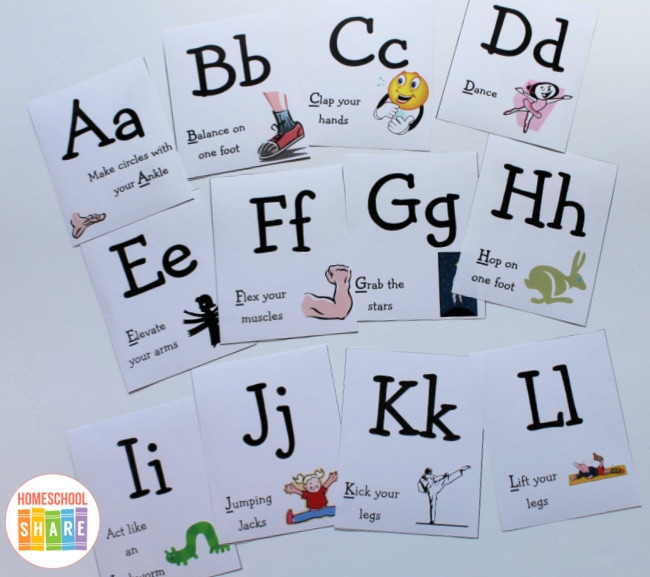 Put them in a jar. When your student gets the wiggles, let her choose one and act out the card together.
Hide the cards around the house. When your student needs a break from schoolwork, go on a hunt for a card. Find one (or two or three!) and act out the exercises together.
Line them up in alphabetical order. See how many you can work through before you are exhausted.
Hint: If your student needs help lining them up, just sing the alphabet song together.
Line them up in alphabetical order. Call out a letter. Let your student find it, grab it, and complete the exercise.
Find more fun ideas for using the cards here.
Get Your Free Set of Alphabet Exercise Cards
Use the form below to subscribe to the newsletter. Once you confirm, you'll receive an email with a link to the movement cards. If you are already confirmed, simply enter your name and email address below, and you will receive an email with the link.
More Exercise Cards for Kids
When kids get stuck or get the wiggles, they need to move! Use this BIG BUNDLE of exercise cards from the Tip-Top Printables Shop to help your students focus and regroup. The bundle includes TEN sets of cards plus one bonus set.
(Note: The ten sets of cards in this bundle do not include the free ABC set on this page, but it does include Nature ABC Exercise Cards and Animal Alphabet Exercise Cards.)
More Human Body Resources
Are you learning about the human body? Grab these other hands-on resources for your students.