Affiliate Disclaimer
We sometimes use affiliate links in our content. This won't cost you anything, but it helps us to keep the site running. Thanks for your support.
Learn all about teeth, tooth fairy traditions, and dental hygiene with this Teeth Lapbook.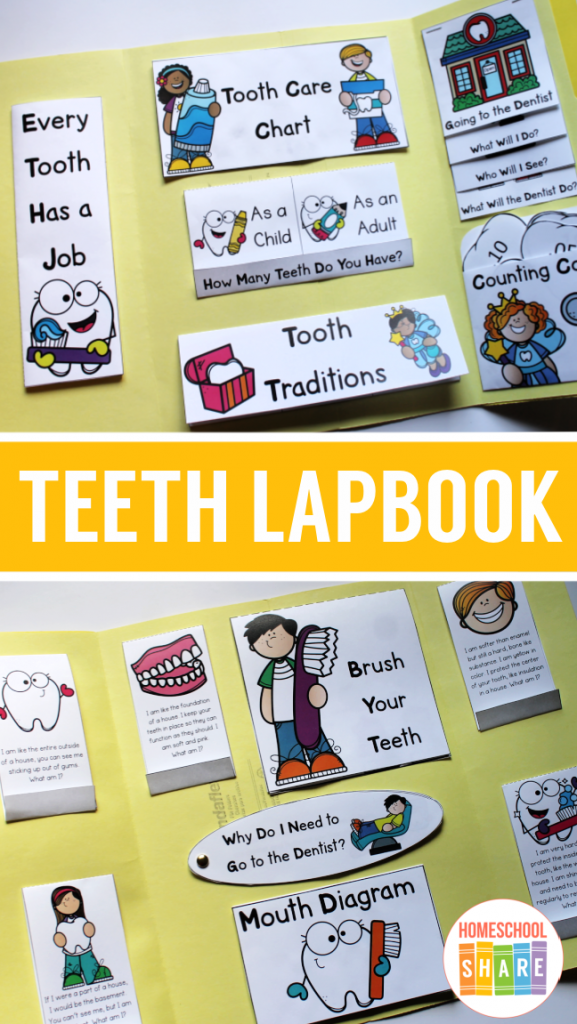 Thanks to Christian Stordahl for writing the lessons for this Teeth Unit Study.
Teeth Unit Study Lessons
This Teeth Unit Study includes a variety of lessons: social studies, language arts, science, health, and even math!
Here are some sample lessons from the Teeth Unit Study.
Why Should We Brush?
What you need:
2 hard-boiled eggs
2 cups of dark brown soda pop
2 cups of vinegar
2 containers
Put one egg into each container of liquid and leave overnight.
You can use this experiment to introduce the scientific method to your child. Start by identifying the question you want answered: What will happen to my teeth if I don't brush them?
Make observations about the eggs. Talk with your child about the similarities between the eggs and our teeth. They are both white; both contain calcium, which makes them hard, both have a protective covering. Take a guess as to what is going to happen to each egg, these are your hypotheses.
As you take them out the next day record your observations on the provided chart. The soda-egg represents what happens to your teeth when you eat too much sugar and don't brush afterward, the egg will be discolored, and possibly have some pits.

The vinegar-egg represents what other food does to your teeth. This egg will be very fragile and soft. Vinegar is an acid and removes the calcium from the egg, just like acid in our food breaks down the calcium in our teeth and leads to cavities. We should brush after we eat to remove anything that will harm our teeth.

Walk your child through the similarities and differences in each egg compared to the day before. Were his hypotheses true. If not what did happen? Does that answer your original question? Compare them to our teeth; make sure he understands what happened to the eggs and why.
To access all of the lessons in this Teeth unit study, subscribe to Homeschool Share's email list using the form in this post.
Teeth Lapbook Printables
The lapbook printables include gobs and gobs of learning opportunities!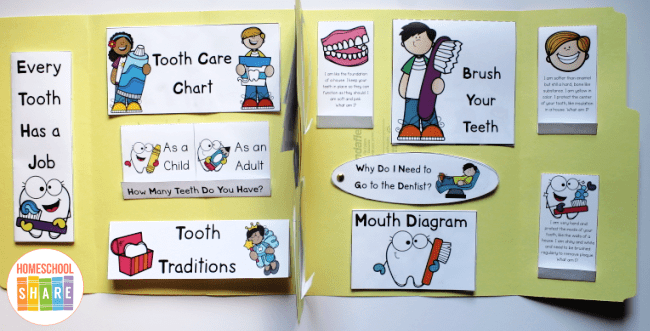 Tooth Traditions Flap Book
How Many Teeth Do You Have? Split Matchbook
Tooth Anatomy Matchbooks
Tooth Care Chart
Going to the Dentist Layer Book
Why Do I Need to Go to the Dentist? Fan Book
Every Tooth Has a Job Flap Book
Counting Coins
Letter to the Tooth Fairy Activity Page
Mouth Diagram
And more!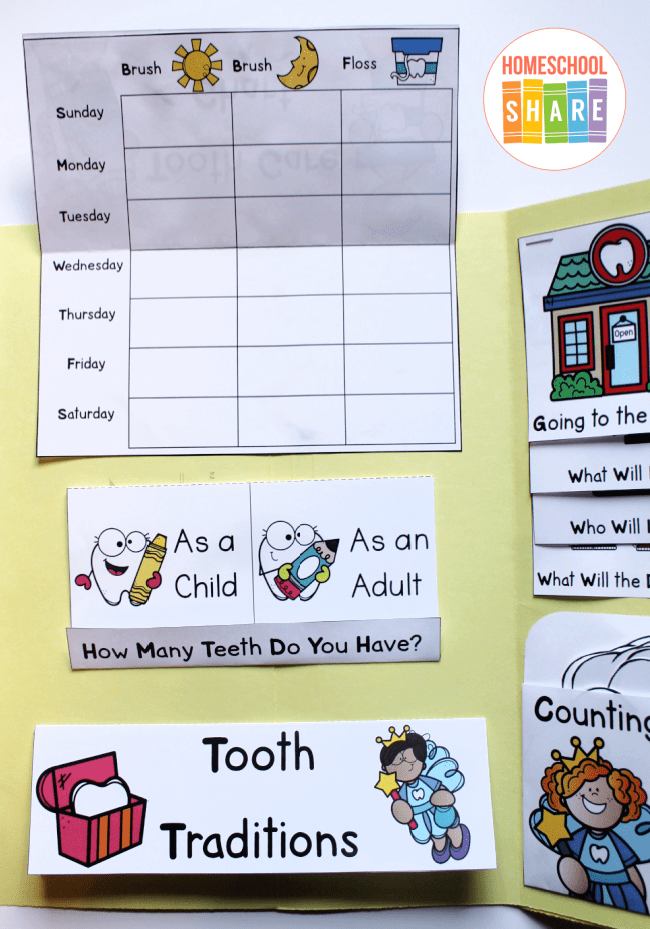 Teeth Lapbook Example
This lapbook was made with two file folders. If you need more instructions, start here.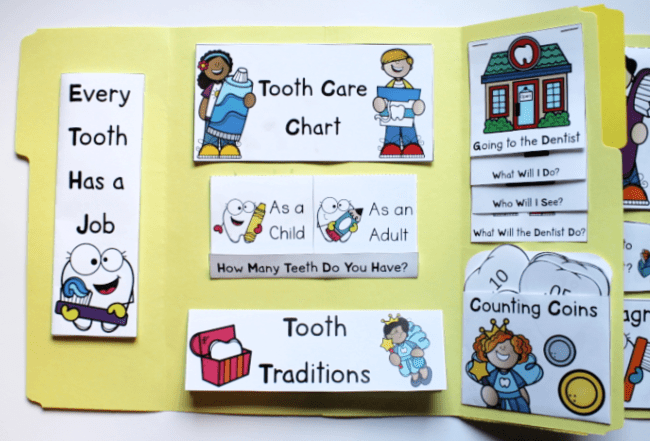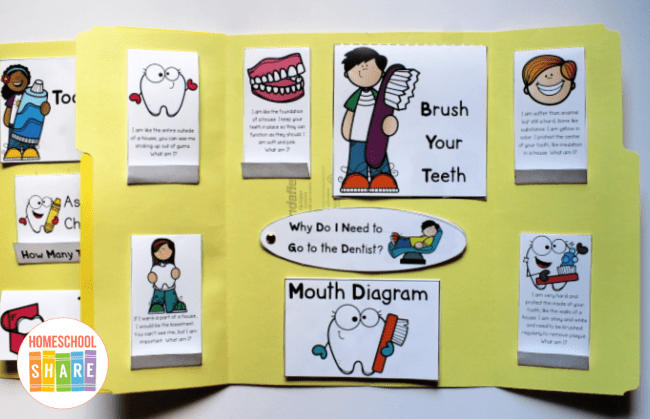 Don't forget: you can use outside flaps for even more mini-books (see below).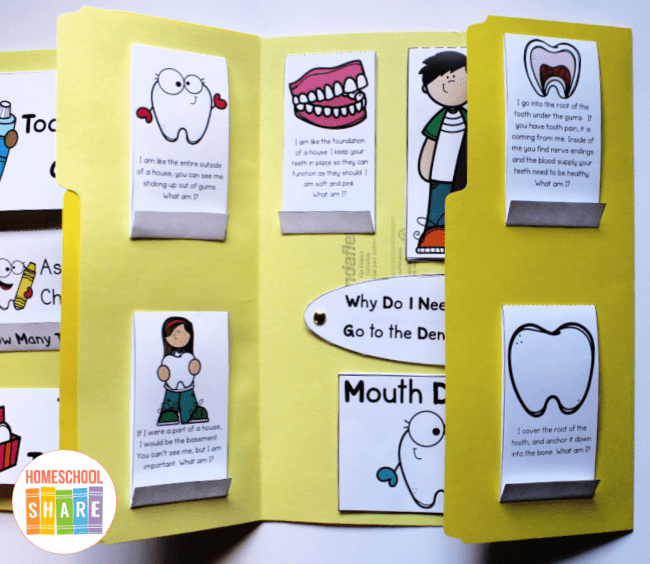 Teeth and Tooth Fairy Book List
Grab some books to read together as you learn more about teeth.
How to Get Started with Your Teeth Unit Study & Lapbook
Follow these simple instructions to get started with the Teeth Unit Study:
Check out some books about teeth, dental hygiene, and the tooth fairy.
Print the Teeth unit study.
Choose the lessons you want to use with your student (a highlighter works great for this).
Choose and prepare the lapbook printables you want to use with your student.
Enjoy learning all about teeth.
Get Your Free Teeth Unit Study & Lapbook
Use the form below to subscribe to the newsletter. Once you confirm, you'll receive an email with the link to the lapbook. If you are already confirmed, simply enter your name and email address below, and you will receive an email with the link.
More Lapbook Studies
Check out these other lapbooks for your students.