Affiliate Disclaimer
We sometimes use affiliate links in our content. This won't cost you anything, but it helps us to keep the site running. Thanks for your support.
Learn all about John Chapman, the man who planted apple seeds all over the Midwest, with our free Johnny Appleseed Lapbook. This hands-on project also includes opportunities for your student to learn all about apples.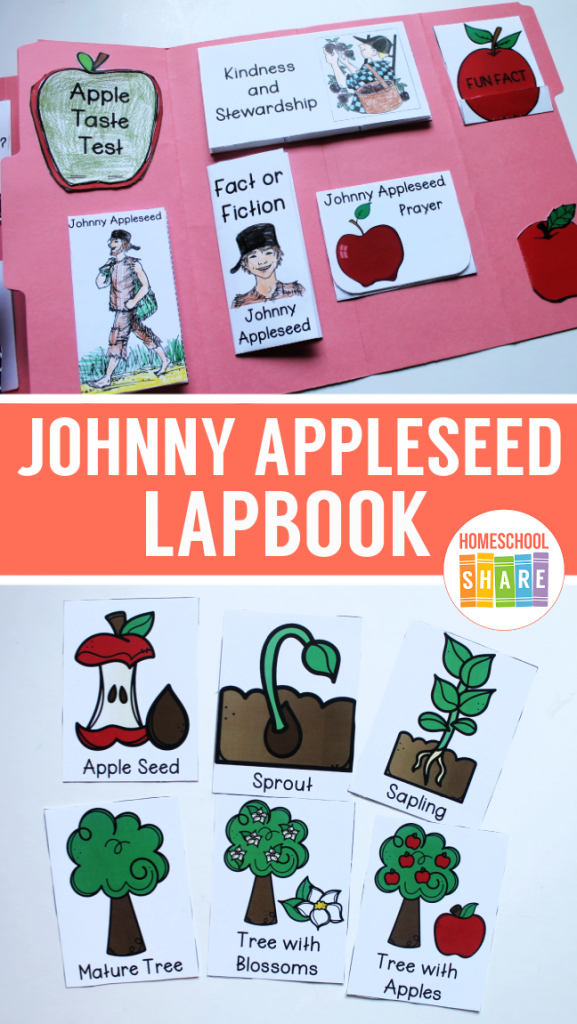 Thanks to Lisa H. (for the research) for helping with this Johnny Appleseed Lapbook.
Johnny Appleseed Lapbook Information
His real name was John Chapman; he was born on September 26, 1774 in Boston, MA and died on February 18, 1845 in Fort Wayne, IN. (Some accounts report he died in 1847.) He spent 50 years planting apple seeds in the Midwest, which at that time was the new frontier and full of pioneers trying to settle the land. Johnny Appleseed cared about the new men and women of Illinois, Indiana, Kentucky, Pennsylvania and Ohio. He never wanted them to go hungry nor feel discontent.
Johnny's appearance made him an easy to spot man:
He wore no shoes.
He wore old clothes that were often old coffee sacks with holes cut for his arms and legs
He wore a tin cooking pot on his head.
He carried a Bible and several other books with him.
As strange as he may have looked, the apple seed man was kind to animals. When Johnny would come across a farm or house were the animals were not being taken care of or were neglected, he would offer to trade for them. Most of the time he used apple seeds. When Johnny would come to a wooded area or forest, he would search for any animals that might have strayed or ran away from bad people. He would care for them and take them with him on his travels. When he came to a farm with people who would promise to love the animal and take care of an animal, he would leave it there.
As strange as he may have looked, the apple seed man was kind to people. Many of the new frontier people were poor, but Johnny didn't want them to grow hungry. Often he would give the apple seed away. Some were able to trade old clothes for the seed. He also wanted people to read. He would give books to people who really wanted them. When the number of books he had was low, he would leave a chapter of a book.
As strange as he may have looked, the apple seed man cared about his plants. Johnny Appleseed travelled over 100,000 square miles and distributed bushels of apple seed. But he did not just throw it here and there. When Johnny Appleseed travelled down the Ohio River, he would stop and look for dirt that the apple seed could grow in. After planting, he made fences with bushes and branches so deer and other animals couldn't eat the little plants. He also remembered where he planted orchards and each year would visit them and prune the trees.
In Johnny Appleseed's dream, there were blossoming apple trees everywhere and no one went hungry. He worked hard and long to see that dream become real.
Access the entire Johnny Appleseed Lapbook when you subscribe to the Homeschool Share newsletter by using the form found in this post.
Johnny Appleseed Lapbook Printables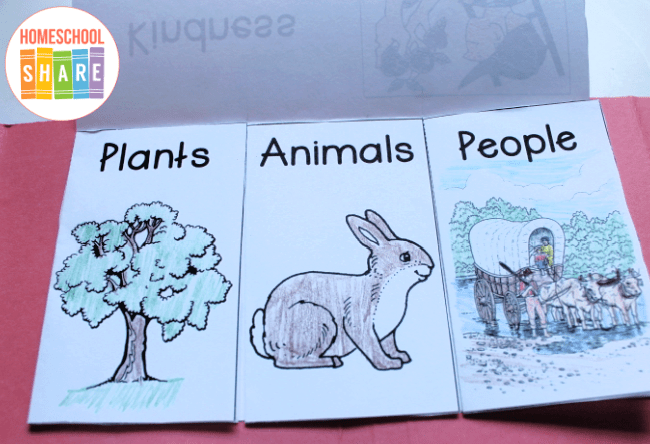 Use the following mini-books to create a Johnny Appleseed Lapbook:
How Many Seeds in an Apple? Flap Book
Johnny Appleseed's Travels Map
Apple Copywork Book
Johnny Appleseed: Fact or Fiction Pocket Folder and Sorting Cards
Johnny Appleseed Prayer Tri-fold Book
Apple Life Cycle Pocket and Cards
includes a black and white version as well as a color version; choose one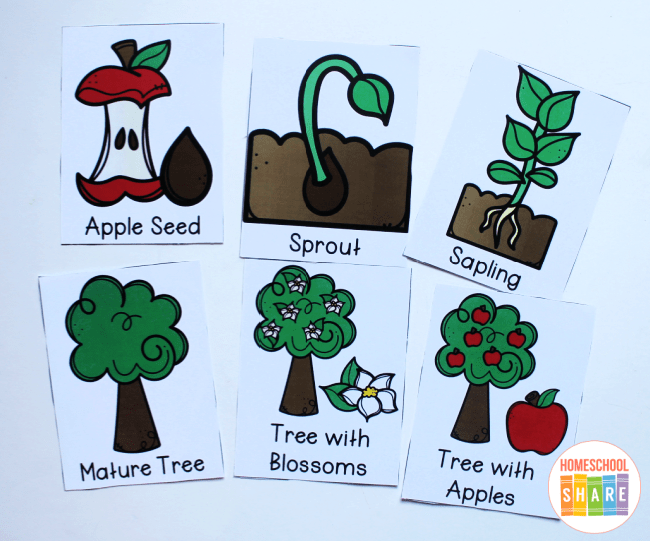 Kindness and Stewardship Side by Side Book
Johnny Appleseed Appearance Flap Book
Apple Shape Books (use as desired)
Apple Diagram Simple Fold Book
Apple Taste Test Mini-book
Fun Fact Matchbooks
Use these matchbooks to record apple facts or facts about Johnny Appleseed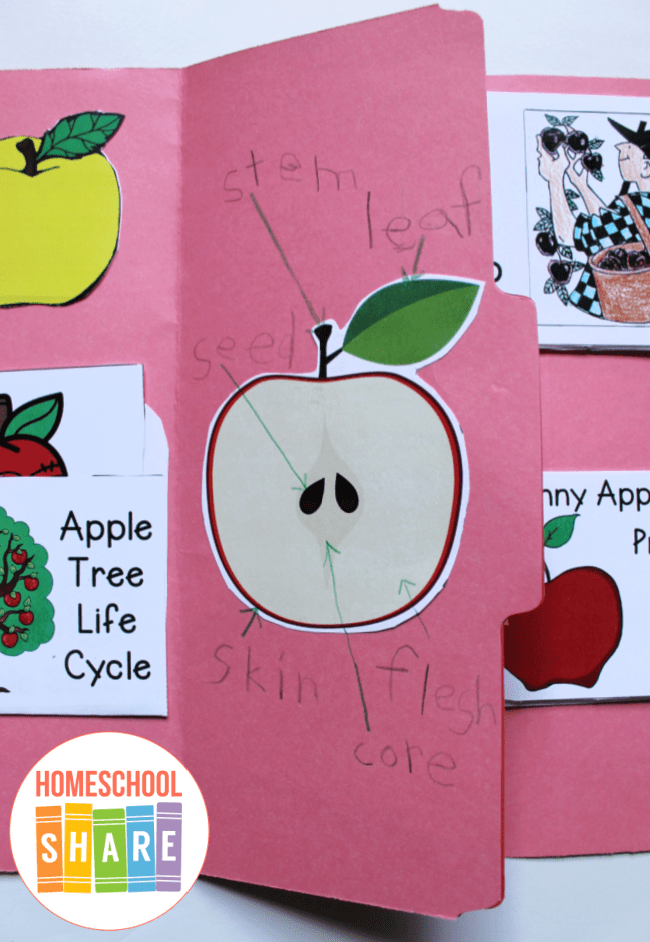 Johnny Appleseed Books
Read some books about John Chapman and apples as you complete your Johnny Appleseed Lapbook.
Lapbook Sample
This sample lapbook was made with two file folders. If you need more instructions about creating a lapbook, read How to Make a Lapbook.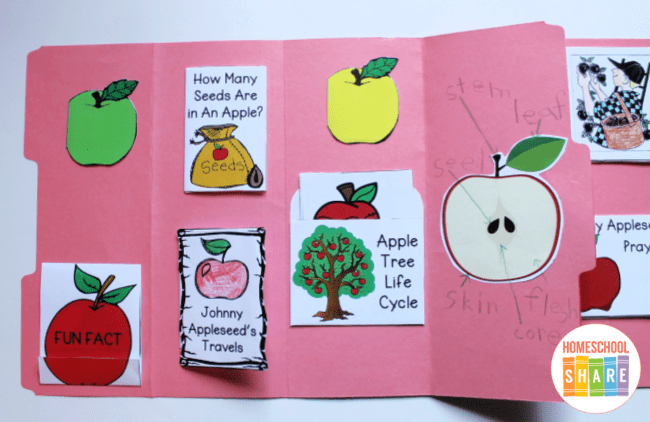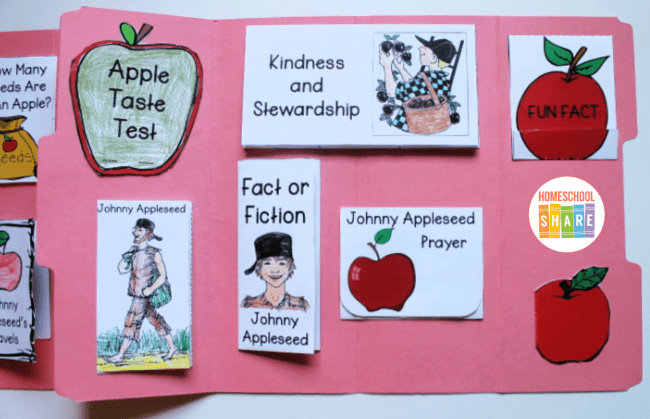 Download Your Free Johnny Appleseed Lapbook
Use the form below to subscribe to the newsletter. Once you confirm, you'll receive an email with the link to the lapbook. If you are already confirmed, simply enter your name and email address below, and you will receive an email with the link.
More Apple Themed Resources