Affiliate Disclaimer
We sometimes use affiliate links in our content. This won't cost you anything, but it helps us to keep the site running. Thanks for your support.
Take a trip back in time and learn all about knights with our Knights Unit Study and Lapbook.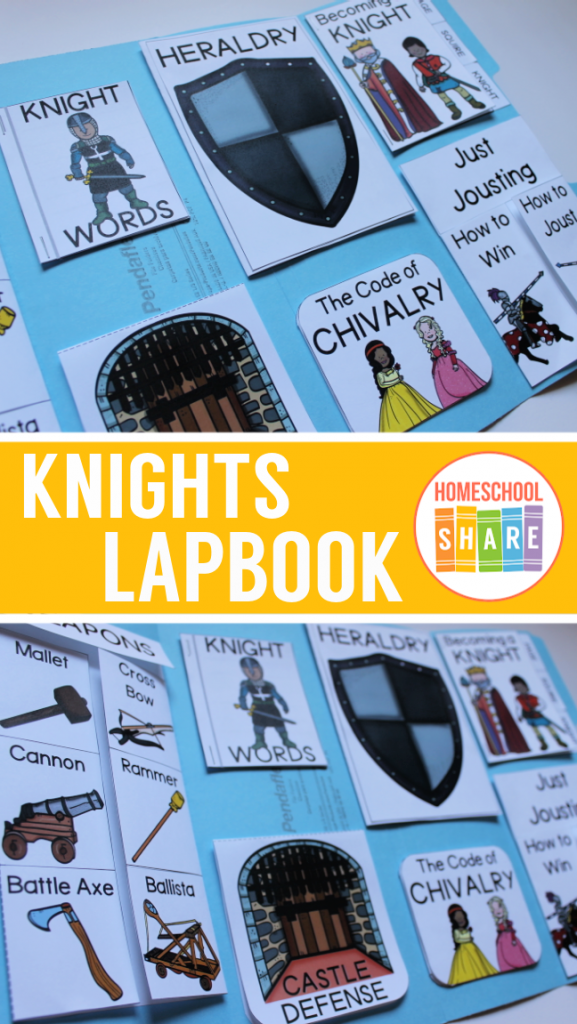 Thanks to Tina Franks for writing the lessons and contributing the mini-book ideas for this Knights Unit Study and Lapbook.
Knights Unit Study Lessons
Here are some sample lessons from the Knights Unit Study & Lapbook:
Who Was Eligible?
For the majority of the Middle Ages, you could only be a knight if you were born the son of a knight. Knighthood was given only by members of the nobility.
However, as the costs of knighthood increased (a knight had to provide for his own arms, armor, horses and retainers) and money-based economies became more common, rich peasants and merchants began angling for the title of knight as well. In 13th century England, if a man was free and could take up arms and pay the "knight's fee," he was eligible to become a knight.
How to Become a Knight
1. When a boy was about seven years old, his parents sent him to be a page at another lord's castle. A page served the lord's family their meals, learned manners, received an education (sometimes including Latin), and practiced battle skills with wooden weapons and horses.
2. The boy became a squire to a knight around age 14. He took care of the knight's horses and polished the knights armor and weapons. He practiced horsemanship and fighting with real horses and real weapons. He also went into battle at his knight's side.
3. Around the age of 21 the squire became a knight at a dubbing ceremony, where he was officially dubbed a knight by his father, his knight or sometimes even the king. At this ceremony he promised to be loyal and brave and to protect his lord, his king, and his church. He was then tapped on the shoulder(s) with a sword and was pronounced a knight.
A Knight's Armor
The most common type of body armor worn by medieval knights was made of mail, also known as chain mail. It became very popular around the 11th century. Chain mail is made of many small iron rings, all linked together. No one knows exactly how chain mail was made, but some pictures show armorers using pliers to join the links.
We do know that the coats were shaped by increasing or decreasing the number of links in each row, kind of like knitting. We also know that, as time went on, knights wore more and more chain mail to protect more and more of their bodies: the sleeves got longer, and they added chain mail leggings. A chain mail coat (also called a hauberk) weighed about 20-30 pounds and most of that weight was carried on the knight's shoulders. Chain mail was flexible and protected a knight against a sword, but he could still be hurt by an arrow, a dagger or a club.
In about the 14th century, knights started adding steel plates over the chain mail to protect their arms and legs and, eventually, iron plates to protect their whole body. By the 15th century, some knights wore full suits of plate armor and didn't worry about the chain mail anymore. A full suit of armor weighed between 45-55 pounds, but the weight was spread out over the knight's entire body so he could still run, lie down, or mount his horse. Although it protected a knight well, plate armor was still heavy, hot, and difficult to put on or take off.
To access all of the lessons in this Knights unit study and lapbook, subscribe to Homeschool Share's email list using the form in this post.
Knights Lapbook Printables
In addition to the unit study lessons, the file also includes mini-books for a Knights Lapbook.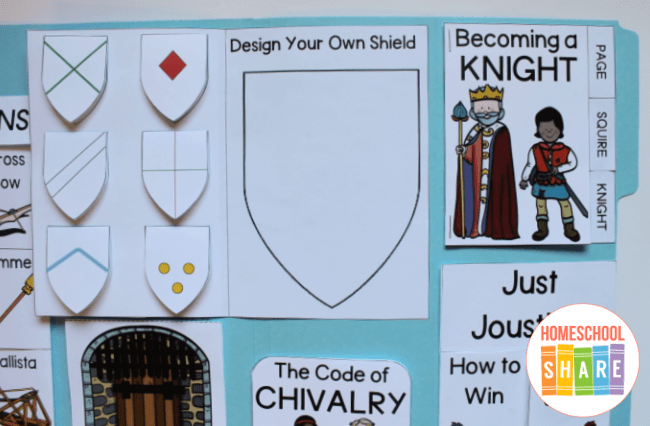 Becoming a Knight Tab Book
The Code of Chivalry Accordion
Three Steads Flap Book
Label a Knight's Armor Shutterfold Book
Why Did Knights Fight? Flap Book
Knight Life Envelope Fold
Ephesians 6:10-17 Card & Pocket
Heraldry Simple Fold Book
Knight Words Mini-book
Castle Defense Simple Fold Book
Famous Knight Report Pocket
How to Joust and How to Win Shutterfold Book
Middle Ages Weapons Shutterfold Book
Knights Lapbook Sample
This Knights Lapbook Sample doesn't include all of the mini-books, but it can give you an idea of how to assemble your own Knights Lapbook. It is a simple lapbook, using just one file folder.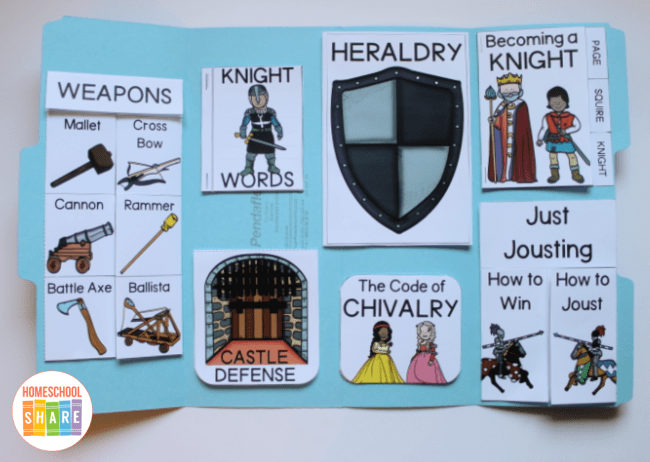 How to Get Started with Your Knights Unit Study & Lapbook
Follow these simple instructions to get started with the Knights Lapbook.
If you want, go to your local library and check out books about knights, castles, and The Middle Ages.
Print the Knights Lapbook.
Choose and prepare the mini-books you want to use with your student.
Enjoy a week of reading and learning all about knights!
Note: This Knights lapbook file includes two versions of the lapbook. One version is black and white, and the other is color. Please choose before you print, so that you don't print both.
Download Your Knights Lapbook
Use the form below to subscribe to the newsletter. Once you confirm, you'll receive an email with the link to the study and lapbook. If you are already confirmed, simply enter your name and email address below, and you will receive an email with the link.
Explore Our Middle Ages Resources
Learn more about knights and castle life with this unit study based on the book, Castle Diary, by Richard Platt.
Learn more about life in The Middle Ages with this unit study and lapbook based on Marguerite Makes a Book (a beautiful story!).
If you are looking for a simpler Knights Lapbook for a younger student, try this one.