Affiliate Disclaimer
We sometimes use affiliate links in our content. This won't cost you anything, but it helps us to keep the site running. Thanks for your support.
Your preschool, kindergarten, or early elementary student will love this Knights Lapbook. If you are looking for something for an older student, try our Knights Lapbook.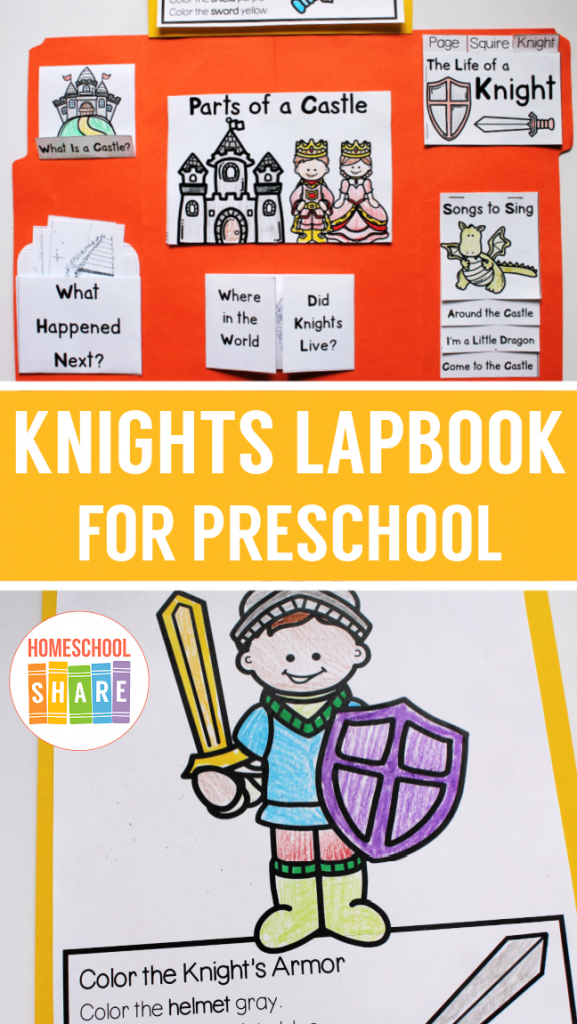 Thanks to Jay and Jen Geary for creating the Knights and Castles Lapbook for Homeschool Share.
Knights and Castles Lapbook Objectives
The Knights & Castles Lapbook was created to meet the following objectives:
Introduction to the simple parts of a knight's armor
Learn about what a boy had to do to become a knight
Place historical events in chronological order
Identify weapons a knight used
Identify Europe on a map
Recite Luke 6:31
Become familiar with vocabulary about knights and castles
Develop fine motor skills by coloring, cutting, tracing, and pasting
Knights and Castles Lapbook Lessons
Here are some sample lessons from the Knights & Castles Lapbook:
The Life of a Knight
Page
Began at age 7
Practiced handling weapons
Played games of skill and strategy
Squire
Began at age 14
Became a skilled horseman
Learned how to fight with swords
Learned how to hunt with falcons
Knight
Began at age 21
Was called "Sir"
Was given weapons and a sword
What did Knights Wear?
Helmet: protects the head
Visor: protects the eyes and allows the knight to see out of the helmet
Breastplate: protects the chest area
Gauntlet: protects the forearm
Shin Guard: protects the shin
Shield: provides moveable protection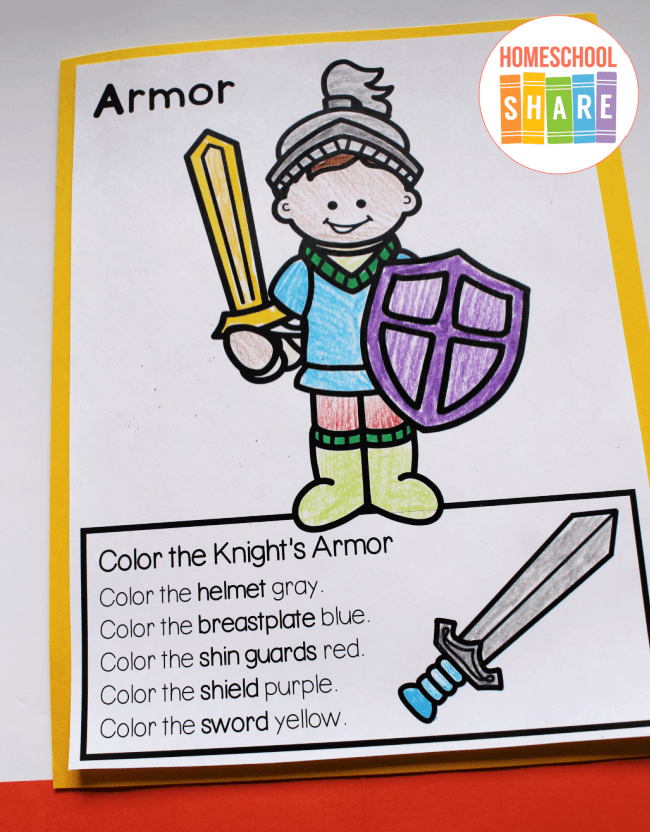 To access all of the lessons in this Knights and Castles Lapbook, subscribe to Homeschool Share's email list using the form in this post.
Knights and Castles Lapbook Printables
The Knights and Castles Lapbook includes these mini-books and other printables:
Where in the World Did Knights Live? Shutterfold Book
The Life of a Knight Tab Book
A Knight's Armor (Diagram) Simple Fold Book
Parts of a Castle Simple Fold Book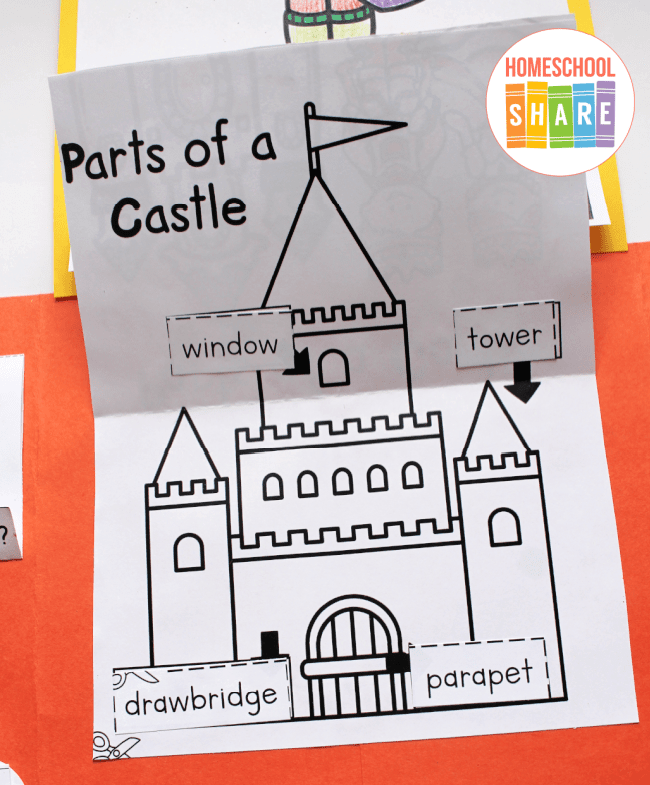 What Is a Castle? Matchbook
What Happened Next? Cards and Pocket
Bible Verse Shield Shape Book
Knights Memory Match Game
Weapons Flap Book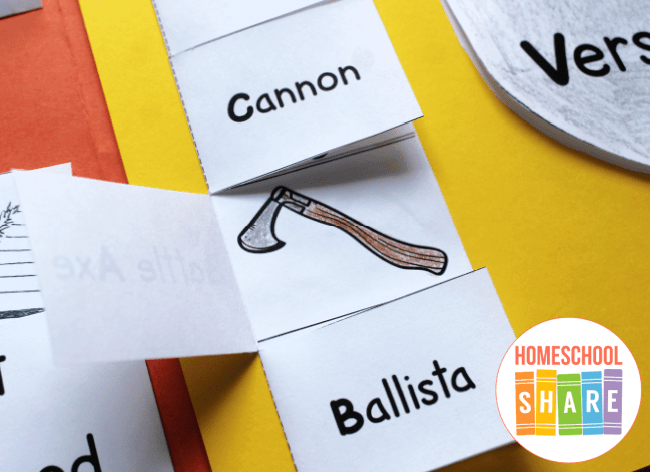 Trace and Color the Knight Page
Songs to Sing Layer Book (perfect for a preschool or kindergarten student!)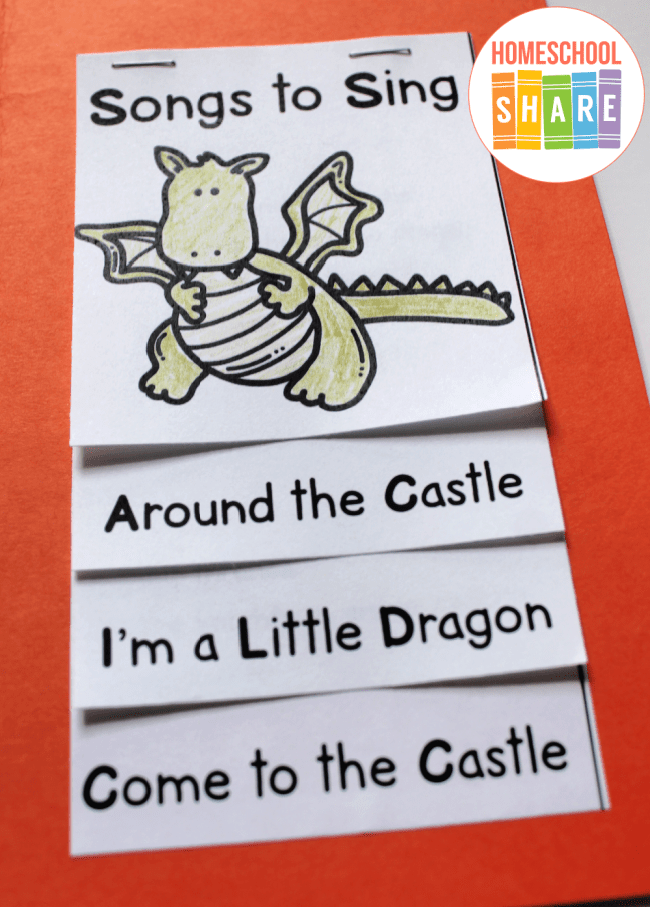 Knights and Castles Library List
Buy or borrow some of the following books:
If you have a beginning reader, try the Good Knight books by Shelley Moore Thomas.
How to Get Started with Your Knights and Castles Lapbook
Follow these simple instructions to get started with the Knights and Castles Lapbook.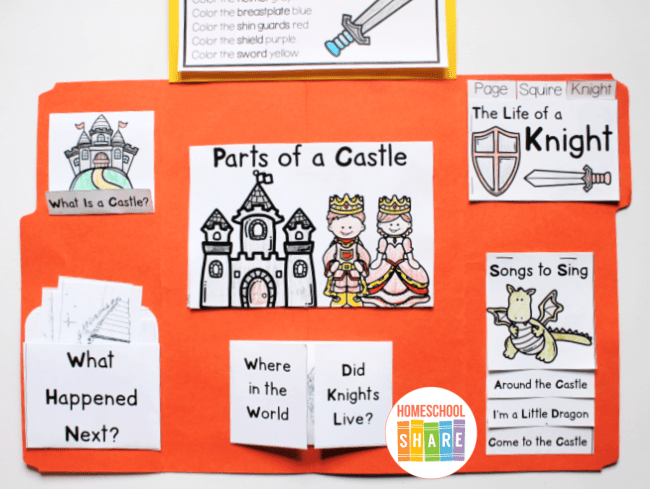 If you want, go to your local library and check out books about knights, castles, dragons, and even fairy tales.
Print the Knights and Castles Lapbook.
Choose and prepare the mini-books you want to use with your student. Remember, you don't have to everything.
Enjoy a week of reading and learning all about knights!
Grab Your Free Knights and Castles Lapbook
Use the form below to subscribe to the newsletter. Once you confirm, you'll receive an email with the link to the lapbook. If you are already confirmed, simply enter your name and email address below, and you will receive an email with the link.