Affiliate Disclaimer
We sometimes use affiliate links in our content. This won't cost you anything, but it helps us to keep the site running. Thanks for your support.
Where in the world is India? How many people live there? What animals would you find there? Find the answers to these questions and learn much more with our India Lapbook.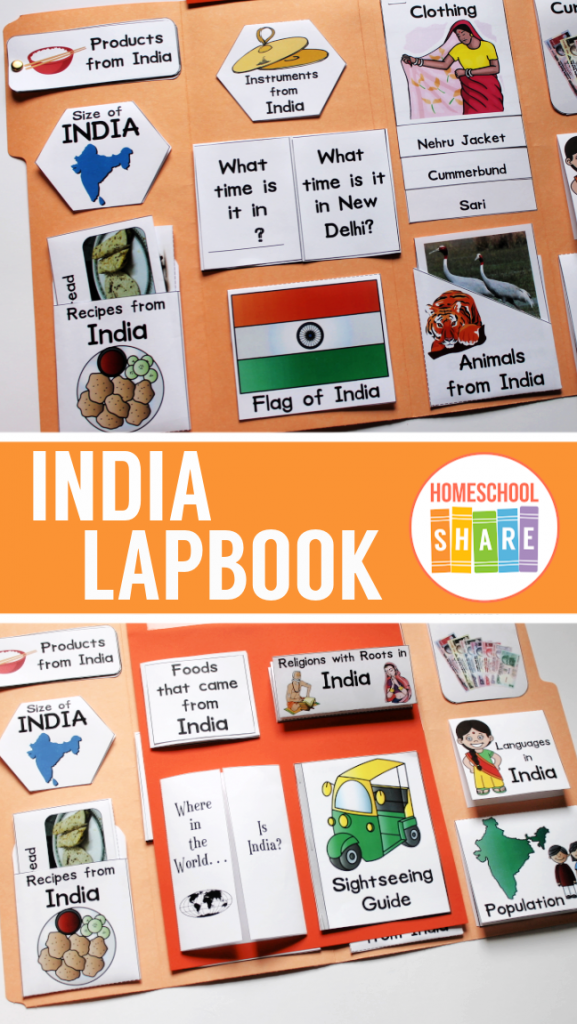 Find dozens more of our geography lapbooks here.
India Lapbook Information
Official Name: Republic of India
Size: 1,269,338 square miles
Capital: New Delhi
Official Language: Hindi and 14 other official languages
Products: India produces rice, wheat, cotton, tea, sugarcane, spices, textiles, and chemicals.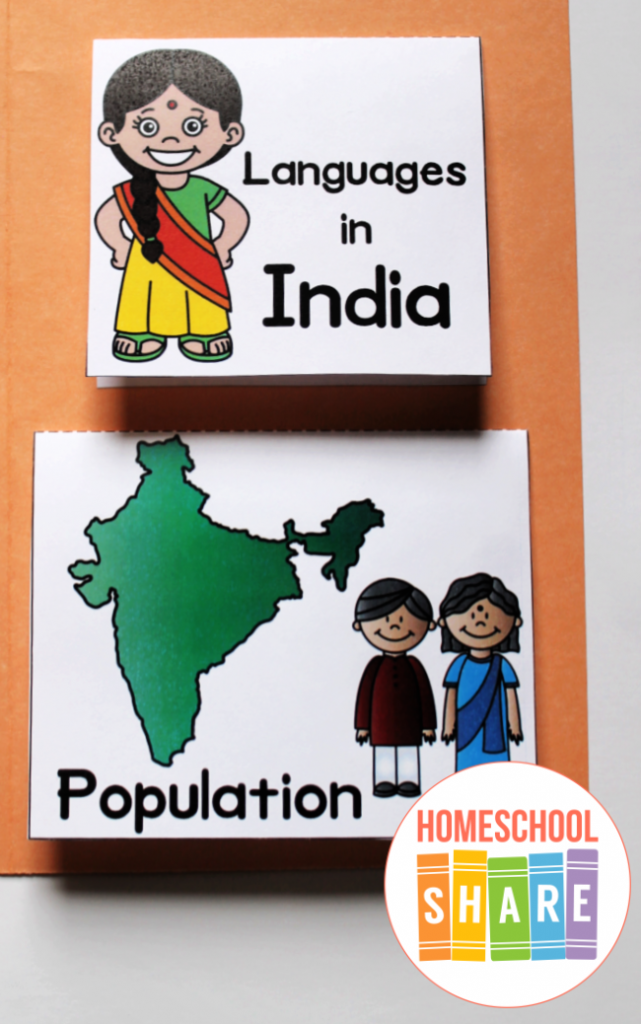 Currency: Indian rupee
Climate: India's climate varies from tropical to temperate.
Population: For current information, use this website: Population of Countries
Comparing Times: To compare the time in the capital city to the time where you live, use this website: The World Clock
Religions with Roots in India: Many religions have their roots in India.
Hinduism (began about 3,500 years ago) Hindus believe in many gods and that when people die, they are reborn. This is the most popular religion in India today.
Buddhism (founded about 2,500 years ago) by a religious leader known as Buddha.
Jainism (founded about 2,500 years ago) and Sikhism are two other religions that began in India.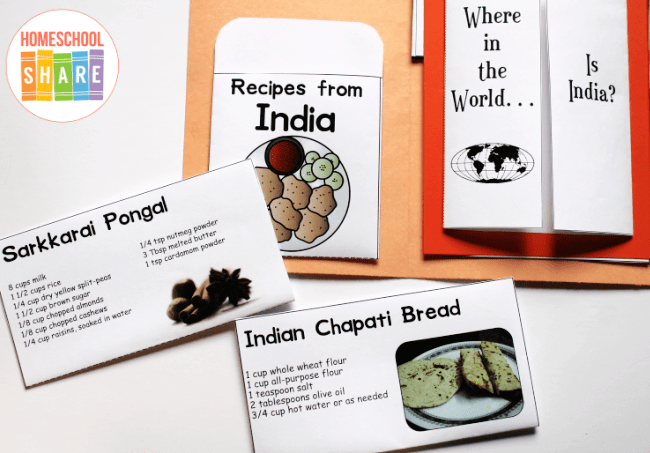 Foods That Came from India: Pepper (yes, like the kind you find on the shaker on your dinner table) comes from India. Mangoes also come from India.
It is believed that the people in India were the first to eat sugar; they have been making sugar from sugar cane stalks for over 5,000 years.
Have you ever had one of these juicy fruits? If not, try one during your study of India.
Other foods to research or make while you study India: dhal, tandoori chicken, chapti, and bhel puri.
Musical Instruments: Some experts think cymbals came from India. Another instrument that definitely came from India is the sitar. Listen to some sitar music. What do you think? The tabla (two drums) is another instrument from India.
Animals in India: Your student will need to research the animals to complete the cards.
India Sightseeing Guide: Your student will need to research the cities and places in order to complete the mini-book.
Clothing from India: Your student will need to research the different parts of clothing in order to complete the layer book. Layer book includes sari, cummerbund, and Nehru jacket.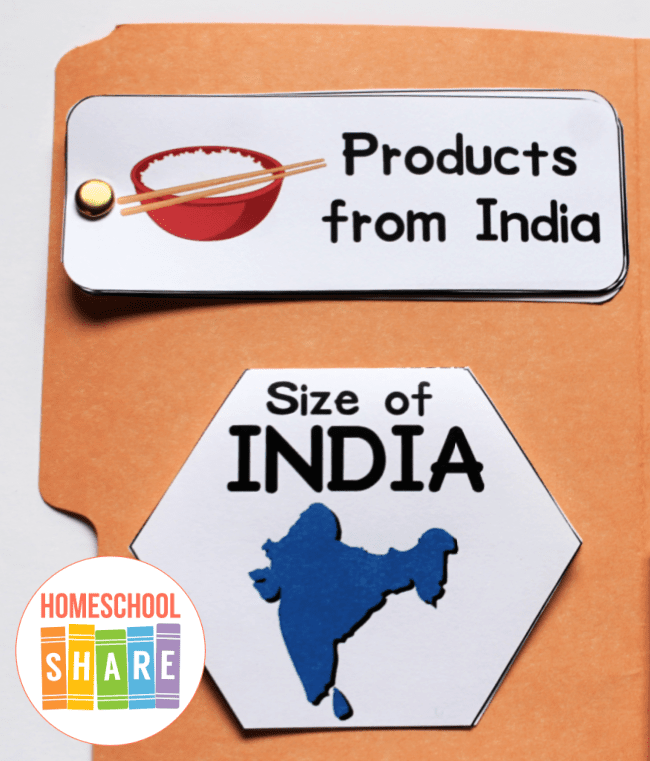 Make a Salt Dough Map: Add to your India study by making a salt dough map of India.
National Geographic Site: National Geographic has an amazing India site for your student to explore.
India Lapbook Sample
This lapbook was made with a file folder and a piece of cardstock taped to the center section to allow room for more mini-books.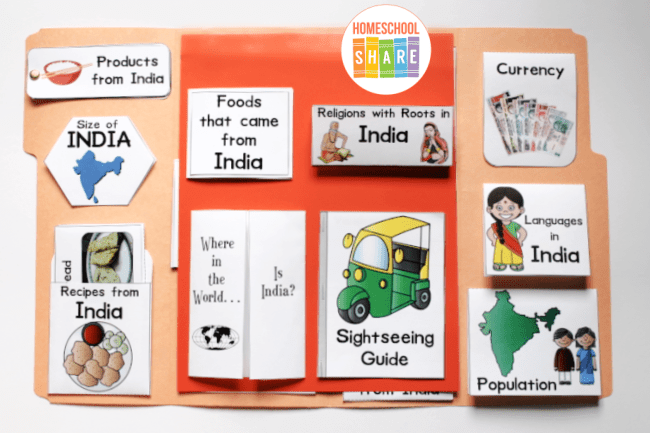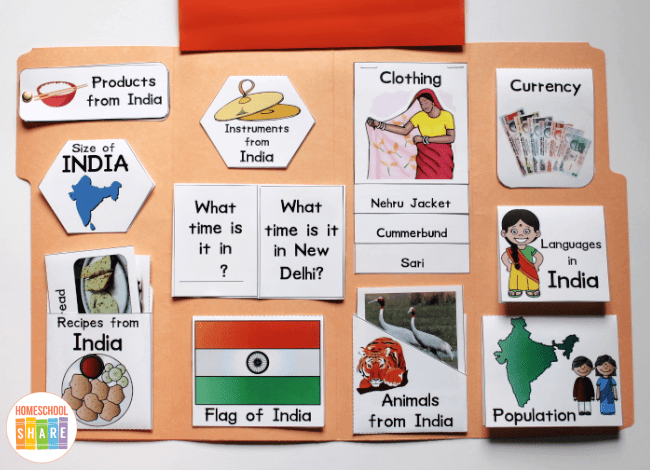 How to Get Started with Your India Lapbook
Follow these simple instructions to get started with the India Lapbook.
If you want, go to your local library and check out books about India.
Print the India Lapbook.
Choose and prepare the lapbook mini-books you want to use with your student.
Enjoy a week of reading and learning all about India.
Download Your Free India Lapbook
Simply click on the image below to grab your free India Lapbook.
Explore More Resources for Learning About Asia