Affiliate Disclaimer
We sometimes use affiliate links in our content. This won't cost you anything, but it helps us to keep the site running. Thanks for your support.
Where can you find a tiger? How big is a tiger? Why does a tiger have padded paws? Find out the answers to these questions (and more!) with our Tigers Lapbook.
Thanks to Meredith for contributing the research for this Tigers Lapbook.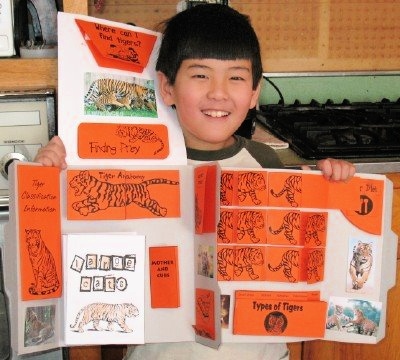 Tiger Lapbook Lessons
Tiger Anatomy
Color: Tigers are known for their striped fur—orange strips on black fur with a white underbelly.
Size: Adult tigers can be 4.5 feet to 9 feet long. Males are larger than females.
Eyes: Tigers have round pupils with yellow irises. They have good night vision.
Claws: Like other cats, tigers have retractable claws.
Finding Prey
Tigers have special features that help them in their hunting.
Whiskers around mouth, above eyes and on sides of face help in navigating in the dark and detecting the most vulnerable part of its prey's neck
Large earflaps called pinnae help pinpoint and locate prey
Their night vision is six times stronger than humans
Tiger Diet
Tigers are carnivores; they eat small and medium sized animals such as rabbits, boars, deer, badgers, and wild cattle.
To access all of the lessons in this Tigers Lapbook, subscribe to Homeschool Share's email list using the form in this post.
Tiger Lapbook Printables
In addition to the research lessons, the file includes these mini-books for your student to create a Tiger Lapbook:
Tiger Vocabulary Shutterfold Mini-books
Where Can I Find Tigers? Simple Fold Book
Tiger Classification Information Flap Book
Tiger Questions & Answers Mini-books
Finding Prey Tri-fold Book
Tiger Teeth Matchbook
Tiger Diet Circle Book
Types of Tigers Tab Book
Tiger Anatomy Accordion Book
Large Cats Flag Book
How to Get Started with Your Tiger Lapbook
Follow these simple instructions to get started with the Tiger Lapbook.
If you want, go to your local library and check out books about large cats and tigers.
Print the Tigers Lapbook.
Choose and prepare the mini-books you want to use with your student.
Enjoy a week of reading and learning all about tigers!
Download Your Free Tigers Lapbook
Use the form below to subscribe to the newsletter. Once you confirm, you'll receive an email with the link to the lapbook. If you are already confirmed, simply enter your name and email address below, and you will receive an email with the link.
Explore Our Other Animal Lapbooks
We have dozens of animal lapbooks at Homeschool Share. Check out some of these: