Affiliate Disclaimer
We sometimes use affiliate links in our content. This won't cost you anything, but it helps us to keep the site running. Thanks for your support.
Camels are the amazing ships of the desert.
As your student delves into the camel research, she will discover so much about camels: camel range, camel family names, camel diet, camel anatomy, and more! Enjoy homeschool science with this free Camel Lapbook.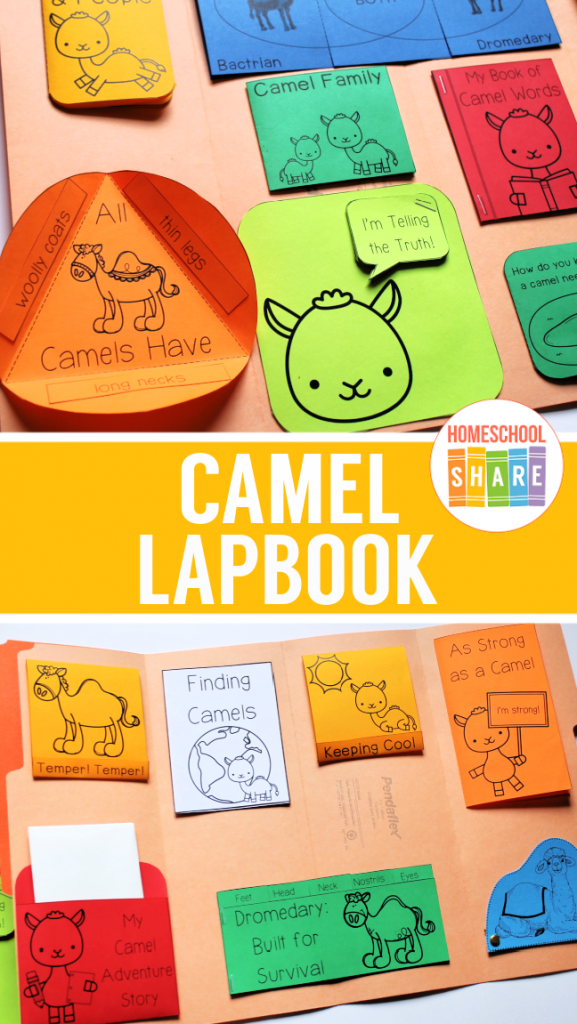 Camel Lapbook Information
Here are some sample lessons from the Camels Lapbook:
Bactrian Camels vs. Dromedary Camels
All camels have long necks, woolly coats, and thin legs, but the two main types have their differences.
Bactrian camels are shorter than dromedary camels and have two humps, making it easier to ride than a dromedary. Bactrian camels also live in the mountains, while dromedaries live in the desert.
How Do Camels Stay Cool?
Camels can change the temperature of their body up to 6 degrees Fahrenheit to match the heat and to not sweat as much. Camels will also turn the front of their bodies toward the sun so not as much of the camel is exposed to the blazing heat of the sun.
Camel Diet
How Do You Know When a Camel Needs Water? When a camel needs water, a hollow area can be found behind the ribs.
Camels eat short grasses, other plants, fish, and even thorns. They are ruminants, like cows. They regurgitate their food to chew it again.
You can grab a copy of the entire Camels Lapbook in an easy-to-print file at the end of this post.
Camels Lapbook Printables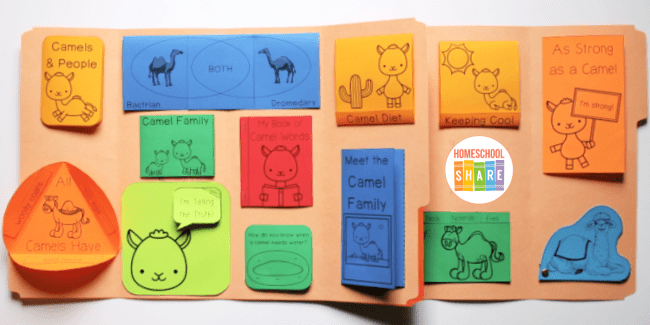 The following mini-books are included in the Camels Lapbook:
Finding Camels Map Simple Fold
New Words Mini-book
Camel Family Flap Book
All Camels Have Triangle Petal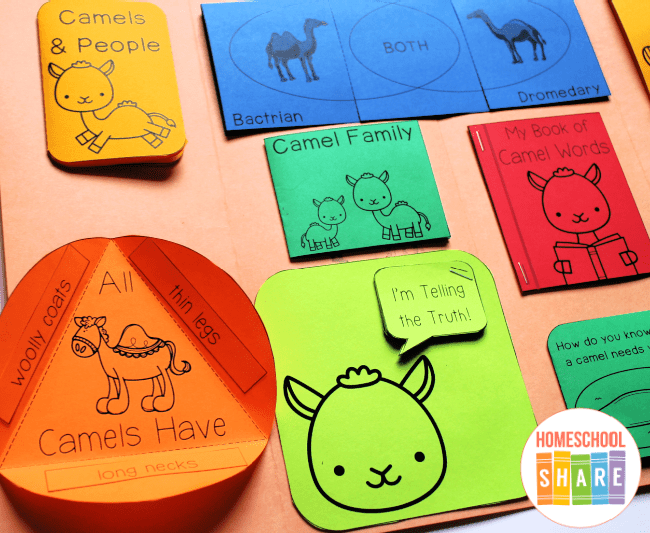 When a Camel Needs Water Simple Fold
Dromedary: Built for Survival Tab Book
My Camel Adventure Story Pocket
As Strong as a Camel Simple Fold
I'm Telling the Truth Mini-book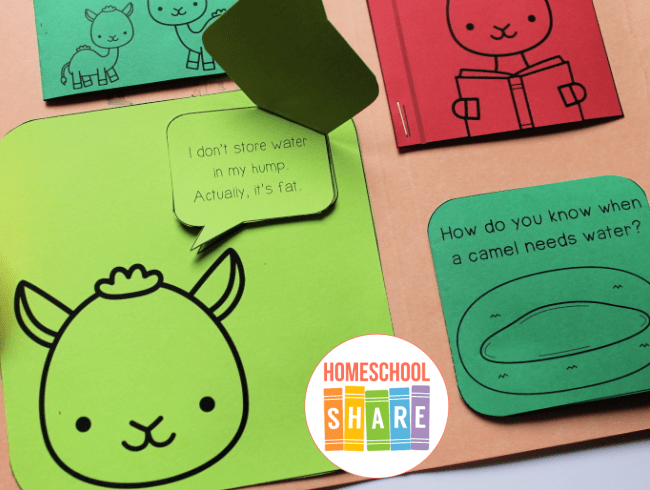 Meet the Camel Family Photo Album
Bactrian vs. Dromedary Venn Diagram
Camels & People Twice Folded Book
Camel Matchbooks
Llama Shape Blank Book (use as desired)
Camel Lapbook Example
This lapbook example was made with two file folders glued together. If you are new to lapbooking, check out this How to Make a Lapbook guide.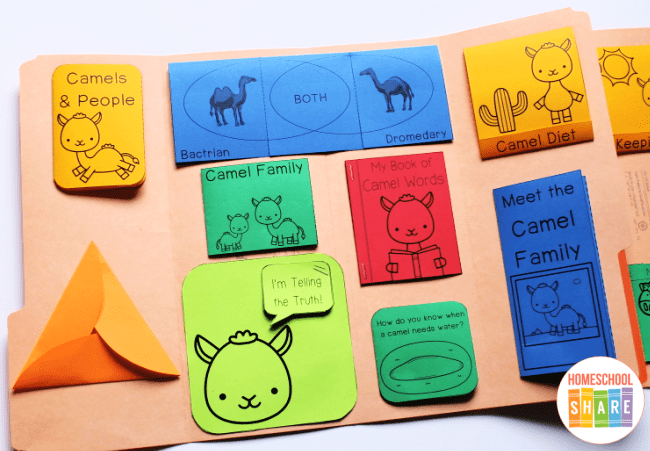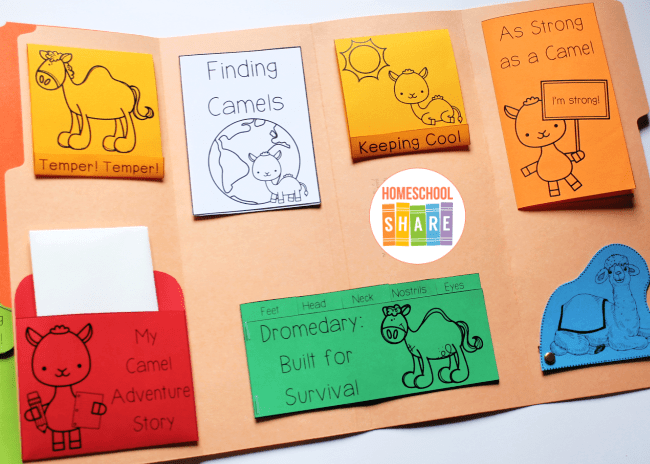 How to Get Started with Your Camels Lapbook
Follow these simple instructions to get started with the Camels Lapbook.
If you want, go to your local library and check out books about camels.
Print the Camels Lapbook.
Choose and prepare the mini-books you want to use with your student.
Enjoy a week of reading and learning all about the ships of the desert.
Download Your Free Camels Lapbook
Simply click on the image below to access your free Camels Lapbook.
Learn More About the Desert
Learn more about the desert and desert animals with these lapbooks and unit studies.
Find even more animal lapbooks here.