Affiliate Disclaimer
We sometimes use affiliate links in our content. This won't cost you anything, but it helps us to keep the site running. Thanks for your support.
The human body is amazing! Help your student learn all about the body systems, organs, and other body parts with this Human Body Lapbook.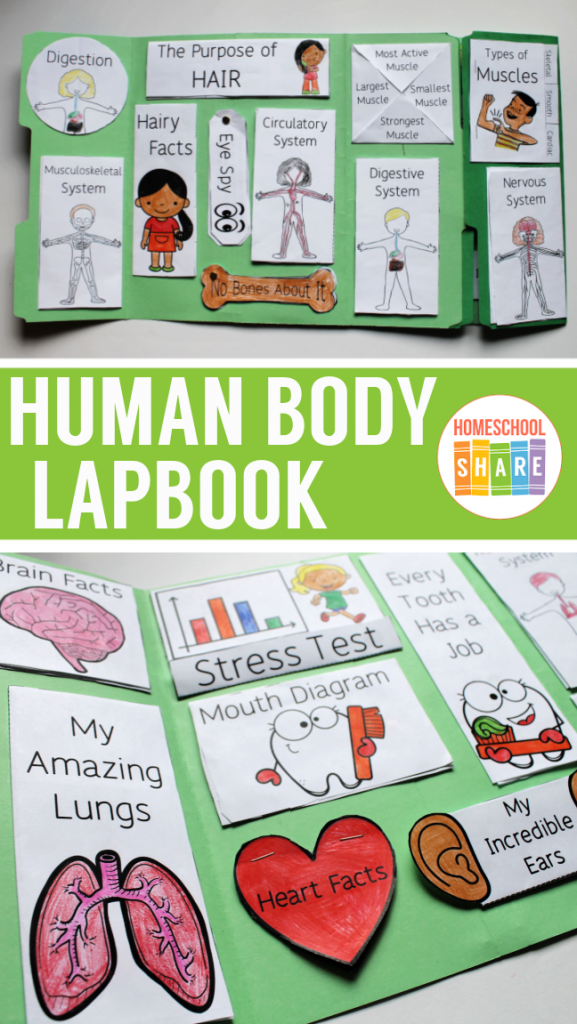 Thanks to Jodi Small for helping to create this Human Body Lapbook for Homeschool Share.
Human Body Lapbook Printables
This lapbook was originally created to go with source books that are now out of print. It has been revised so it can be used with any human body books. You can check out books from your local library or find sources online. A list of recommended human body books is provided in this post.
Some of the mini-books will require additional research.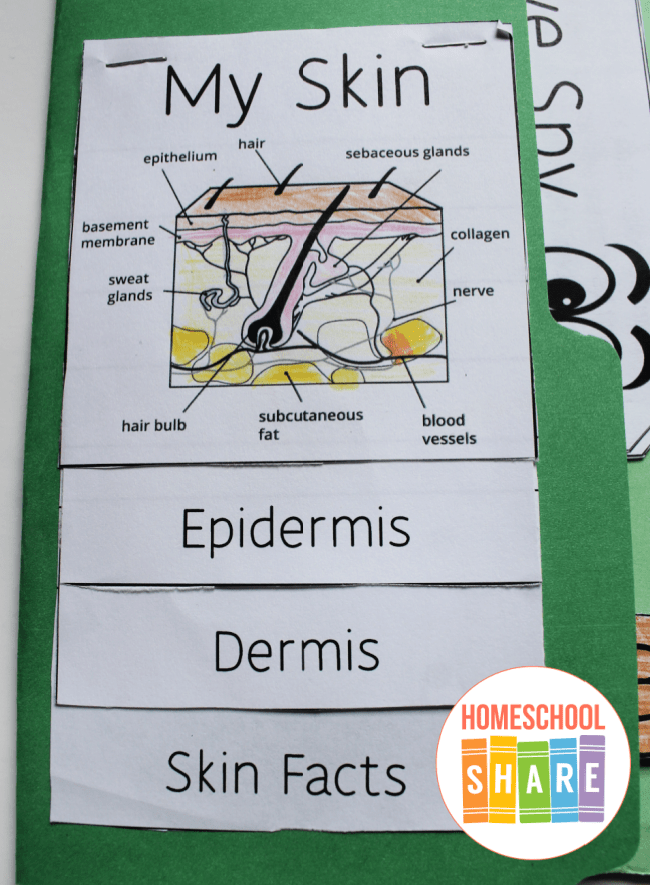 Human Body Lapbook Mini-books:
1. Eye Spy Eye Facts Fan Book
2. My Incredible Ears Accordion
3. Hairy Facts Flap Book
4. The Purpose of Hair Flap Book
5. Mouth Diagram Simple Fold Book
6. Every Tooth Has a Job Flap Book
7. My Skin Layer Book
8. Musculoskeletal System Accordion Book
9. No Bones About It (Bones Facts) Shape Book
10. Skeleton Diagram Book
11. How Many Muscles? Shape Book
12. Muscle Facts Envelope Book
13. Types of Muscles Tab Book
14. Nervous System Accordion Book
15. Brain Facts 3/4 Book
16. Respiratory System Accordion Book
17. My Amazing Lungs Side by Side Book
18. Digestive System Accordion Book
19. Digestion Circle Book
20. Circulatory System Accordion Book
21. Stress Test Matchbook
22. My Heart Shutterfold Book
23. Heart Facts Shape Book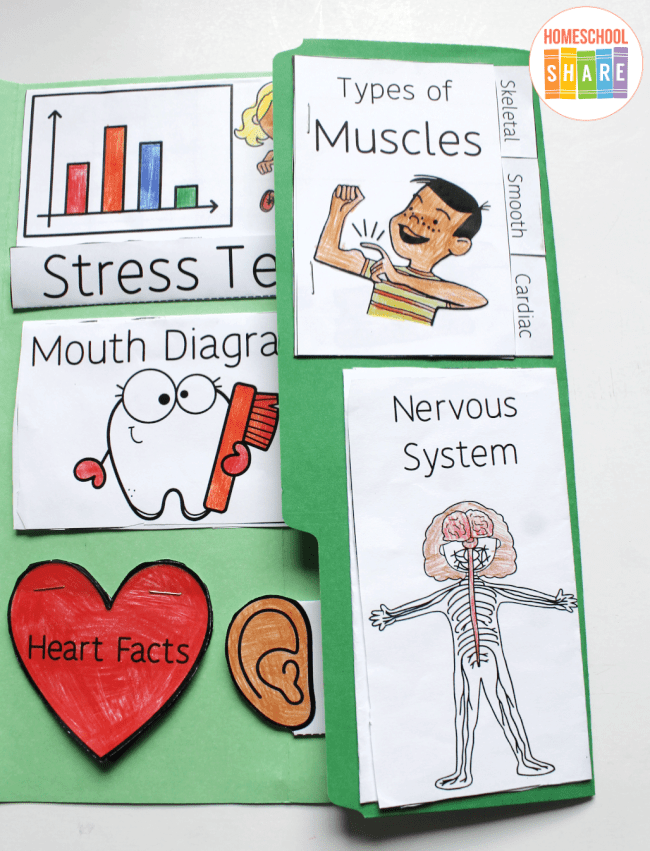 To access all of the printables in this Human Body Lapbook, subscribe to Homeschool Share's email list using the form in this post.
Human Body Book List
Make sure to grab some books to read as you create your Human Body Lapbook.
How to Get Started with The Human Body Lapbook
Follow these simple instructions to get started with the Human Body Lapbook:
Check out some human body books from your local library.
Choose and print the lapbook printables you want to use with your student.
Enjoy a week of learning all about the human body.
Human Body Lapbook Sample
This lapbook sample was made with two file folders. The flaps were also used to add additional mini-books.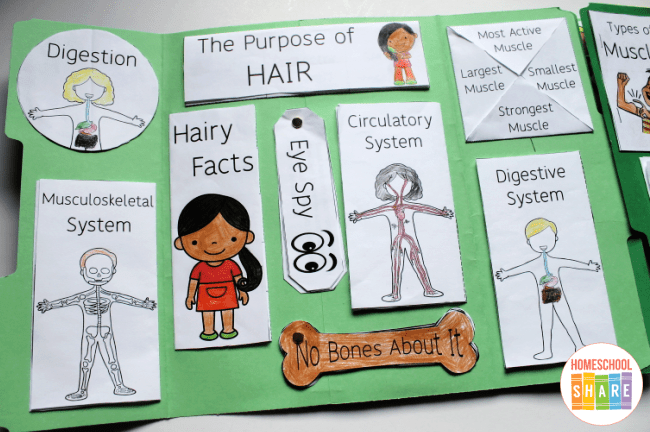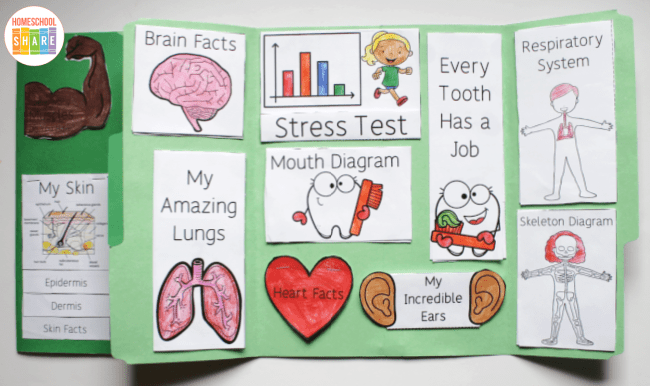 Additional mini-books were added to the lapbook flaps.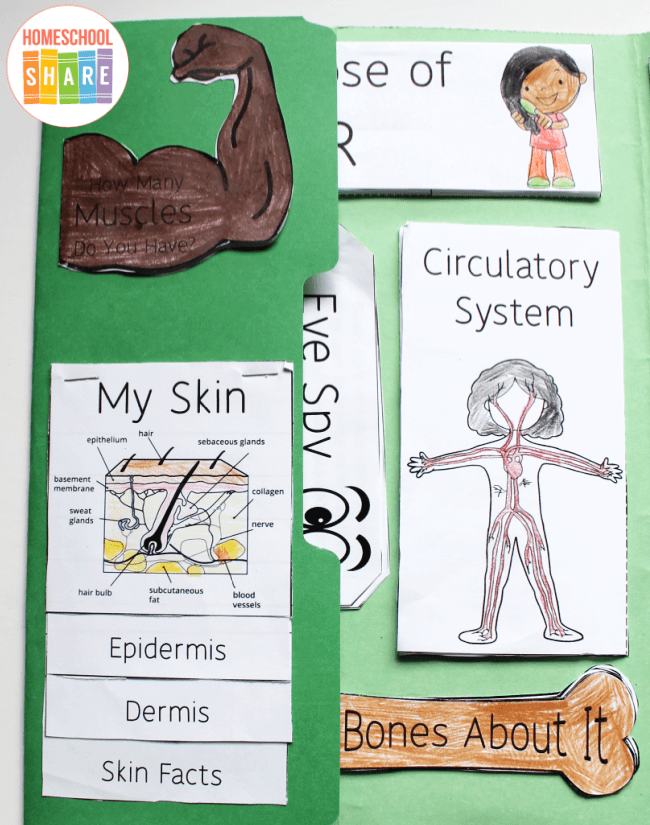 If you need more instructions, check out How to Make a Lapbook.
Get Your Free Human Body Lapbook
Use the form below to subscribe to the newsletter. Once you confirm, you'll receive an email with the link to the lapbook. If you are already confirmed, simply enter your name and email address below, and you will receive an email with the link.
Learn More About Your Body
If you have younger students following along, snag this My Body Lapbook study.
Learn more about teeth and how to care for them with this unit study and lapbook.