Affiliate Disclaimer
We sometimes use affiliate links in our content. This won't cost you anything, but it helps us to keep the site running. Thanks for your support.
South America is fascinating and beautiful. Students will learn all about a fascinating and beautiful South American country with our free Colombia Lapbook.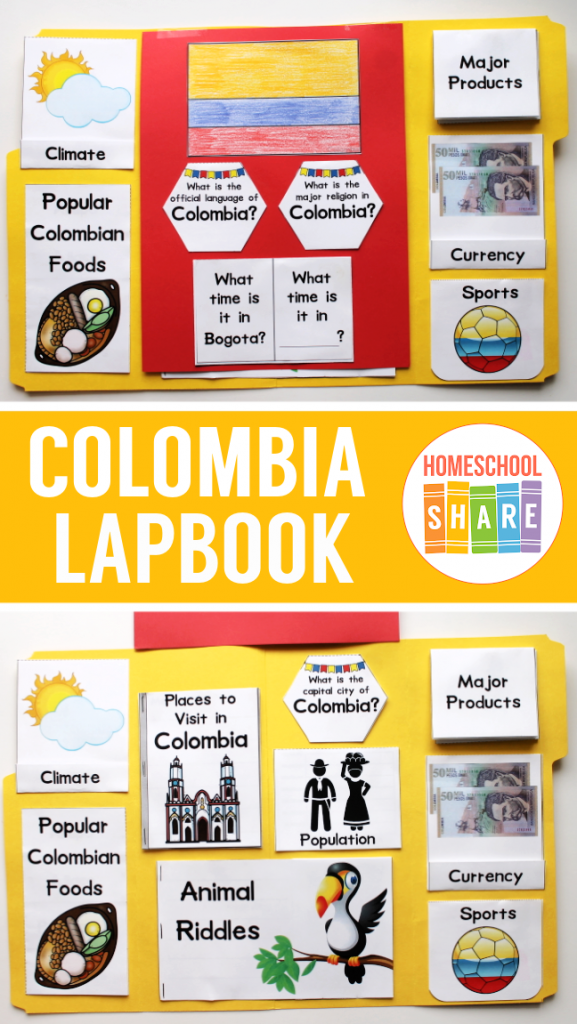 Our Colombia Lapbook will help your student learn about Colombia's population, climate, currency, popular sports, weather, official language, major religion, capital city, flag, and more!
Colombia Lapbook Information
Official Name: Republic of Colombia
Size: 439,735 square miles
Capital: Bogota'
Official Language: Spanish
Currency: Peso
Climate: Colombia has varying climates: it is tropical, hot and wet along the coasts and eastern plains. However, it is cooler in the highlands.
Products: Petroleum, coffee, coal, nickel, emeralds, apparel, bananas, and cut flowers.
Population: For current information, use this website: Population of Countries
Comparing Times: To compare the time in the capital city to the time where you live, use this website: The World Clock
Animal Riddles: Let your student research the animals in order to create riddles and make the mini-books.
Places to Visit in Colombia: Your student will need to research these places in order to write about them on the mini-book pages.
Popular Sports: soccer, baseball, skating, and cycling
Popular Colombian Foods: Your student will need to research in order to complete this book. Consider looking for some yummy Colombian recipes and cooking together this week.
Make a Salt Dough Map: Add to your Colombia study by making a salt dough map of Colombia.
National Geographic has an amazing Colombia page for your student to explore.
Lapbook Example
This lapbook sample was made with one file folder and a piece of cardstock taped to the center panel.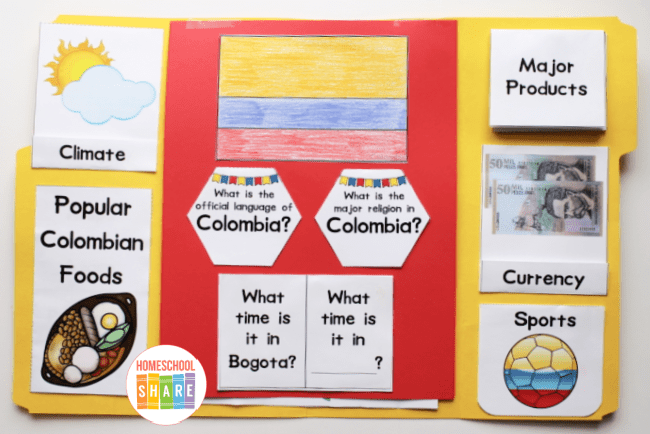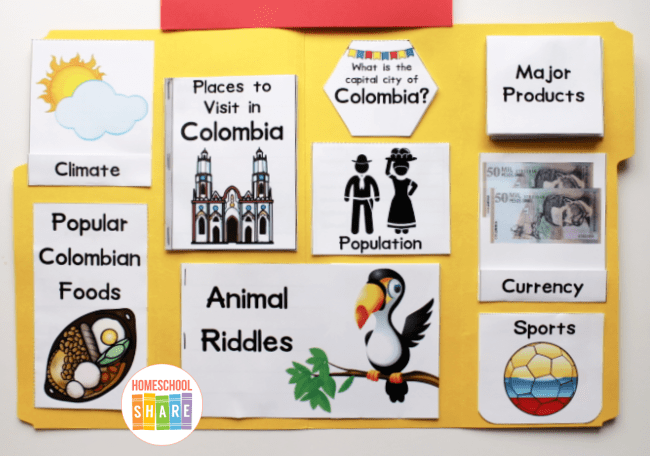 How to Get Started with Your Colombia Lapbook
Follow these simple instructions to get started with the Colombia Lapbook.
If you want, go to your local library and check out books about Colombia.
Print the Colombia Lapbook.
Choose and prepare the lapbook mini-books you want to use with your student.
Enjoy a week of reading and learning all about Colombia.
Download Your Colombia Lapbook
Simply click on the image below to grab your free Colombia Lapbook.
More South America Lapbooks
Check out these other South America country lapbooks:
Explore more geography lapbooks here.