Affiliate Disclaimer
We sometimes use affiliate links in our content. This won't cost you anything, but it helps us to keep the site running. Thanks for your support.
Grab your crayons, pencils, scissors, and glue–it's time to make a Brazil Lapbook.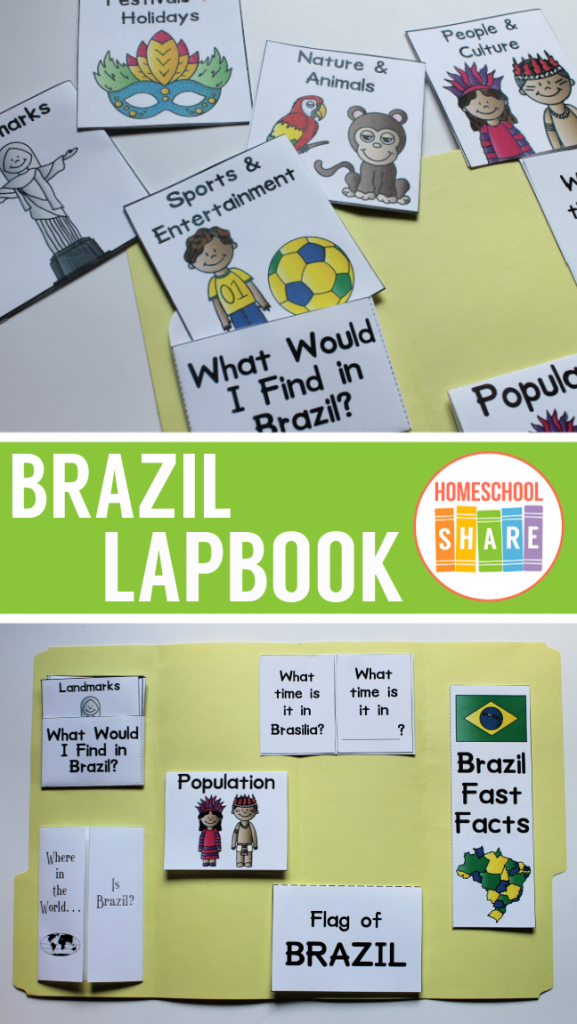 Our Brazil Lapbook will help your student learn about Brazil's language, currency, climate, capital city, population, landmarks, holidays, animals, popular sports, and flag.
Brazil Lapbook Information
Official Name: Federative Republic of Brazil
Size: 3,827,612 square miles
Capital: Brasilia
Official Language: Portuguese
Currency: Brazilian real (BRL)
Climate: Mostly tropical with a cooler climate in the south
Products: Brazil produces coffee, soybeans, wheat, rice, corn, sugarcane, cocoa, citrus and beef.
Population: For current information, use this website: Population of Countries
Comparing Times: To compare the time in the capital city to the time where you live, use this website: The World Clock
Make a Salt Dough Map: Add to your Brazil study by making a salt dough map of Brazil.
What Would I Find in Brazil?
These cards and pocket provide a ton of information for you to read and discuss with your students. Compare and contrast the information on the cards with your student's life experiences.
What are holidays like for your student? How does he celebrate? What are holidays like in Brazil?
What are favorite sports for your student? What are favorite sports in Brazil?
Does your student know what a landmark is? Does she live close to any famous landmarks?
Portuguese Phrases
Learn a few basic phrases in Portuguese.
National Geographic has an amazing Brazil page for your student to explore.
Brazil Lapbook Sample
This sample lapbook was made with one file folder.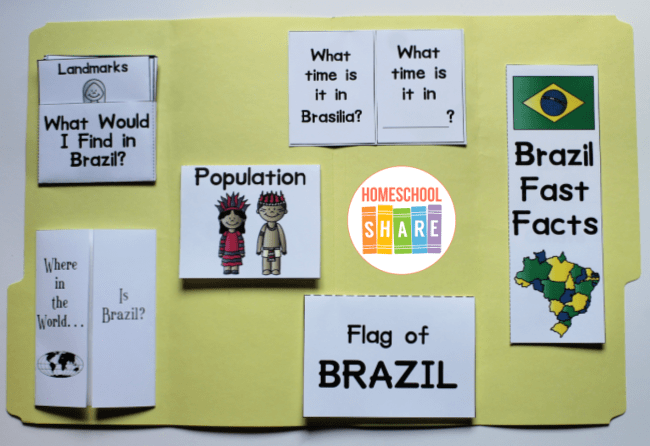 How to Get Started with Your Brazil Lapbook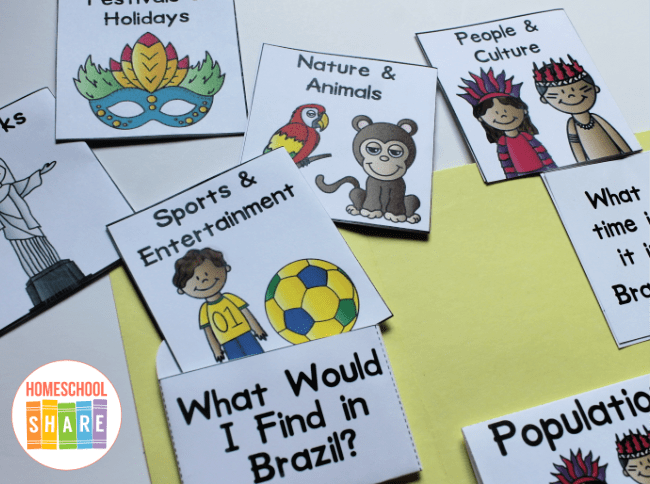 Follow these simple instructions to get started with the Brazil Lapbook.
If you want, go to your local library and check out books about Brazil. A fantastic book to add to your list is Children Just Like Me includes the story of Celina–a child living in Brazil.
Print the Brazil Lapbook.
Choose and prepare the lapbook mini-books you want to use with your student.
Enjoy a week of reading and learning all about Brazil
Download Your Brazil Lapbook
Use the form below to subscribe to the newsletter. Once you confirm, you'll receive an email with the link to the lapbook. If you are already confirmed, simply enter your name and email address below, and you will receive an email with the link.
Resources to Compliment Your Brazil Lapbook
Check out these other lapbooks that will add to your study of Brazil.
If you are looking for additional country lapbooks, try our geography lapbook index.