Affiliate Disclaimer
We sometimes use affiliate links in our content. This won't cost you anything, but it helps us to keep the site running. Thanks for your support.
Learn all about nature's great architect (and largest rodent!) with our free Beaver Lapbook.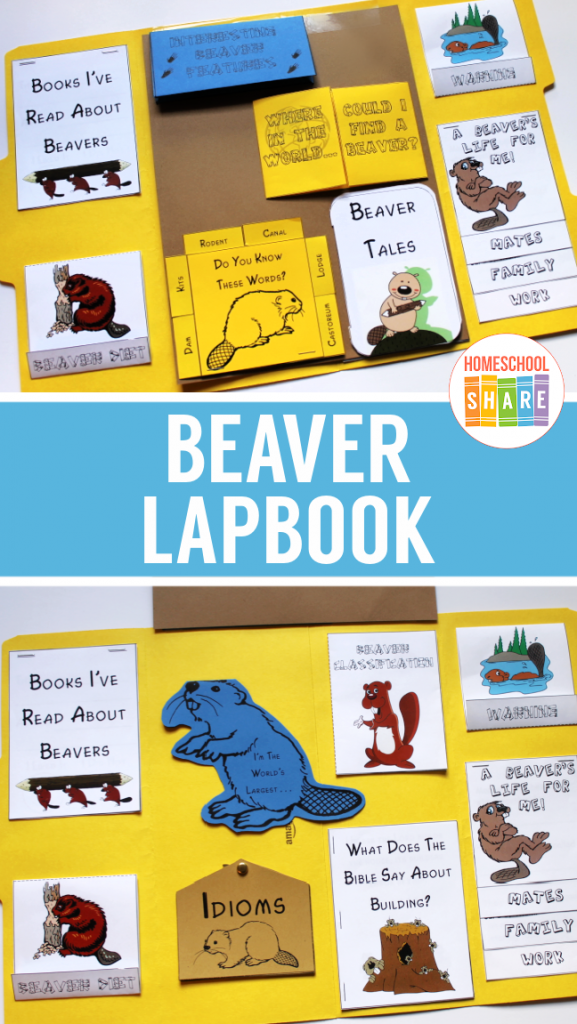 Thanks to Regina Clark for creating this Beaver Lapbook.
Beaver Lapbook Information
Here are some sample lessons from the Beaver Lapbook:
Beaver Diet
Beavers eat bark, twigs, leaves, roots, and water plants.
Beaver Anatomy
The Tail: It is wide, flat, and scaly. The beaver's tail helps with swimming and balancing when the beaver cuts down trees. Beaver tails were once eaten by Native Americans and European explorers as a delicacy (special food).
Castor: Beavers have a gland called a castor at the end of the tail that secretes a musk used to keep their fur waterproof.
Teeth: Beaver teeth are used for gnawing, and they become sharper as they are used. A beaver's teeth are always growing!
Webbed Toes: This beaver feature makes the beaver a powerful swimmer.
You can grab a copy of the entire Beaver Lapbook in an easy-to-print file at the end of this post.
Beaver Lapbook Printables
This animal lapbook includes these mini-books:
Beaver Tales Bound Book
What Does the Bible Say About Building? Mini-book
Beaver Idioms Fan
Beaver Vocabulary Tab Book
Beaver Diet Matchbook
Beaver Tail Warning Matchbook
Beaver Classification Flap Book
World's Largest Rodent Shape Book
Beaver Features (Anatomy) Envelope Fold
Books I've Read About Beavers
A Beaver's Life for Me Layer Book
Beaver Map Mini-book
I'm an Animal Detective Clipboards
Lapbook Example
This lapbook was made one file folder and a piece of cardstock taped to the center section.
If you need more instructions, check How to Make a Lapbook.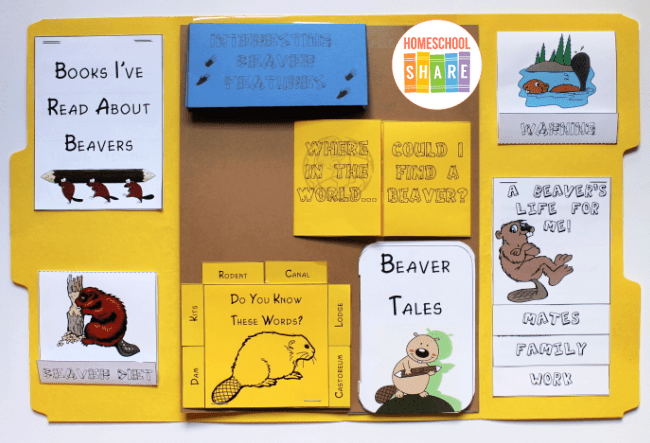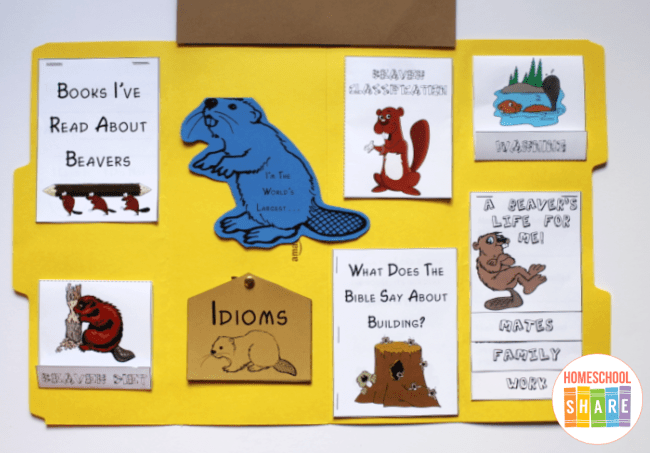 How to Get Started with Your Beaver Lapbook
Follow these simple instructions to get started with the Beaver Lapbook.
If you want, go to your local library and check out books about beavers.
Print the Beaver Lapbook.
Choose and prepare the mini-books you want to use with your student.
Enjoy a week of reading and learning all about the building beaver.
Download Your Beaver Lapbook
Simply click on the image below to access your free Beaver Lapbook.
Explore Our Pond Animal Lapbooks
If you are studying ponds, we have more animal lapbooks for you to use.