Affiliate Disclaimer
We sometimes use affiliate links in our content. This won't cost you anything, but it helps us to keep the site running. Thanks for your support.
Ribbit! Ribbit! Do you have a student interested in learning about frogs? If so, grab our free Frogs Lapbook.
Frogs are a fabulous choice for an animal study because most of us have them close to our homes and some of us even have frogs (or toads) in our yards.
Frogs Lapbook Lessons
Here are some sample lessons from the Frogs Lapbook:
Predator and Prey
Discuss predator and prey with your student:
predator- an animal that lives by killing and eating other animals
prey- animal hunted or killed by another animal for food

Who does a frog hunt? spider, worm, ant, mosquito, earwig (answers will vary according to what book you read)

Who hunts a frog? stork, blue heron, other birds, people, snakes, other birds (answers will vary according to what book you read)
Frog Anatomy: Feet
Different frogs use their feet for different things.
Tree frogs use their feet (with sticky pads) for climbing.
Aquatic frogs have webbed toes that aid in swimming.
Burrowing frogs use their feet for digging in the sand (in order to keep moist in the heat)
Some frogs even have parachute-like webbing on their feet which helps them to glide from tree to tree or leaf to leaf.
Frog Anatomy: Skin
Frogs drink and breathe through their skin! Their skin is slimy because frog skin secretes mucus that helps keep it moist. Even with the slimy skin, these frogs need to stay near water. In addition to jumping in water, frogs and toads can get moisture from dew, or they can burrow underground into moist soil.

Frogs shed their skin regularly to keep it healthy. In order to get out of their skin, they turn and twist (and "act like they have the hiccups!"). After they have the skin off (a frog pulls it off over its head!), they eat it.
To access all of the lessons in this Frogs Lapbook, subscribe to Homeschool Share's email list using the form in this post.
Frog Lapbook Printables
In addition to the research lessons, the file includes these mini-books for your student to create a Frogs Lapbook:
Frog Anatomy Envelope Fold
New Words (Frog Shape Book)
Tadpole or Frog Mini-book
Frog Report Tab Book
Why Do Frogs Sing? Shutterfold Book
Life Cycle of the Frog Cards and Pocket
Predator & Prey Mini-book
Frog Observations Hotdog Book
Frogs in the News Pocket
Frog Questions Mini-books
Life Cycle of a Frog Wheel
Parts of a Frog Diagram
Frog vs. Toad Venn Diagram Flap Book
Frog Facts Fan
Frog Lapbook Photos
Here are a few photos of a completed Frogs Lapbook.
Remember, every lapbook looks different, depending on which mini-books you choose for your student to complete.
This student used two file folders glued together. This is the first file folder.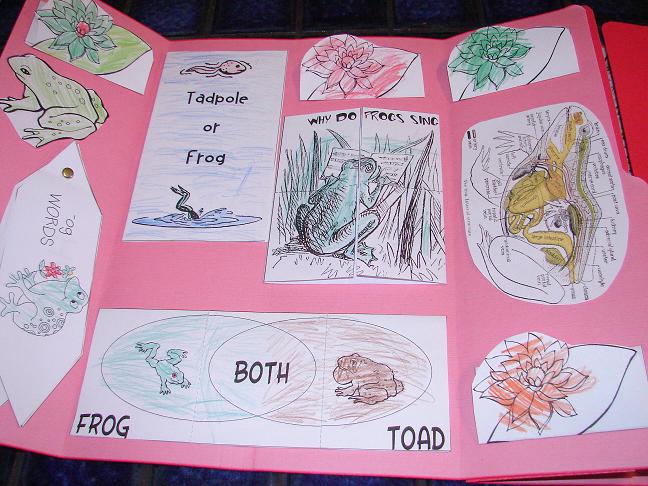 This is the second file folder.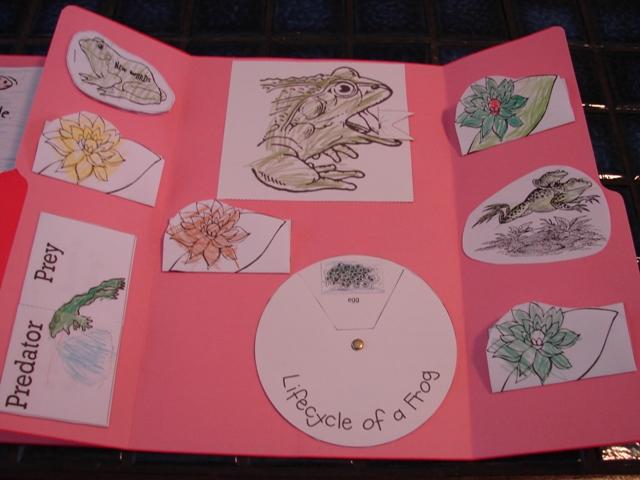 How to Get Started with Your Free Frogs Lapbook
Follow these simple instructions to get started with the Frog Lapbook.
If you want, go to your local library and check out books about frogs.
Print the Frogs Lapbook.
Choose and prepare the mini-books you want to use with your student.
Enjoy a week of reading and learning all about frogs!
Download Your Free Frogs Lapbook
Learn More About Pond Animals
Learn more about pond animals with these other pond animal lapbooks.
Add on this set of Frog Printables for a younger student.