Affiliate Disclaimer
We sometimes use affiliate links in our content. This won't cost you anything, but it helps us to keep the site running. Thanks for your support.
Lots of our lapbooks and unit studies at Homeschool Share include animal classification elements. Even some of our preschool resources teach your student the basics of classifying animals.
However, having one Animal Classification Lapbook that included a thorough introduction and solid foundation seemed like a fantastic idea, and it was.
A huge thanks to Tristan Rowlee for preparing the original animal classification lapbook for Homeschool Share.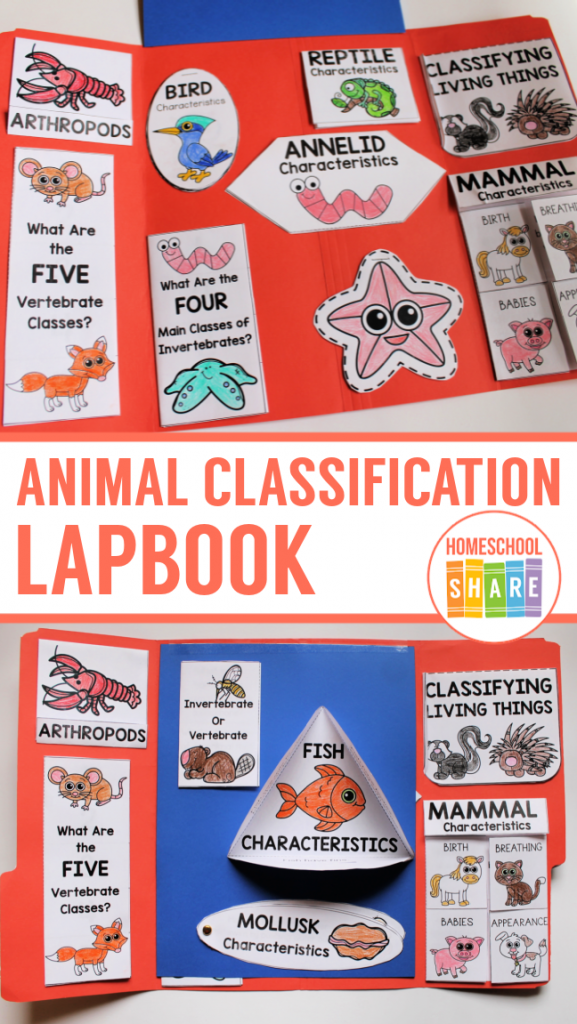 Animal Classification Lapbook Lessons
This lapbook is different than our other animal studies. It doesn't include pages of lessons. Instead, the answers are simple and found within the lapbook templates.
We do encourage you to grab animal classification books from your local library.
We suggest that you use the topics in the following order:
Learning the divisions of taxonomy.
Learning the terms vertebrate and invertebrate.
Learning the five classes of vertebrates: birds, fish, mammals, reptiles, and amphibians.
Learning the four main classes of invertebrates included in the animal classification lapbook: annelid, mollusk, arthropod, and echinoderm.
Animal Classification Lapbook Printables
Classifying Living Things Simple Fold Book
learn the divisions of taxonomy
Invertebrate or Vertebrate Flap Book
Five Classes of Vertebrates Flap Book
Amphibian Characteristics Layer Book
The characteristics are provided on the layer book pages.
Mammal Characteristics Shutterfold Book
Bird Characteristics Oval Book
Reptile Characteristics T-book
Fish Characteristics Petal Book
The Four Main Classes of Invertebrates Flap Book
Annelid Characteristics Tri-fold Book
Echinoderms Characteristics Star Shape Book
Mollusk Characteristics Fan
Arthropods Matchbook
Animal Classification Lapbook Photos
You can use as many or as few of the mini-books as you like to create your lapbook. Here is a sample lapbook lay-out.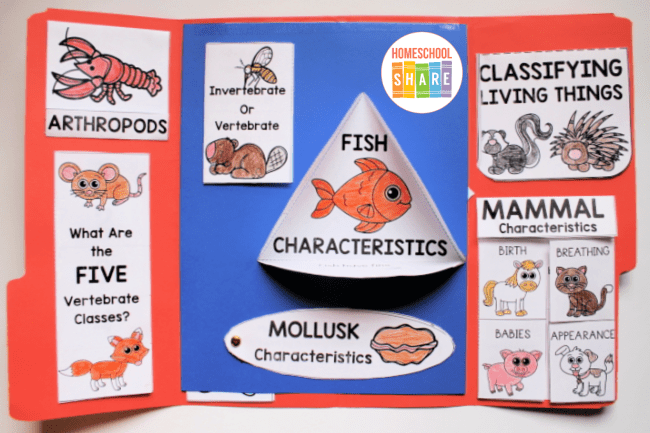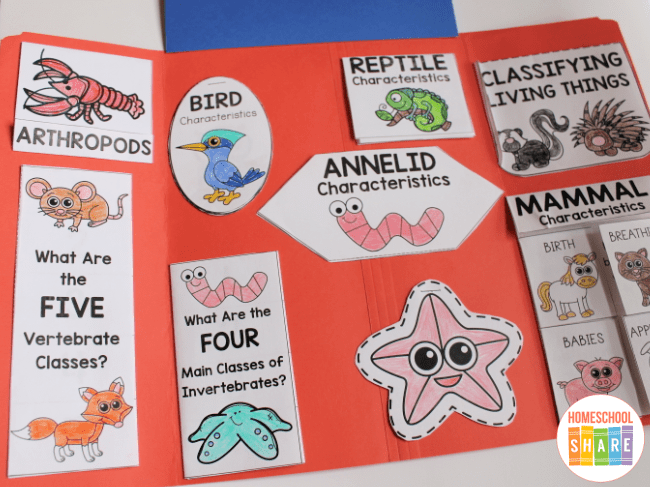 How to Get Started with the Animal Classification Lapbook
Follow these simple instructions to get started with the animal classification lapbook.
If desired, check out various books about animal classification from your local library.
Print the animal classification lapbook.
Choose and prepare the lapbook mini-books you want to use.
Enjoy a week of science based learning with your student.
Download Your Animal Classification Lapbook
Use the form below to subscribe to the newsletter. Once you confirm, you'll receive an email with the link to the lapbook. If you are already confirmed, simply enter your name and email address below, and you will receive an email with the link.
More Animal Lapbooks
We have dozens of animal lapbooks here at Homeschool Share. Check out these other popular lapbooks.