Affiliate Disclaimer
We sometimes use affiliate links in our content. This won't cost you anything, but it helps us to keep the site running. Thanks for your support.
The zoo is a wonderful place to learn about animals. You can use this free Zoo Lapbook before or after a visit to a zoo to spark or extend your learning opportunities.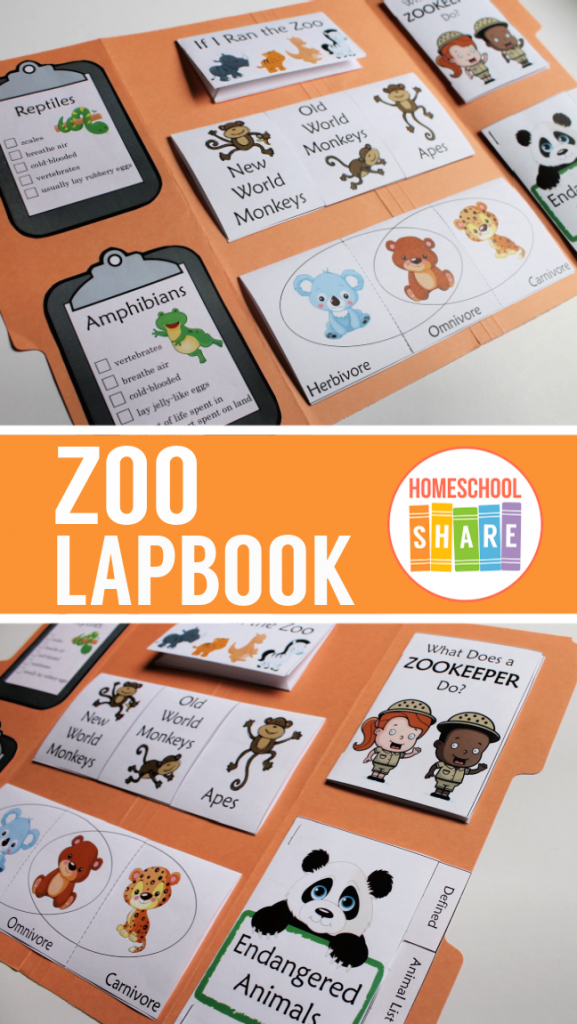 Zoo Lapbook Lessons
Here are some sample lessons from the Zoo Lapbook:
Animal Classification
Many different kinds of animals live at the zoo. You may want to make a list with your student.
Can your student group the animals? Ask him to group them in different ways (animals that can fly vs. animals that can't; animals with two legs vs. animals with four; animals who live in water vs. animals who live on land; etc.) Tell your student that scientists have grouped animals in a special way; they've grouped animals based on their similarities and differences. One of these groups in the Animal Kingdom is called vertebrates. Within the classification vertebrates (animals with backbones), there are five different categories:
Mammal
Reptile
Bird
Amphibian
Fish
Discuss these different categories with your student starting with the easiest two: bird and fish. How do we know an animal is a bird? What kind of characteristics can we note? (feathers, it can fly, it has a beak, lays eggs, builds a nest, etc.) What kind of characteristics does a fish have? (lives in the water, has scales, breathes through gills). Tell your student that there are a few other groups, too. Discuss using the lists found in the unit study lessons.
This unit study includes gobs of lessons: animal diets, zookeepers, animal homes, animal habitats, and more.
To access all of the lessons in this Zoo Lapbook, subscribe to Homeschool Share's email list using the form in this post.
Books Used for this Zoo Lapbook
This unit study was written to go with these books. However, if these books aren't available, you can substitute other books for most of the lessons.
If Anything Ever Goes Wrong at the Zoo by Mary Jean Hendrick
Never, EVER Shout in a Zoo by Karma Wilson
My Visit to the Zoo by Aliki
Zany Zoo by William Wise
Zoo Lapbook Printables
In addition to the research lessons, the file includes these mini-books for your student to create a Zoo Lapbook:
Animal Riddles Flap Book
Animal Diets Venn Diagram (herbivore, omnivore, and carnivore)
Animal Diets Flap Book (for younger students)
Animal Classification Clipboards
Animal Classification Matchbooks
Zookeeper Bound Book
Caves Hotdog Fold Book
World Map of Animals
If I Ran the Zoo Envelope Fold Book
Biomes Layer Book
Habitats Matchbooks (for younger students)
Endangered Animals Tab Book
Primates Flap Book
Rhyming Cards
Zoo Animal Alliterations Fan Book
Alphabetical Animals Activity Page
Zoo Scavenger Hunt
Lapbook Example
You can make your Zoo Lapbook as simple or as complex as you want. This Zoo Lapbook sample is simple with just one file folder filled with mini-books.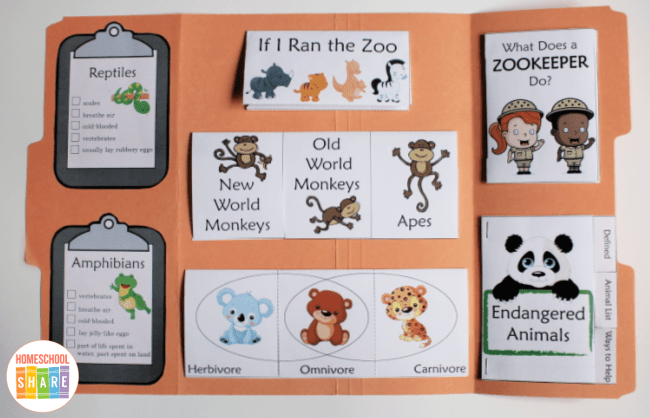 How to Get Started with Your Zoo Lapbook
Follow these simple instructions to get started with the Zoo Lapbook.
If you want, go to your local library and check out books about zookeepers, animal classification, animal habitats, and your student's favorite zoo animals.
Print the Zoo Lapbook.
Choose and prepare the mini-books you want to use with your student.
Enjoy a week of reading and learning all about the zoo and zoo animals.
Download Your Free Zoo Lapbook
Use the form below to subscribe to the newsletter. Once you confirm, you'll receive an email with the link to the lapbook. If you are already confirmed, simply enter your name and email address below, and you will receive an email with the link.
Check Out These Animal Lapbooks
Which zoo animal was your student's favorite? We might have an animal lapbook about that animal; we have oodles of animal lapbooks. Check out some of these: