Affiliate Disclaimer
We sometimes use affiliate links in our content. This won't cost you anything, but it helps us to keep the site running. Thanks for your support.
Squirrels are a great animal to study and many of us have them right in our own backyards–making them a perfect nature study. Learn all about these scampering critters with our Squirrels Lapbook.
Note: This Squirrels Lapbook is unique. The basis for the lessons stem from three picture books. You do not have to have the picture books in order to create a squirrel lapbook, but the books do give the lessons context.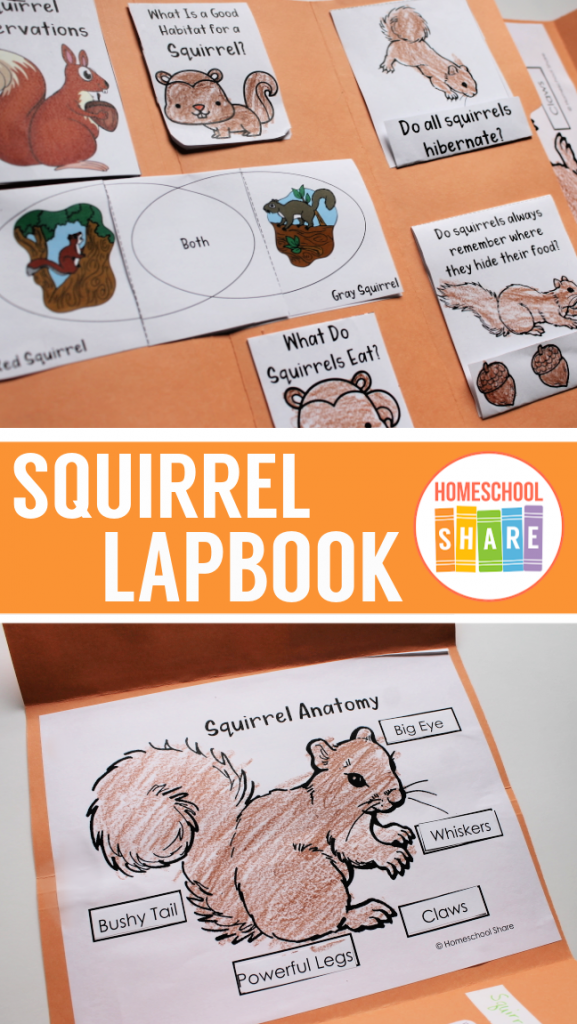 Thanks to Wende for helping with this Squirrel Unit Study and Lapbook.
Books Used for the Squirrel Lapbook
The books used for this Squirrel Lapbook include:
It is also handy to have Fun with Nature by Mel Boring (this is a FANTASTIC book to have for any nature lover).
Squirrels Lapbook Information
Here are some sample lessons from the Squirrels Lapbook:
Squirrel Anatomy: Amazing Tails
A tree squirrel's tail has many functions!
1. As a squirrel jumps from tree to tree, his tail acts as a parachute; it also helps him land softly if he falls.
2. When he swims (as some squirrels do), he can use his tail as a sail.
3. When he runs along a tree limb, his tail helps him balance.
4. In the rain, his tail acts as his umbrella.
5. When he sleeps, his tail wraps around him becoming his warm blanket.
Nature Walk
Go for a squirrel hunt in a wooded area, looking for squirrels, nests, or other signs such as tracks or scat (they have small droppings; they are about the size of a raisin, and light brown in color).
Nut Graph
Buy some different kinds of nuts and have a taste test with your student (almonds, cashews, pecans, walnuts, hazelnuts, brazil nuts, macadamia nuts, peanuts, pistachios, etc.). Try each nut. Have your student make a marking on his graph for each nut that he likes; have your student also make a marking on his graph for each nut that is liked by each family member. (If you want more data, allow your student to call some friends or family members and ask them if they like each kind.)
You can grab a copy of the entire Squirrels Lapbook in an easy-to-print file at the end of this post.
Squirrel Lapbook Printables
In addition to the lessons, these mini-books are included in the Squirrel Lapbook:
Squirrel Classification Accordion
Terrific Tales Mini-book
Favorite Facts Simple Fold
Red Squirrel vs. Gray Squirrel Venn Diagram
Squirrel Habitat Simple Fold
Squirrel Diet Simple Fold
Hibernation Matchbook
Do Squirrels Always Remember? Matchbook
Squirrel Diagram
Graphing Nuts
Squirrel Hunt Page
Squirrel Observations Mini-book
"Whisky Frisky" Poem Copywork
Counting Squirrels (for younger students)
How Many Nuts? Game (for younger students)
Find the Acorns Game
Life Cycle of an Oak Tree
Label the Life Cycle of an Oak Tree
Acorn Observations Activity Page
Acorn Word Find
Squirrel Coloring Page
Squirrel Lapbook Sample
Here is a sample Squirrel Lapbook. It was made with two file folders.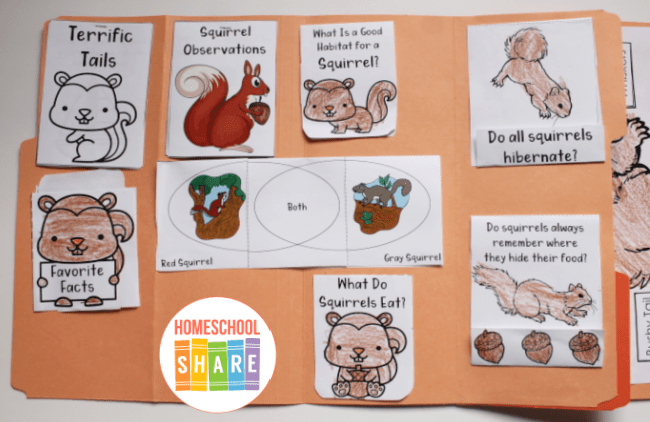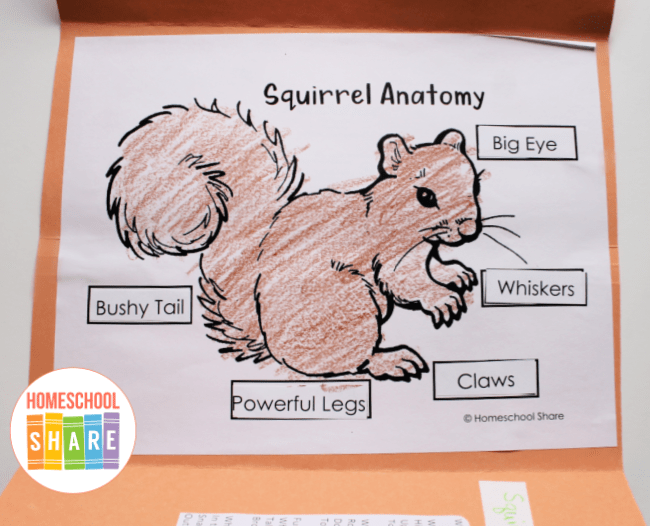 How to Get Started with Your Squirrels Lapbook
Follow these simple instructions to get started with the Squirrels Lapbook.
If you want, go to your local library and check out books about squirrels (and chipmunks).
Print the Squirrels Lapbook.
Choose and prepare the mini-books you want to use with your student.
Enjoy a week of reading and learning all about squirrels.
Download Your Free Squirrels Lapbook
Subscribe to the newsletter using the form below to have your free Squirrels Lapbook delivered to your inbox.
Explore Our Other Animal Lapbooks
We have dozens of animal lapbooks at Homeschool Share. Check out some of these favorites: