Affiliate Disclaimer
We sometimes use affiliate links in our content. This won't cost you anything, but it helps us to keep the site running. Thanks for your support.
Nicholas decides the world is too noisy, so he is going to take a trip to the quiet craters and deserts of the moon.
Our Space Boy unit study will build on the story to provide lessons in a variety of subjects for your student.
Thanks to Rachel Harris for preparing this Space Boy unit study for Homeschool Share.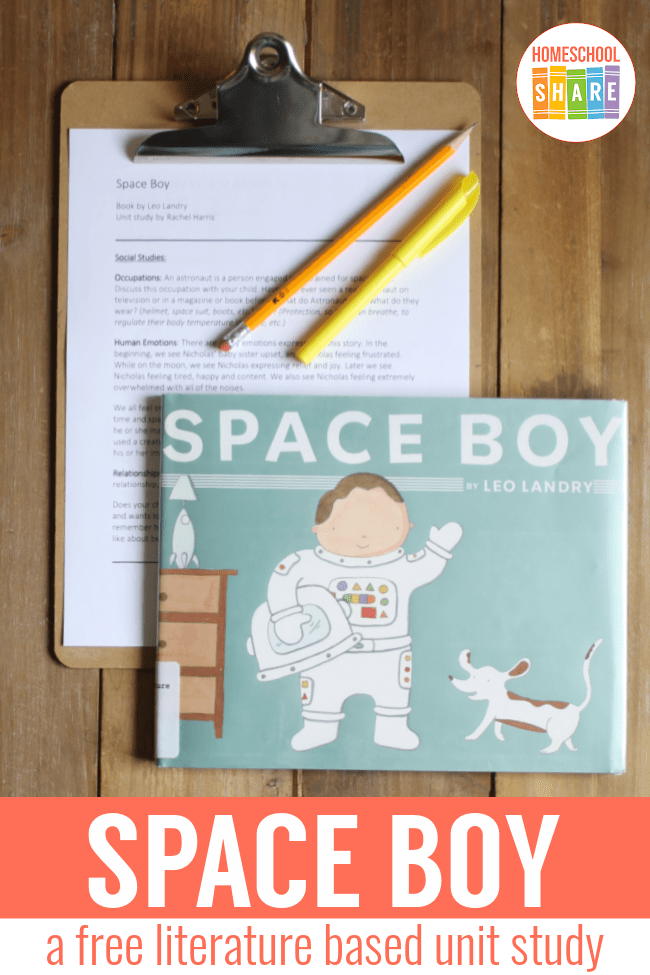 Space Boy Book Activities
Here are a few sample lessons from the Space Boy unit study:
Occupations: An astronaut is a person engaged in or trained for space flight. Discuss this occupation with your child. Have they ever seen a real astronaut on television or in a magazine or book before? What do Astronauts do? What do they wear? (helmet, space suit, boots, etc.) Why? (Protection, so they can breathe, to regulate their body temperature in space, etc.)
Human Emotions: There are many emotions expressed in this story. In the beginning, we see Nicholas' baby sister upset, and Nicholas feeling frustrated.
While on the moon, we see Nicholas expressing relief and joy. Later we see Nicholas feeling tired, happy and content. We also see Nicholas feeling extremely overwhelmed with all of the noises.
We all feel overwhelmed sometimes, and we all need to occasionally take some time and space for ourselves. Discuss with your child this common need, and times he or she may need to take a self-proclaimed "time out." Discuss how Nicholas used a creative solution: his imagination! What are some ways your child can use his or her imagination to get away?
Repetition: The author uses repetition of noises in this story to bring a comfortable balance and symmetry to the story. The noises in the beginning are remembered in the middle of the story (in contrast to the quiet of space), and are mentioned at the end of the story (in contrast to the absence of the noises now that it is later). Can you think of any other stories you have read that use repetition?
Counting Backwards: Nicholas counted backwards from 4 – 1 before "blasting off." Practice counting backwards with your child, perhaps while playing Astronaut in a laundry basket or big box. For fun, try teaching them these numbers in another language, such as Spanish or French.
Try counting backwards from a larger number (such as 10 or 20).
Astronomy: The Moon
The moon's surface is covered with fine soil, which is the result of constantly being bombarded with meteors. There are valleys (the dark spots) and mountains (the light spots) on the moon. There is no atmosphere on the moon and temperatures range from -184 degrees Celsius during the night to 214 degrees Celsius during the day. If you choose, you can describe the different phases of the moon with your child and possibly chart the phases for a month.
You can grab a copy of the entire Space Boy unit study in an easy-to-print file at the end of this post.
Space Boy Printables
A few printables have been added to this unit study. You can put them in a folder or notebook when you student is finished to create a portfolio of learning memories!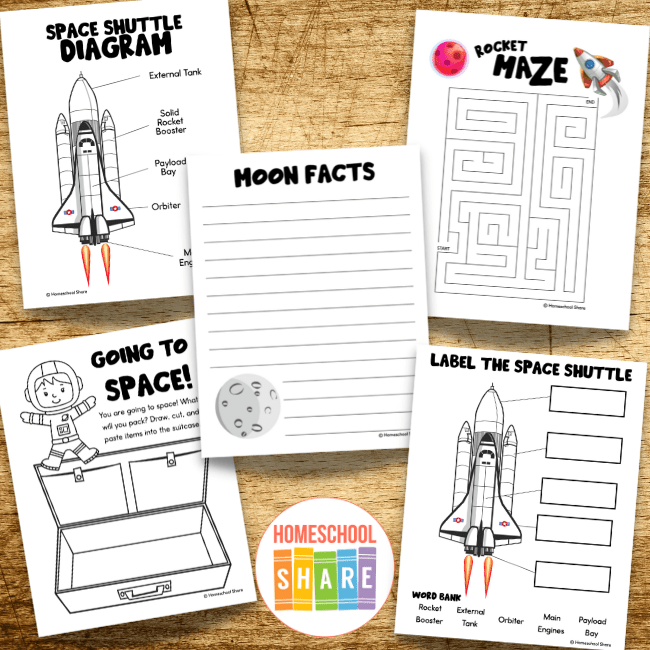 These are the space themed printables you will find in the unit study:
Rocket Maze
Space Shuttle Diagram
Label the Space Shuttle
Moon Facts Notebook Page
Going to Space! Activity Page
Outer Space Coloring Page
How to Get Started with the Space Boy Unit Study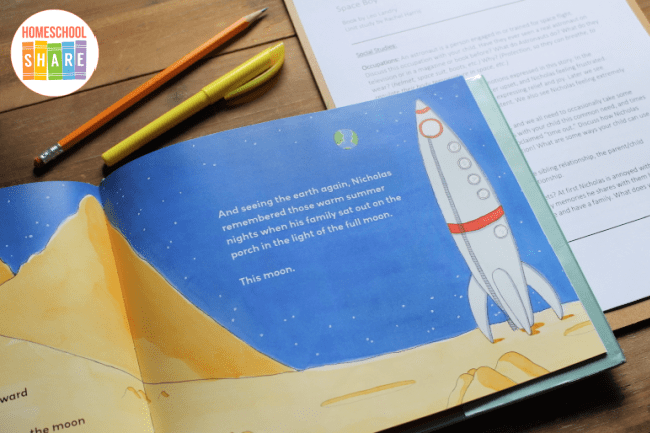 Follow these simple instructions to get started with the Space Boy unit study.
Buy a copy of the book, Space Boy, or find it at your local library.
Print the Space Boy unit study.
Choose the lessons you want to use with your student (a highlighter works great for this).
Blast off for a week of outer space learning with your student.
Download Your Space Boy Unit Study
Simply click on the image below to grab your free Space Boy unit study.