Affiliate Disclaimer
We sometimes use affiliate links in our content. This won't cost you anything, but it helps us to keep the site running. Thanks for your support.
Are you looking for Ox-Cart Man activities? This unit study includes activities and lessons based on the book Ox-Cart Man by Donald Hall.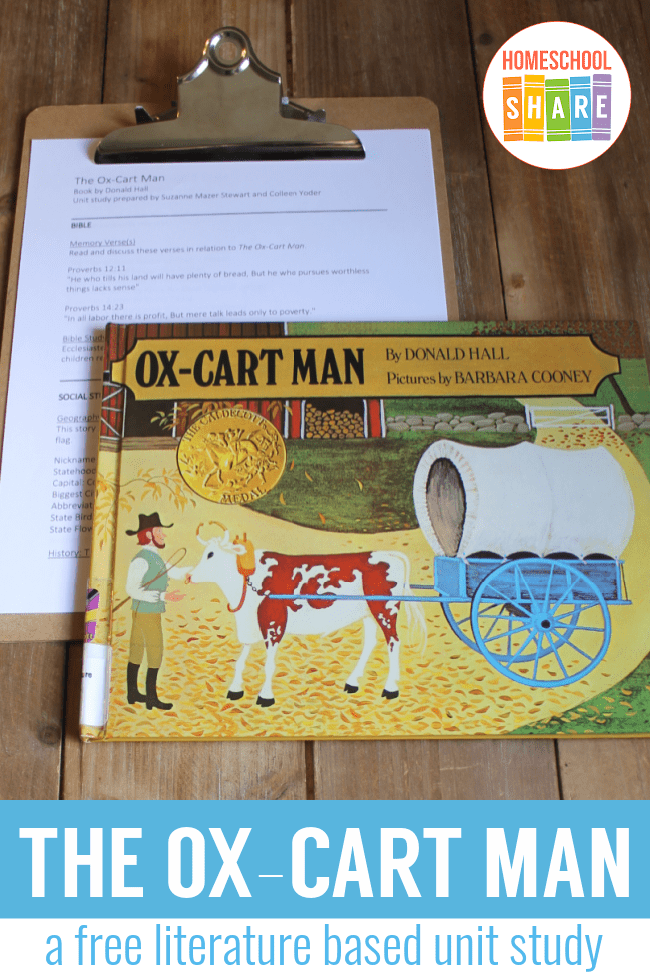 Thanks to Suzanne Mazer Stewart and Colleen Yoder for preparing this Ox-Cart Man unit study.
Ox-Cart Man Book Summary
This story is a journey through the days and weeks, the months, and the changing seasons in the life of one New Englander and his family. The oxcart man packs his goods – the wool from his sheep, the shawl his wife made, the mittens his daughter knitted, and the linen they wove. He packs the birch brooms his son carved, and even a bag of goose feathers from the barnyard geese.

He travels over hills, through valleys, by streams, past farms and villages. At Portsmouth Market he sells his goods, one by one – even his beloved ox. Then, with his pockets full of coins, he wanders through the market, buying provisions for his family, and returns to his home. And the cycle begins again.

from Ox-Cart Man at amazon.com
Ox-Cart Man Activities & Lessons
Here is a sample of the lessons found in this Ox-Cart Man unit study:
Creative Writing: Adding Details
You can get creative with this story. Give each character a name, and then take turns telling another story about your particular family member. These can be in the form of a journal or diary entry, telling a little bit about themselves and their day.
Art: Folk Art
Take a look at some early American folk art, and then contrast it to modern-day folk art. Your library should have some sources for this.
Science Farm Animals
This book is a wonderful way to introduce your student to the different animals that make up the farm, or you could do a more in-depth study of just one or two. You could also have your student list the animals that lived on this farm and what products each one "gave" to the farmer's family.
Farm Animals Lapbooks at Homeschool Share:
To access all of the lessons in this Ox-Cart Man unit study, grab an easy-to-print file at the end of this post.
How to Get Started with the Ox-Cart Man Unit Study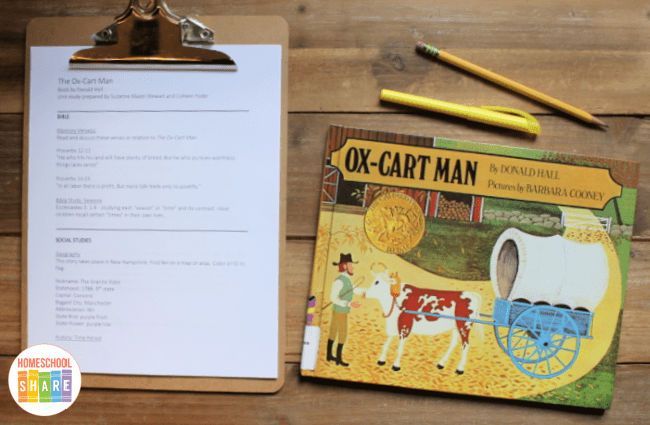 Follow these simple instructions to get started with the Ox-Cart Man unit study.
Buy a copy of the book, Ox-Cart Man, or borrow one from your local library.
Print the Ox-Cart Man unit study.
Choose the lessons you want to use with your student (a highlighter works great for this).
Enjoy a week of book-based learning with your student.
Download Your Free Ox-Cart Man Lessons
Simply click on the image below to grab the free Ox-Cart Man unit study.