Affiliate Disclaimer
We sometimes use affiliate links in our content. This won't cost you anything, but it helps us to keep the site running. Thanks for your support.
Nine for California is a fun tale told by Amanda as she travels by stagecoach (with her mother and four siblings) from Missouri to California to join her father.
The book is the foundation for the lessons found in our Nine for California unit study: the California Gold Rush, the history of stagecoaches, letter writing, family heirlooms, famous stagecoach drivers and robbers, literary devices, exaggeration in art, fractions, and more!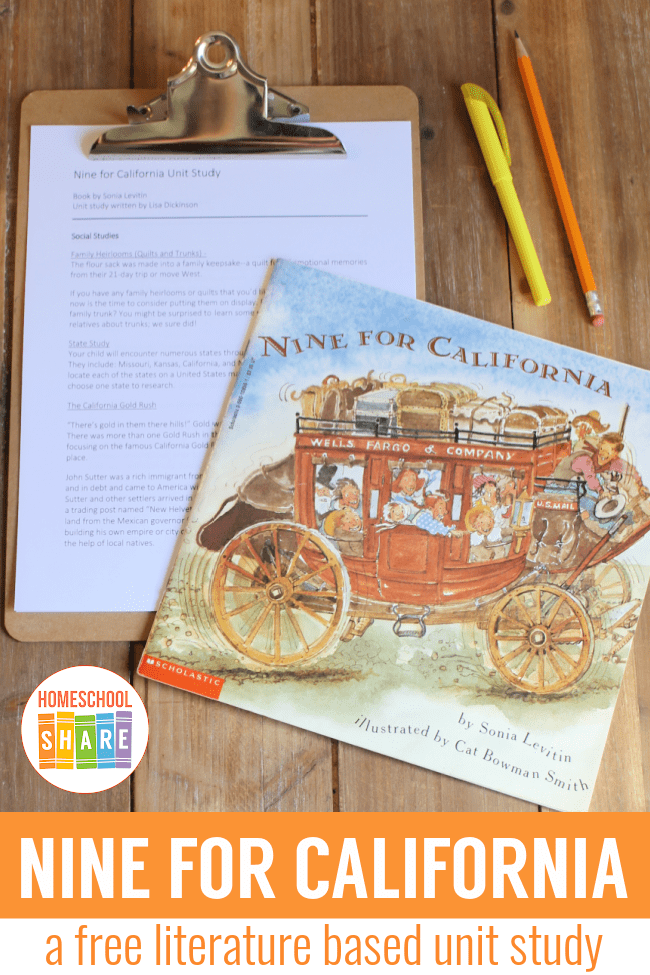 Thanks to Lisa Dickinson for preparing this Nine for California unit study.
Nine for California Unit Study Lessons
This unit study includes lessons and activities based on the book Nine for California by Sonia Levitin.
Here is a sample of the lessons found in this Nine for California unit study:
History of Stagecoaches
Stagecoaches were used throughout history as a means of transportation. Stagecoaches were very important part of our American history of over 100 years. 1785, just two years after the Revolutionary War, The United States Mail used stagecoaches to carry mail. In our story, we see the family at a Missouri post office receiving a letter from Pa.
The mail was delivered by Wells Fargo stagecoach. It was always a big ordeal to see the stage in town! Before the stagecoach routes west, it would take up to a year to travel across the country from coast to coast! The stagecoach cut this time down to just 32 days!
History of the Piggy Bank
Has your child ever wondered where the idea for a piggy bank came from? Nobody actually invented the piggy bank. Pygg is a type of orange clay. Used in the 15th century in Old England, potters made all kinds of objects out of pygg, including dishes and jars to keep spare change. By the 18th century the word pygg sounded the same as the word for pig. Someone made a pygg jar in the shape of a pig.
Language Arts: Letter Writing Skills
Pa sent a letter by stagecoach to tell his family to move to California. Ma couldn't pick up her cell phone and call him back, she had to hand write a letter and send it through the United States Mail System, the Post Office.

Practice the old fashioned skill of handwriting a letter to a distant family member. Write about the book you're studying this week and tell them your favorite part of the story.
Language Arts: Compound Words
What makes a word a compound word? Two separate words put together as one. Can your student find any compound words in this story?

List of compound words from the story:
stagecoach, shotgun, outlaw, without, goodbye, cowboy, grownups, hummingbird, milkweed
Math: Time
The children would recite what they knew to pass the time. Does your student know how long a minute is? Hour? Day? Week?
Practice these facts:
How many minutes in a hour?
How many hours in a day?
How many days in a week?
To access all of the lessons in this Nine for California unit study, grab an easy-to-print file at the end of this post.
How to Get Started with the Nine for California Unit Study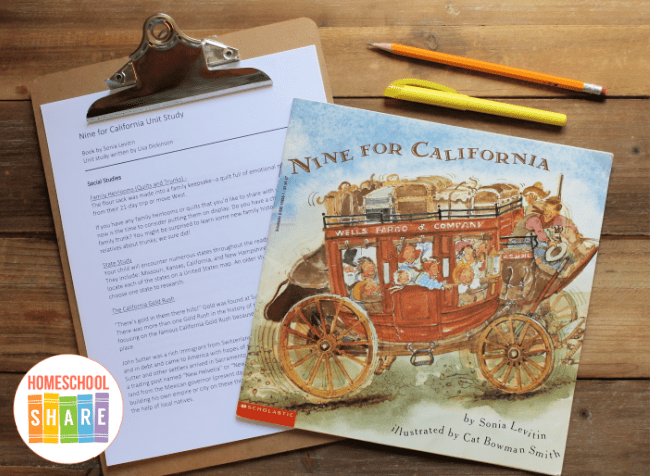 Follow these simple instructions to get started with the Nine for California unit study:
Buy a copy of the book, Nine for California, or grab one from your local library.
Print the Nine for California unit study.
Choose the lessons you want to use with your student (a highlighter works great for this).
Enjoy a week of book-based learning with your student.
Download Your Nine for California Unit Study
Simply click on the image below to grab the Nine for California unit study.
More Resources to Explore