Affiliate Disclaimer
We sometimes use affiliate links in our content. This won't cost you anything, but it helps us to keep the site running. Thanks for your support.
Japan is a chain of four major islands and 4,000 smaller islands. It's a fascinating place, and it makes for a great country study with our free Japan Lapbook.
You'll find even more geography lapbooks on this page.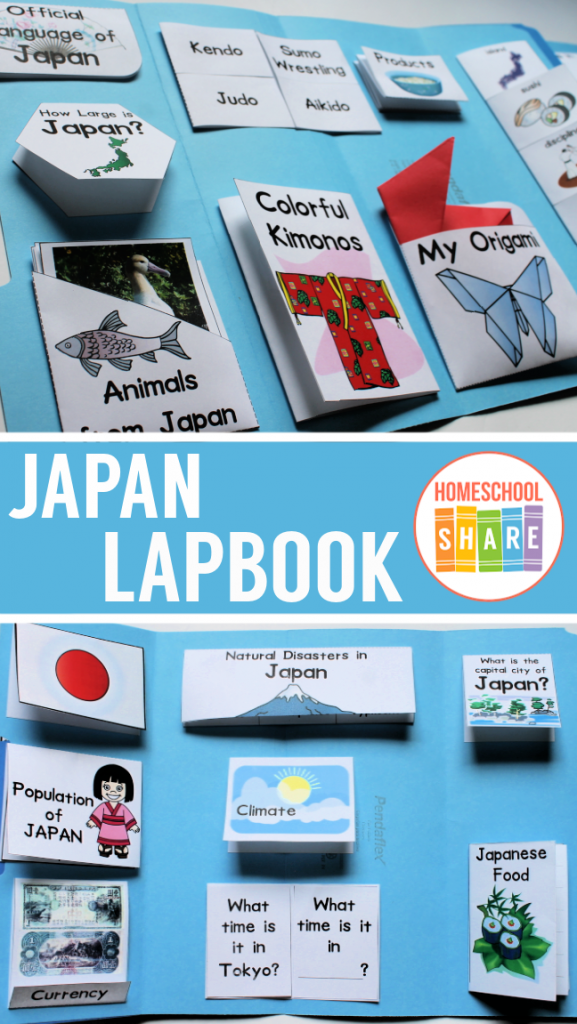 Japan Lapbook Information
Official Name: Japan
Size: 145,914 square miles
Capital: Tokyo
Official Language: Japanese
Products: Japan produces rice, fish, and motor vehicles.
Currency: Yen
Climate: Japan's climate varies from tropical in the south to cool in the north.
Population: For current information, use this website: Population of Countries
Comparing Times: To compare the time in the capital city to the time where you live, use this website: The World Clock
Arts from Japan: Various art forms are from Japan, including these:
Ikebana: the art of arranging flowers
Haiku: a form of Japanese poetry with three lines (the first line has 5 syllables, the second line has 7 syllables, and the third line has 5 syllables). Haiku poems often have nature themes.
Kabuki: Japanese theater that includes singing, dancing, makeup, and costumes.
Origami: This 1,500-year-old craft is the art of folding paper. Try some origami creations of your own and store them in the pocket provided.
If your student is interested in other Japanese art forms, look into bonsai, woodblock printing, and gyotaku (fish printing).
Japanese Foods: Explore different Japanese foods with your student. Here are some suggestions: sukiyaki, sashimi, sushi, and wasabi.
Consider going to a Japanese restaurant during your study or making some of these menu items at home.
Japanese Clothes: Today Japanese people wear modern fashions, but, for special occasions, they wear a traditional kimono (type of robe) that has been worn in Japan for hundreds of years. Another fashion that is well-known in Japan is Geta sandals. They are built high in order to keep your feet above the dirt and mud.
Animals in Japan: Your student will need to research the animals to complete the cards.
Sports from Japan: Many well-known martial arts come from Japan.
Sumo wrestling: This 2,000-year-old sport is a wrestling match between two large men.
Aikido: In this martial art, you learn how to defend yourself from your opponent without attacking.
Judo: Judo is a martial art that helps improve your athletic skills and your mind, too. It is based on an older Japanese martial art called jujitsu.
Kendo: In this martial art, students wear protective gear while they battle one another with bamboo swords.
Make a Salt Dough Map: Add to your Japan study by making a salt dough map of Japan.
National Geographic Site: National Geographic has an amazing Japan site for your student to explore.
Japan Lapbook Sample
Here is a sample of the lapbook. It includes two file folders glued together.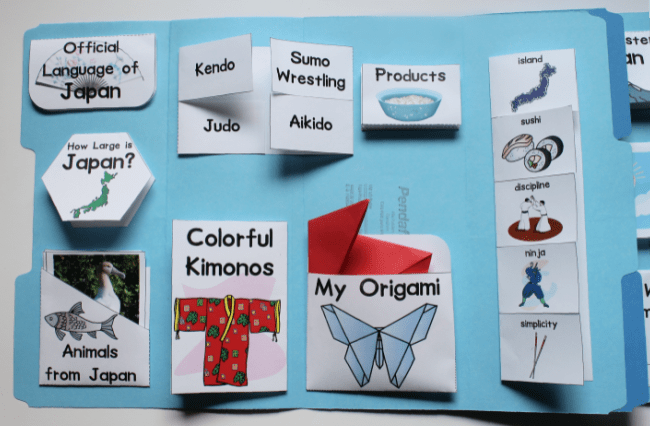 How to Get Started with Your Japan Lapbook
Follow these simple instructions to get started with the Japan Lapbook.
If you want, go to your local library and check out books about Japan, martial arts, Japanese arts, etc.
Print the Japan Lapbook.
Choose and prepare the lapbook mini-books you want to use with your student.
Enjoy a week of reading and learning all about Japan!
Get Your Free Japan Lapbook
Use the form below to subscribe to the newsletter. Once you confirm, you'll receive an email with the link to the lapbook. If you are already confirmed, simply enter your name and email address below, and you will receive an email with the link.
Explore More Resources for Learning About Japan
Learn more about the continent of Asia with these printables and unit studies.