Affiliate Disclaimer
We sometimes use affiliate links in our content. This won't cost you anything, but it helps us to keep the site running. Thanks for your support.
Pack your bags and head to Italy. Take a ride on the canals, eat some amazing pizza, and learn all about this boot-shaped country with our Italy Lapbook.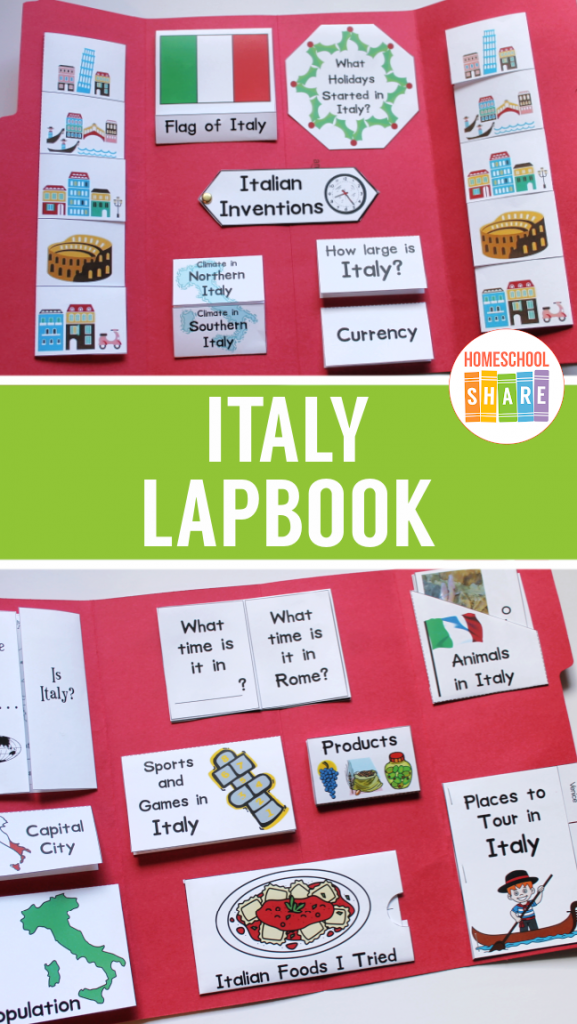 Italy Lapbook Information
Use reliable websites, library books, and the information below to complete the research for this lapbook.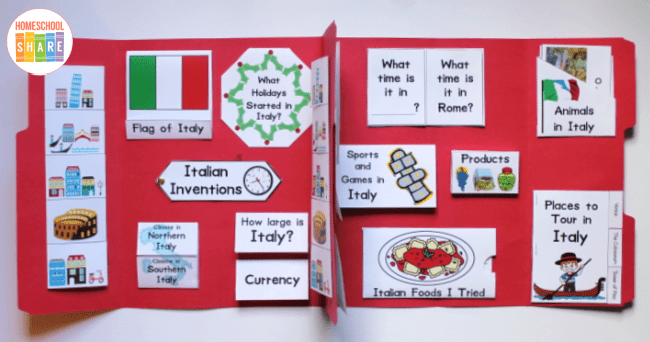 Official Name: Italian Republic
Size: 116,324 square miles
Capital: Rome
Official Language: Italian
Agricultural Products: Agricultural products includefruits, vegetables, grapes, potatoes, sugar beets, soybeans, grain, olives, beef & dairy products, and fish.
Major Industries: Italy's major industries include tourism, machinery, iron and steel, chemicals, food processing, textiles, motor vehicles, clothing, footwear, and ceramics.
Currency: Euro
Climate: Italy's climate varies. It is cooler in the far north, but it is hot and dry in the south.
Population: For current information, use this website: Population of Countries
Comparing Times: To compare the time in the capital city to the time where you live, use this website: The World Clock
Major Religion: Roman Catholic 90%, other 10%
Italian Inventions: Italy is known for many inventions. Glass window panes, concrete, paved roads, candles, the daily newspaper, mechanical clock, eyeglasses, and the radio are all Italian inventions.
An older student may want to research the dates of when each of these things were invented.
Food That Comes from Italy: Do you like pizza? Pretzels? Cookies? These came from Italy!
Pizza was invented by the Romans more than 2,000 years ago.
A Catholic monk invented pretzels more than 1,300 years ago. It is said that he created them to give as prizes to children who memorized their prayers. The crisscross shape of the pretzel is supposed to look like the folded arms of a praying child.
The ancient Romans invented cookies more than 2,200 years ago. They weren't as sweet as the cookies we eat today, though.
Various cheeses also come from Italy: Parmesan, Gorgonzola, and mozzarella.
Italians are known for eating pasta. Try some Italian recipes throughout your Italy study.
Holidays That Started in Italy: Ancient Rome was the first place to celebrate Christmas on December 25th.
Another holiday that began in Italy is St. Valentine's Day. The ancient Romans were the first to give one another valentine cards.
The ancient Romans were also the first people to celebrate Easter.
Sports and Games in Italy: Many people believe that soccer, the world's most popular sport, originated in Italy. Bocce (a bowling game) and hopscotch also originated in Italy.
Animals in Italy: Your student will need to research the animals to complete the cards.
Places to Tour in Italy: Your student will need to research the cities in order to complete the mini-book.
Make a Salt Dough Map: Add to your Italy study by making a salt dough map of Italy.
National Geographic Site: National Geographic has an amazing Italy site for your student to explore.
Lapbook Example
This lapbook was made with two file folders. If you are new to lapbooks, read How to Make a Lapbook.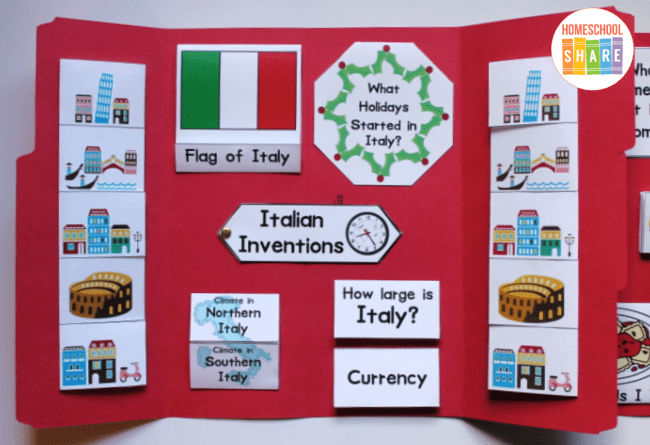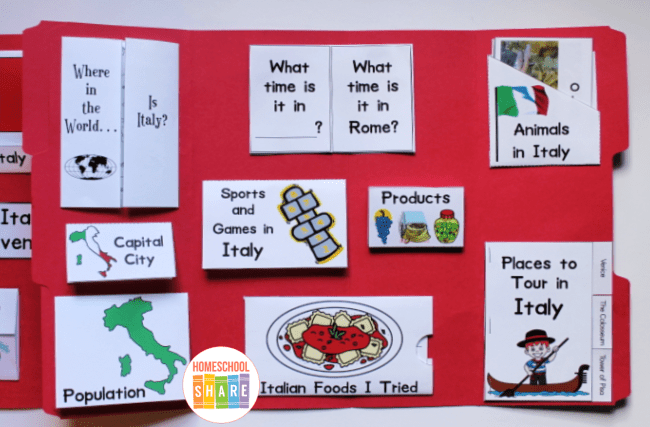 You can also use the other sides of the flaps to add more mini-books. These food mini-books were added to the back side of the right flap.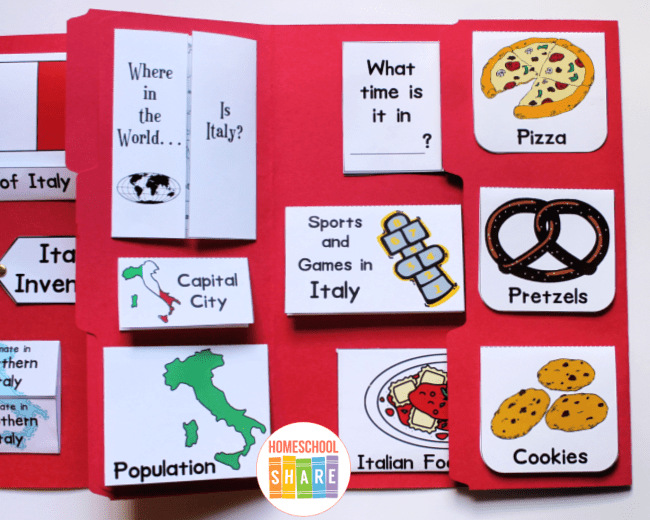 How to Get Started with Your Free Italy Lapbook
Follow these simple instructions to get started with the Italy Lapbook.
If you want, go to your local library and check out books about Italy.
Print the Italy Lapbook.
Choose and prepare the lapbook mini-books you want to use with your student.
Enjoy a week of reading and learning all about Italy!
Download Your Free Italy Lapbook
Simply click on the image below to grab your free Italy Lapbook.
Explore These Italy Related Resources
Spend more time learning about the beautiful country of Italy.
You can find even more geography lapbooks here.