Affiliate Disclaimer
We sometimes use affiliate links in our content. This won't cost you anything, but it helps us to keep the site running. Thanks for your support.
Head to Central America and learn all about the beautiful country of Guatemala with our free Guatemala Lapbook.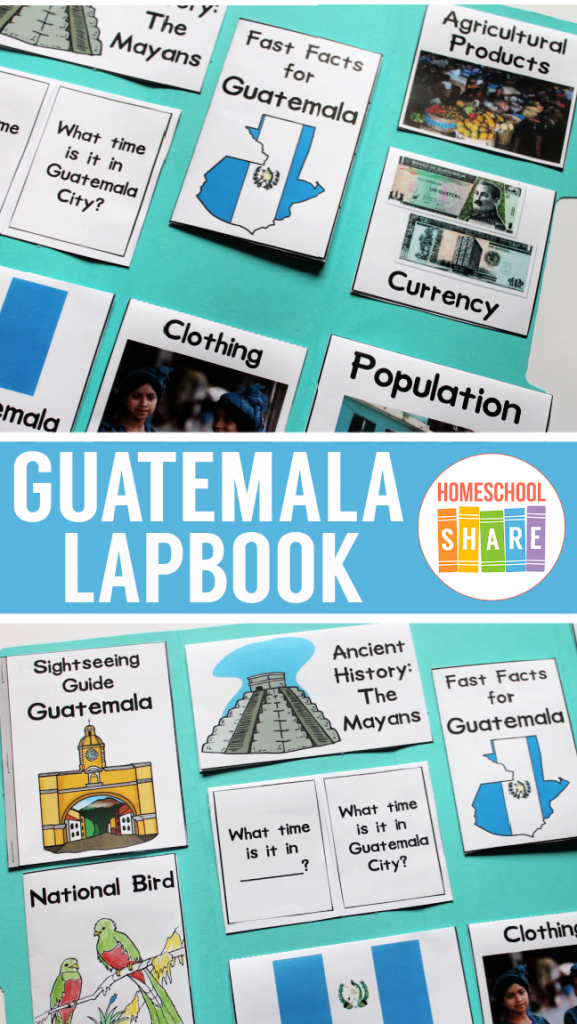 Guatemala Lapbook Information
Use the information below along with reliable websites and library books to complete the research for your Guatemala Lapbook.
Official Name: Republic of Guatemala
Size: 42,043 square miles
Capital: Guatemala City
There are four visible volcanoes from Guatemala City, two of which are active.
Official Language: Spanish
Other languages are represented as well, including 21 Mayan languages! Mam is one of these languages.
Here are the numbers 1-10 in Mam:
One: jun
Two: ka b'a
Three: oxa
Four: chaja
Five: jwe
Six: qaq
Seven: wuq
Eight: wajxaq
Nine: b' eljaj
Ten: laj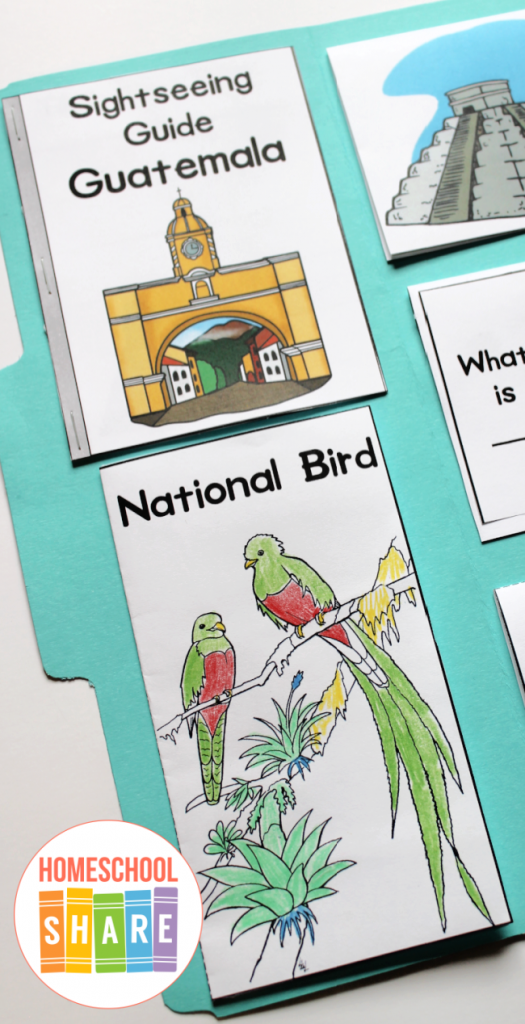 Agricultural Products:
Guatemala produces: sugarcane, coffee, cotton, bananas, corn, beans, rice, wheat, and other fruits and vegetables.
Currency: Quetzal
Climate: Costa Rica includes mountains and beaches and experiences diverse climates, depending on the elevation at the place in the country.
Population: For current information, use this website: Population of Countries.
Comparing Times: To compare the time in the capital city to the time where you live, use this website: The World Clock.
Sight Seeing Guide: Your student will need to research the places in order to complete the mini-book.
Basic Geography
Countries bordering Guatemala: Mexico, Belize, Honduras, and El Salvador.
The highest point in Guatemala is Volcán Tajumulco at 13,786 feet.
The longest river in Guatemala is the Motagua River at 302 miles long.
National Bird: Quetzal
The resplendent quetzal is one of the world's most beautiful birds. Its body is 15-16 inches long and its tail is an amazing 24 inches long. It weighs 7-8 ounces.
It has an omnivorous diet, and it eats fruit, insects, and lizards.
Worry Dolls: In some parts of Guatemala, children make Quita Pena or worry dolls. Children tell the dolls their worries at night and put them under their pillows. In the morning, it is said that dolls have taken the worries.
Try this worry doll craft.
Make a Salt Dough Map: Add to your Guatemala study by making a salt dough map of Guatemala.

National Geographic Site: National Geographic has an amazing Guatemala site for your student to explore.
Guatemala Lapbook Example
This sample lapbook was made with one file folder. If you need help getting started with lapbooks, try How to Make a Lapbook.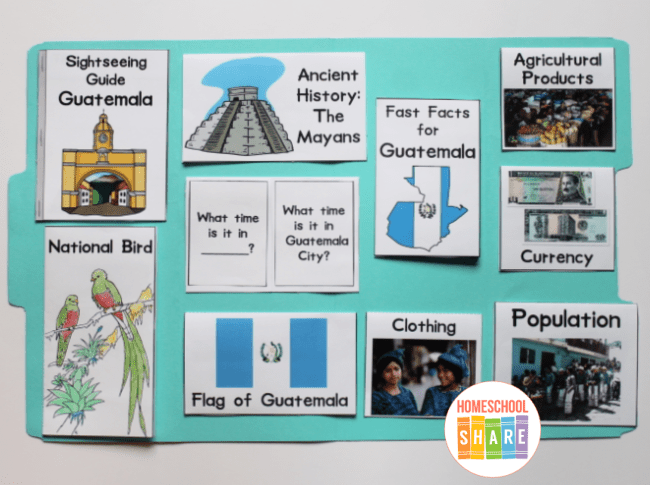 How to Get Started with Your Guatemala Lapbook
Follow these simple instructions to get started with the Guatemala Lapbook.
If you want, go to your local library and check out books about Guatemala.
Print the Guatemala Lapbook.
Choose and prepare the lapbook mini-books you want to use with your student.
Enjoy a week of reading and learning all about Guatemala.
Download Your Guatemala Lapbook
Simply click on the image below to access your free Guatemala Lapbook.
Explore Our Central America Resources
Abuela's Weave is a great story, and we have a unit study for this book. Pair it with your Guatemala lapbook.
If your student wants to study other Central American countries, try these country lapbook studies:
If you are looking for additional country lapbooks, try our geography lapbook index.