Affiliate Disclaimer
We sometimes use affiliate links in our content. This won't cost you anything, but it helps us to keep the site running. Thanks for your support.
Here are some sample lessons from the Abuela's Weave Unit Study:
This story about the importance of family pride and personal endurance introduces children to the culture of Guatemala through the eyes of little Esperanza, who works with her abuela–her grandmother–on weavings to sell at the public market.

from Abuela's Weave at amazon.com
This rich story presents the readers with various avenues of learning. Grab our Abuela's Weave unit study and lapbook and spend a week exploring the opportunities this book has to offer.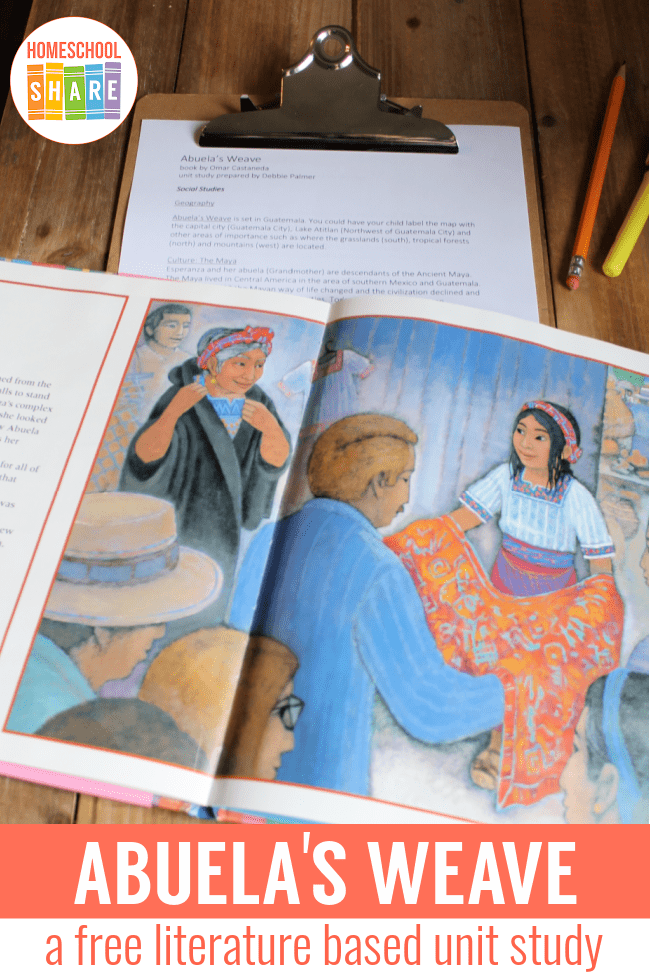 Thanks to Debbie Palmer for writing the lessons for this Abuela's Weave unit study.
Abuela's Weave Unit Study Lessons
Geography: Guatemala
Abuela's Weave is set in Guatemala. You could have your child label a map with the capital city (Guatemala City), Lake Atitlan (Northwest of Guatemala City) and other areas of importance such as where the grasslands (south), tropical forests (north) and mountains (west) are located.
Culture: The Maya
Esperanza and her abuela (Grandmother) are descendants of the Ancient Maya. The Maya lived in Central America in the area of southern Mexico and Guatemala. Around A.D. 1000 the Mayan way of life changed and the civilization declined and the people moved out of their great cities. Today the ruins of the Mayan civilization can still be seen in place like Tikal in northern Guatemala. The ancient Maya were experts in math, astronomy, and science. The Maya were the only ones at the time in Central America that developed a system of writing using hieroglyphs. If your child has sufficient interest, you could check out a book at the library about their hieroglyphs. The Mayan also had their own calendars and counting system.
Art: Weaving and Looms
The loom that is shown in the book is called a back strap loom because of the strap that is worn around the back of the weaver. The loom consists of only ropes, sticks and the strap. This type of loom could be owned by almost anyone and used almost anywhere. For your younger child you could have them weave paper. Take two pieces of contrasting colored paper. Cut one of the sheets into 1 inch strips. Cut the other paper in 1 inch strips horizontally but leave about a one-inch border around all four edges. The child can then weave the papers
You can grab a copy of the entire Abuela's Weave Unit Study and Lapbook in an easy-to-print file at the end of this post.
Abuela's Weave Lapbook Printables
The following mini-books are included so your student can create a Abuela's Weave lapbook:
Vocabulary Mini-book
Guatemala Layer Book
Quetzal File Folder Book
Ancient Mayans Mini-book
Cool Colors Wheel
Warm Colors Wheel
Mayan Numbers 1-20 Window Books
Bible Verse Matchbooks
How to Get Started with Your Abuela's Weave Unit Study & Lapbook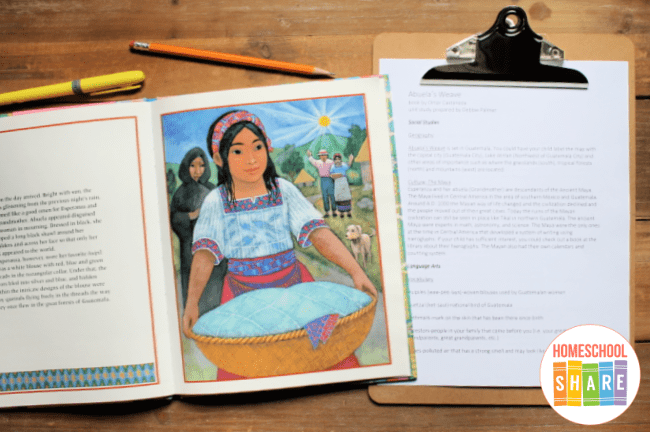 Follow these simple instructions to get started with the Abuela's Weave Unit Study:
Buy a copy of the book, Abuela's Weave, or borrow one from your local library.
Print the Abuela's Weave unit study.
Choose the lessons you want to use with your student (a highlighter works great for this).
Choose and prepare the lapbook printables you want to use with your student.
Enjoy a week of learning about Guatemala, relationships, weaving, and more.
Get Your Abuela's Weave Unit Study & Lapbook
Simply click on the image below to access your free Abuela's Weave Unit Study and Lapbook.
More Central America Resources
Explore more of Central America with these lapbooks and unit studies.