Affiliate Disclaimer
We sometimes use affiliate links in our content. This won't cost you anything, but it helps us to keep the site running. Thanks for your support.
Groundhogs are the perfect critter to study in the winter–right before Groundhog Day, but it doesn't have to be winter. And it doesn't have to be Groundhog Day. You can study these furry rodents any time of year with our free Groundhog Lapbook.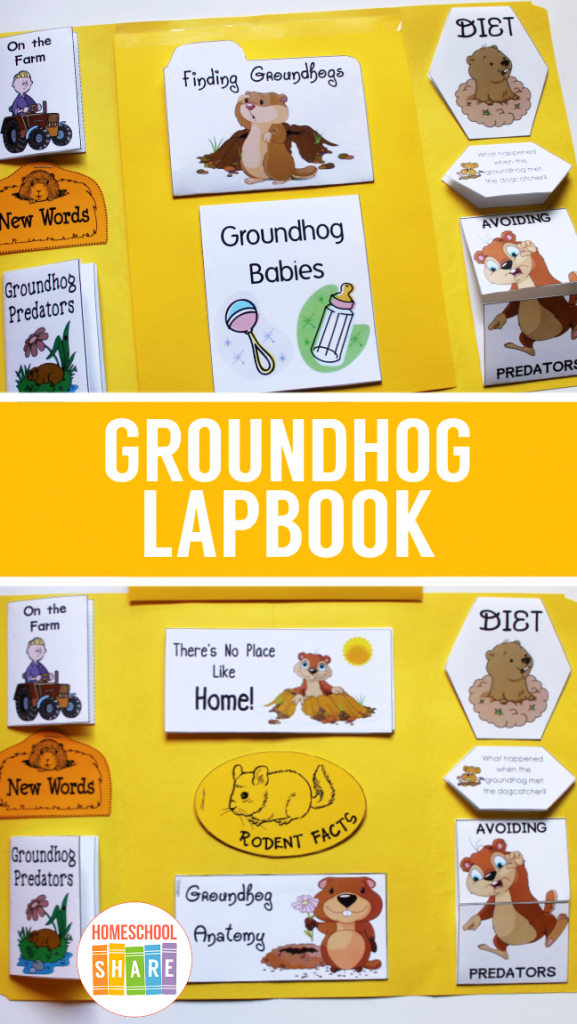 Thanks to Cate Proudfoot for writing the research and lessons for this Groundhog Lapbook for Homeschool Share.
Groundhogs Lapbook Information
Here are some sample lessons from the Groundhogs Lapbook:
Groundhog Habitat
Groundhogs are found in the woodlands and fields of the United States, Canada and as far west as parts of Alaska.
The destruction of forest has actually increased the groundhog population in recent years.
Groundhog Characteristics and Anatomy
Groundhogs are mammals. They are diurnal.
They can grow from 17 to 25 inches long and weigh 5 to 14 pounds. When conditions are just right, that can change to 32 inches long and 30 pounds.
Their feet are black with four toes on the front and five toes on the back. Short legs cause them to waddle when they walk.
Two coats of fur help keep them warm and dry. A dense, woolly undercoat and longer guard hairs. These guard hairs are banded with alternating dark and light colors of yellowish gray to reddish brown, giving this mammal a frosted or grizzled appearance.
Dark colored tails are fanned out and fluffy like their relative, the squirrel. Although, not as large in relation to body size (1/4 of their total body length).
Ears are small, low and rounded atop a black colored head with small black eyes.
You can grab a copy of the entire Groundhogs Lapbook in an easy-to-print file at the end of this post.
Groundhogs Lapbook Printables
This Groundhogs Lapbook includes the following mini-books and printables:
Groundhog Predators
Punxsutawney Phil Flap Book
How Groundhogs Harm and Help Twice Folded Book
The Rodent Family Tree Tri-fold Book
Rodent Facts Mini-book
What Is a Shadow? Simple Fold
Groundhog Classification Accordion
Groundhog Diet Simple Fold
Groundhog Day Verdict Simple Fold
My Groundhog Day Prediction Simple Fold
Finding Groundhogs File Folder
Avoiding Predators Mini-book
Groundhog Nicknames Fan
Groundhog Babies Mini-book
Candlemas Copywork Book
Groundhog Day History Envelope Fold
Groundhog Jokes Simple Folds
New Groundhog Words Shape Book
What Will the Weather Be? Flap Book
Groundhog Anatomy Tab Book
There's No Place Like Home Mini-book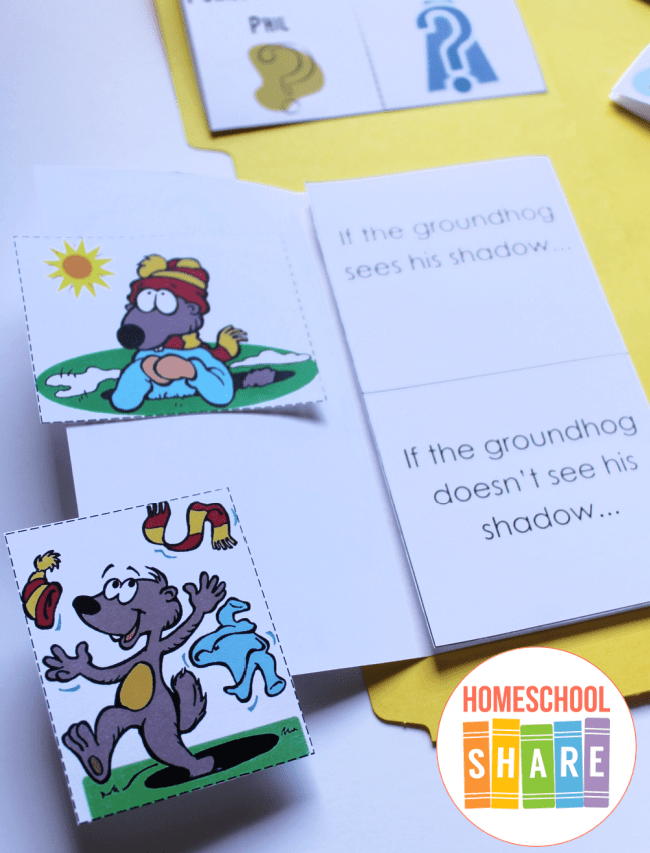 Groundhog Lapbook Example
This lapbook was made with one file folder and a piece of cardstock taped to the center for an extension.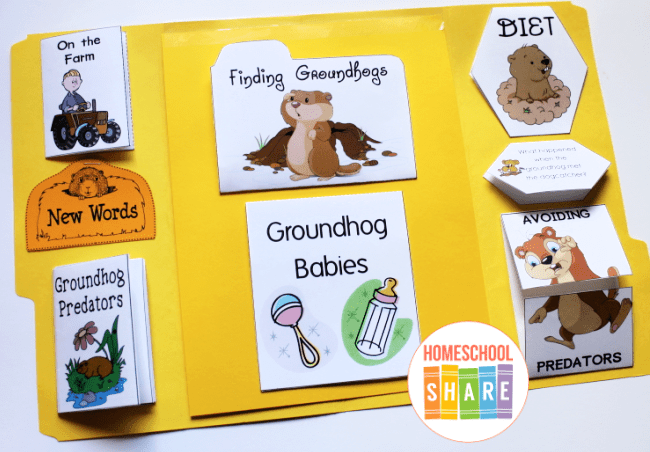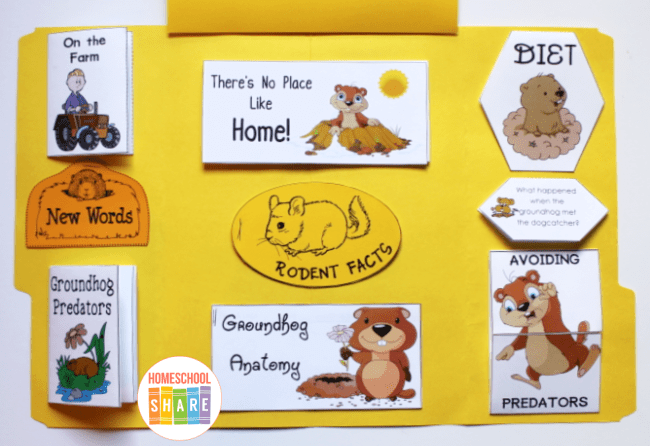 If you want to include the Groundhog Day lapbook elements, you can add another file folder to this file folder. If you aren't sure how to do that, see How to Make a Lapbook.
Groundhog Day Lapbook Example
If you don't want to use all the mini-books to learn about groundhogs, you can pull some of them and make a more simple Groundhog Day Lapbook.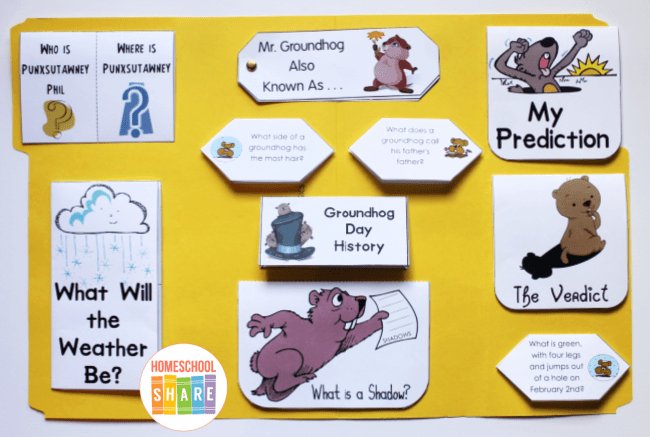 How to Get Started with Your Groundhogs Lapbook
Follow these simple instructions to get started with the Groundhogs Lapbook.
If you want, go to your local library and check out books about groundhogs.
Print the Groundhogs Lapbook.
Choose and prepare the mini-books you want to use with your student.
Enjoy a week of reading and learning all about groundhogs!
Download Your Free Groundhogs Lapbook
Simply click on the image below to access your free Groundhogs Lapbook.
Learn About Other Rodents
Take some time to use these other animal lapbook studies to learn about other rodents: