Affiliate Disclaimer
We sometimes use affiliate links in our content. This won't cost you anything, but it helps us to keep the site running. Thanks for your support.
Sometimes kids get bored at the grocery. Or, sometimes they drive you crazy. You can keep them busy and learning with this Grocery Store Scavenger Hunt.
If you would like to browse all of our printable scavenger hunts, try our Scavenger Hunts for Kids page.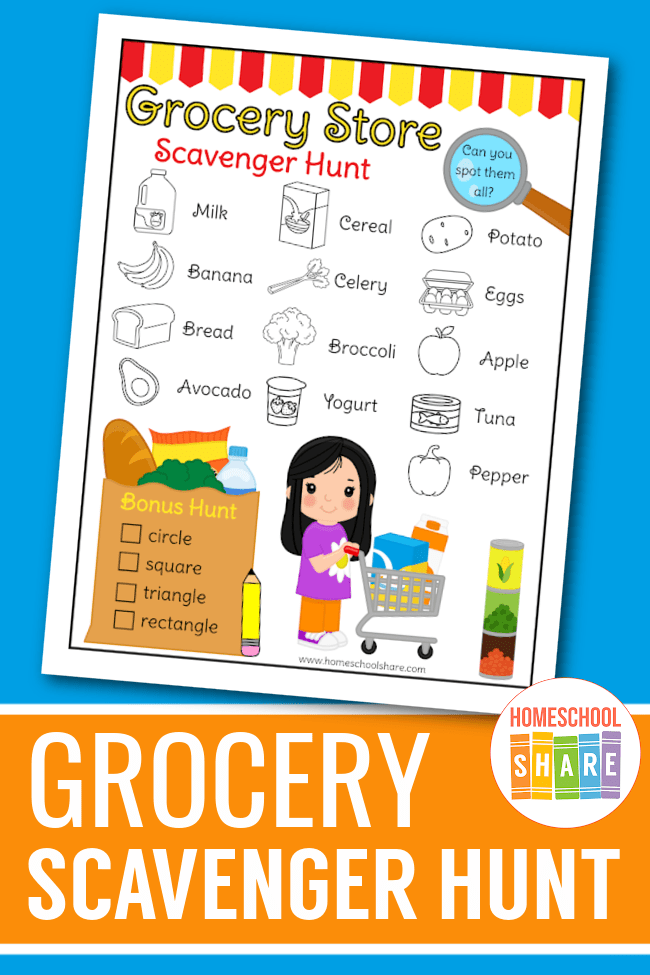 Items to Look for with the Grocery Store Scavenger Hunt
As you shop through the grocery store, your student will watch for these items:
Milk
Banana
Bread
Avocado
Cereal
Celery
Broccoli
Yogurt
Potato
Eggs
Apple
Tuna
Pepper
As your student locates each item, have him color it on the printable page provided.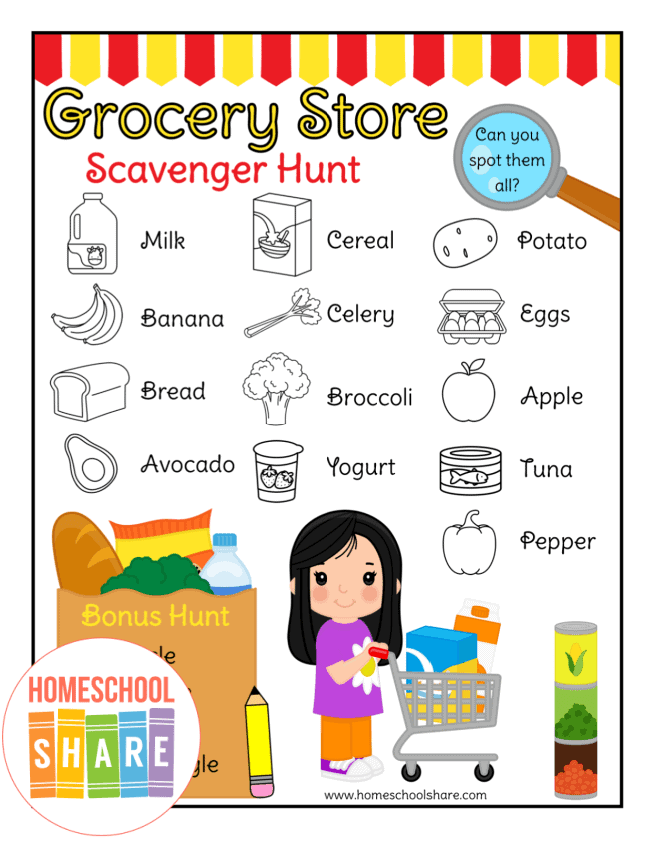 Bonus items to look for: Your student can also find different shapes throughout the grocery store. For example, if he sees a circle (pizza, doughnut, or orange), he can check the circle box.
Benefits of the Scavenger Hunt Printable
This grocery store scavenger hunt is great as a go-along with your grocery store theme. It provides many benefits for your student.
Scavenger hunts boost observation skills. As your child looks for objects, he will develop better observation skills.
Scavenger hunts require movement; this promotes gross motor development. You could even let your student help push the cart.
A scavenger hunt can provide safe sensory input for your student (listen to the music in the grocery store, feel the cold metal can, see the brightly colored fruits and vegetables, etc.)
If you work on the scavenger hunt as a team, it will promote cooperation and social skills development.
Additionally, the bonus items will increase creative and critical thinking skills as your child has to determine what food or packaging looks like various shapes (circle, square, triangle, and rectangle).
Grab Your Free Grocery Store Scavenger Hunt
Grab the scavenger hunt by clicking on the image below.
More Grocery Store Themed Resources for Early Learners
Scoop up more learning fun with these Grocery Store Printables: