Affiliate Disclaimer
We sometimes use affiliate links in our content. This won't cost you anything, but it helps us to keep the site running. Thanks for your support.
Your early learners can play grocery store with our free set of Pretend Play Grocery Store printables.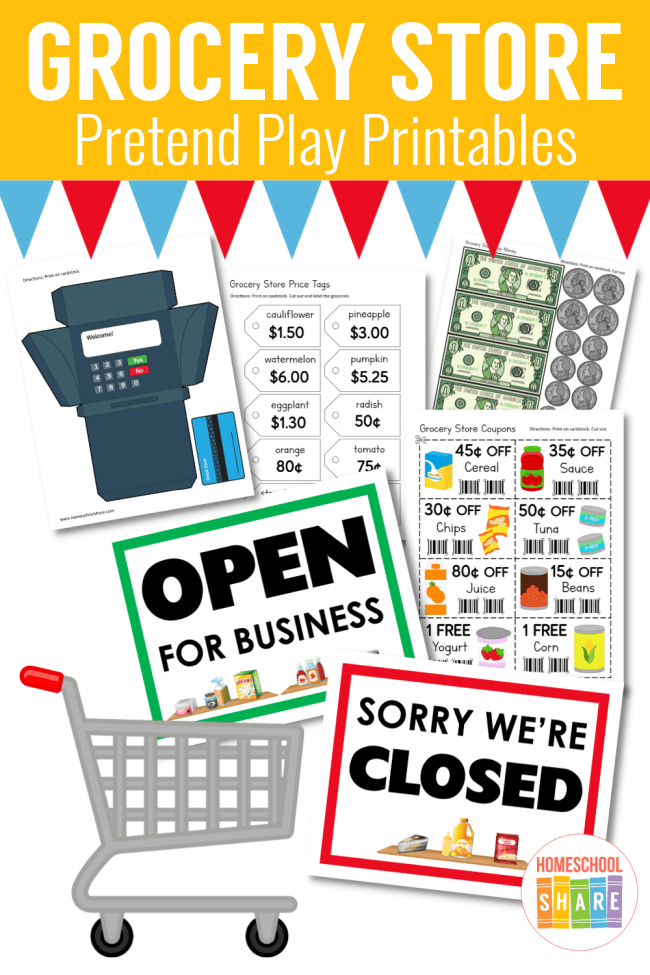 Benefits of Pretend Play Grocery Store
Why should you encourage pretend play for your preschool and kindergarten students? Because it is brain-building!
Pretend play is beneficial for your student because it promotes:
creativity and imagination
fine motor skills
gross motor skills
social development
language and communication skills
problem-solving abilities
and more!
Grocery Store Pretend Play Signs and Badges
You can add these grocery store pretend play printables to your grocery store theme. This set would also be great for a community helpers theme.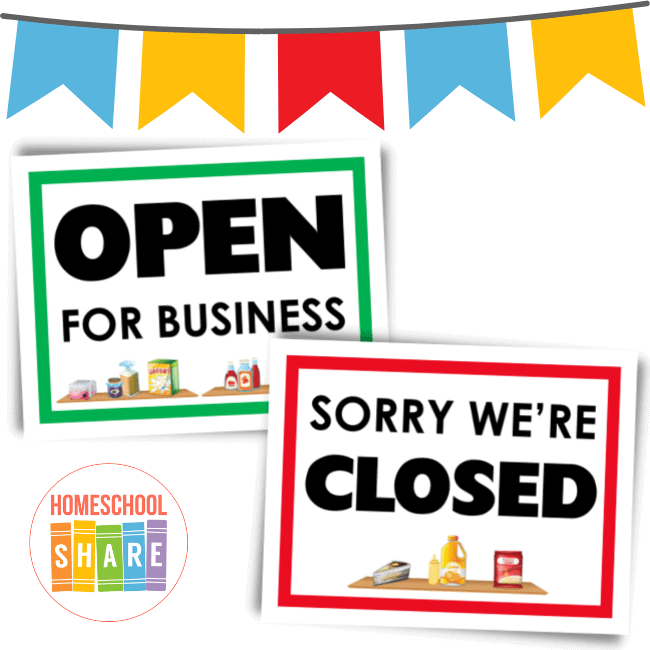 Open for Business Sign
Sorry We're Closed Sign
Name Badges
Store Hours Sign
Tip: If you laminate the name badges and the store hours sign, your student can use a dry-erase marker to add her name to her badge and hours to the store hours sign.
Grocery Store Pretend Play Groceries
The printable pack also includes food for your student to color and cut out. Guide your student through the process.
We recommend printing these pieces on cardstock. You could also paste the food items to small boxes to make them sturdy.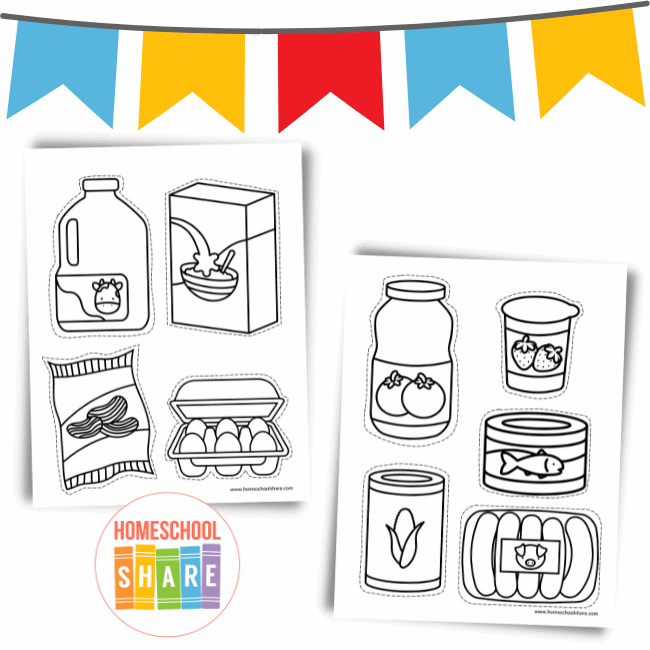 Groceries included:
pizza
juice
canned peas
milk
cereal
chips
eggs
bread
cheese
apple
donut
toilet paper
bananas
pasta sauce
yogurt
tuna
canned corn
sausages
cauliflower
pineapple
watermelon
pumpkin
eggplant
radish
orange
tomato
grapes
strawberry
carrot
artichoke
Ideas for educational activities for the grocery cards: sort the cards into food groups or ask your student to put the cards in alphabetical order.
Grocery Store Math Activities
This printable pack also includes gobs of grocery store printables to practice math.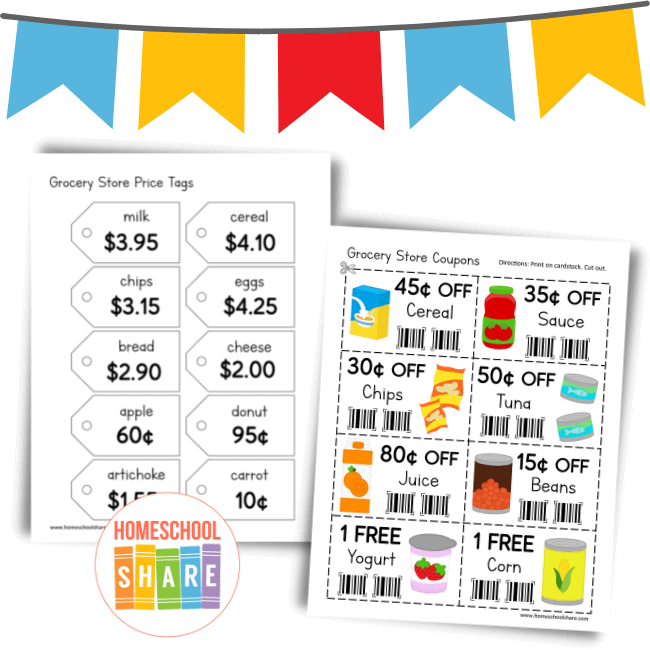 This is a fantastic way to sneak math into your students' day while they play!
Cash Register
Pretend Credit Card
Price Tags
Play Money (you may want to print two pages of the play money)
Coupons
Shopping Receipts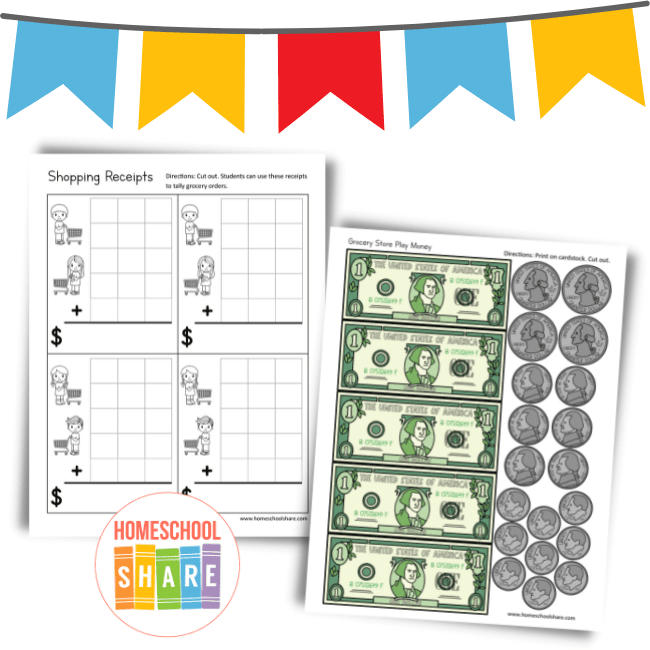 You can use these printables for gobs of math activities:
Put price tags on the food. Select two and add them.
Choose four groceries and add them on a receipt. Your student will be practicing three-digit addition!
After your student adds up your order, pay for your groceries with the play money. Teach your student how to count back change.
When your student is ready, use the coupons for subtraction practice.
Props to Add to Your Pretend Grocery Store
Adding these toys and accessories to your pretend play grocery store to create a hands-on learning experience for your kids.
Empty Cereal Boxes, Pasta Boxes, and Egg Cartons
Calculator
Let your student use a calculator as a "cash register."
Grocery Store Ads (from your local newspaper)
Grocery Store Books for Preschool
You do not need these exact books for your grocery store theme. Please use whatever related books your library has available and read, read, read to your child. Reading is great for language development, literacy skills, and snuggling; it is the best thing you can do with your preschool or kindergarten student.
Download Your Free Grocery Store Printables
Subscribe to the newsletter using the form below in order to have your set of Grocery Store Pretend Play Printables sent directly to your email.
Buy the Pretend Play Printable Bundle
If you'd like a bunch of dramatic play sets, but you don't want to hunt and peck throughout the entire site, you can grab them easily and conveniently in one big bundle. Simply head to the shop or use the buy button below.
Sets included: fire station, post office, grocery, dentist, vet, zoo, library, pet shop, garden shop, ice cream shop, candy store, and dinosaur museum.
More Free Grocery Store Printables
If your student enjoys this set of grocery store dramatic play printables, try these other grocery store themed resources: