Affiliate Disclaimer
We sometimes use affiliate links in our content. This won't cost you anything, but it helps us to keep the site running. Thanks for your support.
This Gray Wolf Lapbook is something to howl about! Your student will learn about the wolf's habitat, diet, behavior, communication habits, and more with this exciting lapbook.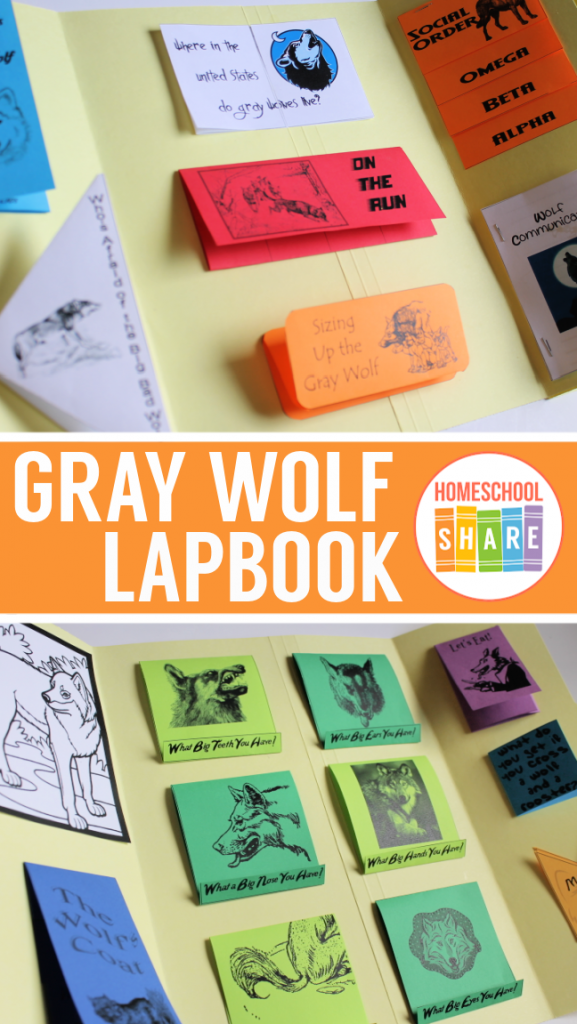 A huge thanks to Wende for creating this animal lapbook.
Gray Wolf Lapbook Lessons
Here are some sample lessons from the Gray Wolf Lapbook:
Gray Wolf Territories
The area that is occupied by a pack of wolves is called a territory. The pack's territory will have enough prey to support it, and the pack will defend this
territory from other packs of wolves and other carnivores it would have to compete with for food. Wolves will protect their territories by scent-markings, vocal communication, and fighting. In Minnesota, the gray wolf's territories range from about 25 to 150 square miles, while territories in Canada and Alaska can range from about 300 to 1,000 square miles.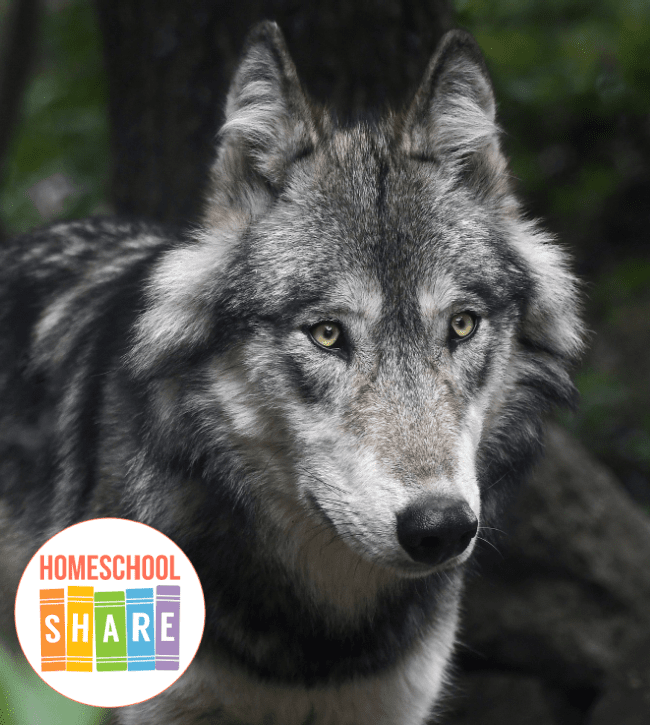 Wolf Packs
Wolves live in a pack, which is a group of wolves that live and work together to hunt for food and take care of the pups. There is an order of hierarchy in every wolf pack, separated into three groups.
Alphas are the top rank in the social order of the wolf pack. A separate social hierarchy exists for males and females, so a pack has both an alpha male and an alpha female. They are usually the parents of most of the other members of the pack.
Beta is the second rank in the social order of a wolf pack. A separate social hierarchy exists for males and females, so a pack may have both a beta male and a beta female. A wolf at this rank will usually dominate all of the other wolves in its gender except the alpha wolf. The beta wolf is also called an assistant.
The lowest ranking member in the social order of a wolf pack is called the omega.
The offspring of the adult parents join the pack, as well as an occasional unrelated wolf. All the wolves know their place in the pack, and when the leaders are present, all other wolves will hold their tails low or lie on the ground. The size of a wolf pack can be anywhere from two wolves to over thirty wolves, depending on number of pups and mortality rates.
To access the numerous lessons in this Gray Wolf Lapbook, subscribe to Homeschool Share's email list using the form in this post.
Gray Wolf Lapbook Printables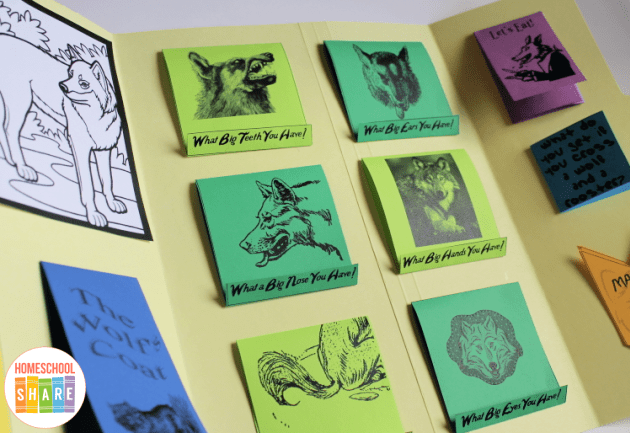 In addition to the research lessons, the file includes these mini-books for your student to create a Gray Wolf Lapbook:
Wolf Anatomy Matchbooks
My Wolf Drawing Simple Fold Book
The Wolves' Territory Simple Fold Book
Sizing Up the Gray Wolf Accordion Book
Wolf Sayings Shutterflap Book
Wolf Math Trapezoid Book
The Wolf's Coat Flap Book
Gray Wolf Classification Layer Book
Wolf Book Report Hotdog Book
WOLVES Acrostic Poem Flap Book
Who's Afraid of the Big Bad Wolf? Compressed Triangle
Finding Gray Wolves Map Mini-book
Subspecies of the Gray Wolf Flap Book
Gray Wolf Social Order Layer Book
On the Run Flap Book
Let's Eat! Mini-book (Wolf Diet)
Growing Up Wolf Cards and Pocket
Wolf Communication Tab Book
And more!
Gray Wolf Lapbook Sample
This lapbook includes ample mini-books. Please pick and choose the mini-books that suit the needs of your student.
This sample Wolf Lapbook was made with two file folders.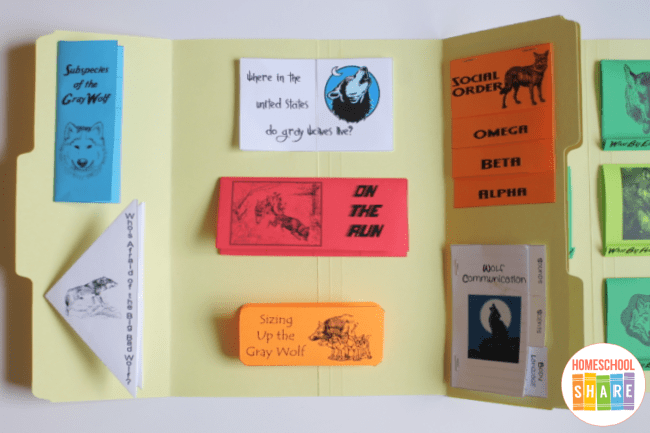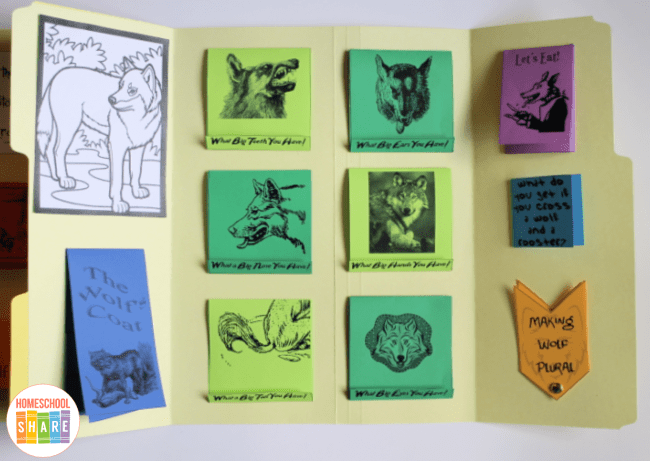 How to Get Started with Your Lapbook
Follow these simple instructions to get started with the Gray Wolf Lapbook.
If you want, go to your local library and check out books about gray wolves.
Print the Gray Wolf Lapbook.
Choose and prepare the mini-books you want to use with your student.
Enjoy a week of reading and learning all about wolves!
Download Your Free Gray Wolf Lapbook
Use the form below to subscribe to the newsletter. Once you confirm, you'll receive an email with the link to the lapbook. If you are already confirmed, simply enter your name and email address below, and you will receive an email with the link.
Explore More Animal Lapbooks
We have gobs and gobs of animal lapbooks. Here are a few suggestions: