Affiliate Disclaimer
We sometimes use affiliate links in our content. This won't cost you anything, but it helps us to keep the site running. Thanks for your support.
Ooh-la-la! It's time to visit France.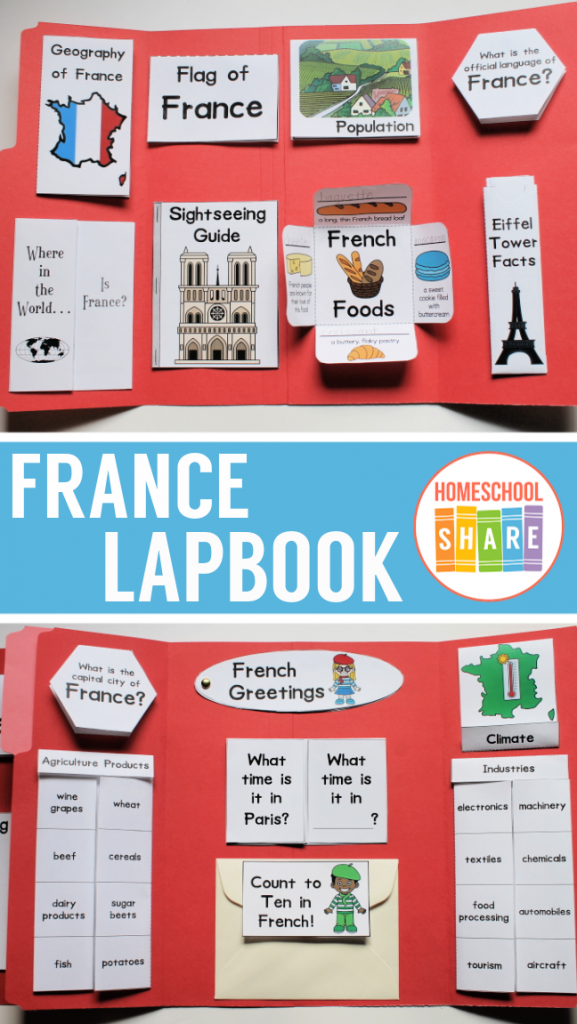 Our France Lapbook will help your student learn more about France's climate, population, capital city, official language, agricultural products, industries, geography, major cities, and more!
France Lapbook Information
Official Name: French Republic
Size: 212,935 square miles
Capital: Paris
Official Language: French
Currency: Euro
Climate: Most of France has cool winters and mild summers, but along the Mediterranean, you will find mild winters and hot summers.
Products: France produces wheat, cereals, sugar beets, potatoes, wine grapes, beef, dairy products, and they also harvest lots of fish.
Industries: Industries include machinery, chemicals, automobiles, aircraft, electronics, textiles, food processing, and tourism.
Population: For current information, use this website: Population of Countries
Comparing Times: To compare the time in the capital city to the time where you live, use this website: The World Clock
Sight Seeing Guide: Your student will need to research the cities in order to complete the mini-book.
Numbers in French: Watch the video and hear the number words in French. See the correct spellings and pronunciations here. Match the French words to the English words and store them in an envelope in your lapbook.
French Greetings: Research these online and complete the mini-book. Here is a video you may want to show your students.
Eiffel Tower Facts: Your student will need to research the Eiffel Tower in order to complete the mini-book.
Claude Monet: Your student will need to research this famous artist in order to complete the mini-book.
French Foods: This simple book includes the answers on the page. You can look up the French foods to determine which answer goes in each blank. You may want to purchase a baguette, some croissants, or macarons as a special addition to this unit study. You could also try making some French foods such as crepes, Tarte Tatin, or quiche.
Make a Salt Dough Map: Add to your France study by making a salt dough map of France.
National Geographic Site: National Geographic has an amazing France page for your student to explore.
Make an Eiffel Tower: Try this Eiffel Tower paper craft.
Mosaic French Flag: Try this mosaic flag craft.
France Lapbook Sample
This lapbook sample was made with two file folders.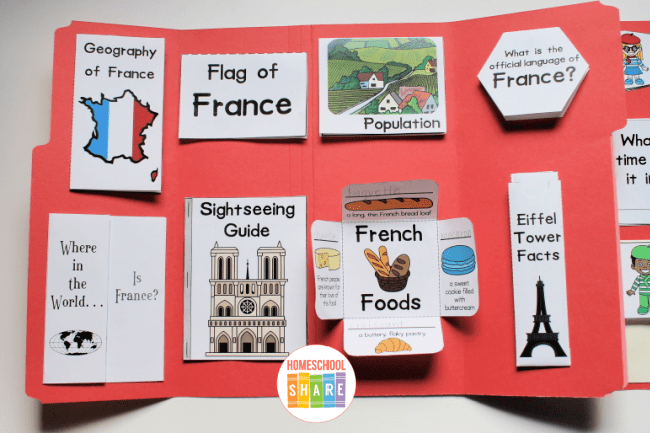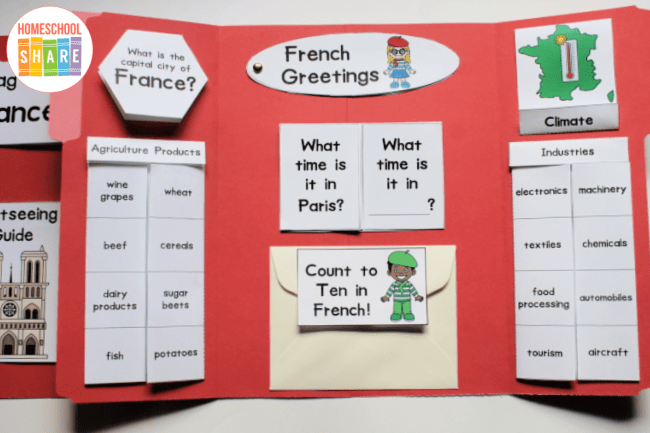 How to Get Started with Your France Lapbook
Follow these simple instructions to get started with the France Lapbook.
If you want, go to your local library and check out books about France. A Walk in Paris is a lovely book to read together. Another book recommendation is This Is Paris.
Print the France Lapbook.
Choose and prepare the lapbook mini-books you want to use with your student.
Enjoy a week of reading and learning all about France!
Download Your France Lapbook
Use the form below to subscribe to the newsletter. Once you confirm, you'll receive an email with the link to the lapbook. If you are already confirmed, simply enter your name and email address below, and you will receive an email with the link.
Resources to Compliment Your France Lapbook
Explore these other resources at Homeschool Share.
If you are looking for more country lapbooks, you'll find oodles on our geography lapbook page.